Creating Attractive Products and Services
In SEKISUI CHEMICAL Group, we promote the development of our employees, structures, and corporate culture for the creation of attractive qualities to ensure our customers will continue to approve our products and services, striving for the achievement of CS & Quality Management.
Measures to Create Attractive Qualities
In order to create attractive qualities that ensure our customers continually select our products and services, we are working to build a customer-oriented, free and open-minded organizational culture.
CS & Quality Seminars (Attractive Qualities Module)
For CS & Quality Seminars, experts from a variety of fields outside the Company are invited to give lectures intended to improve awareness on CS & Quality.
Held several times a year, the lectures are split into Attractive Qualities themes about creating attractive quality and Basic Qualities themes to strengthen core quality according to the content of each seminar. A total of 60 seminars have been held up to the end of fiscal 2021 since 2001.
Under the Attractive Qualities themes seminar, lectures are held on a wide range of topics featuring pioneers in the fields of developing human resources and organizations for the creation of attractive products and services, as well as product planning and development personnel involved with hit products and long sellers at other companies.
In fiscal 2021, we focused attentively on CX (Customer Experience), which has received much attention in recent years, and introduced examples of our activities and their importance. With a view to preventing further spread of COVID-19, lectures were broadcast live.
● July 8, 2021
CX Improvement Initiatives at Lion
Sayaka Kasahara
Experience Design
Business Development Center
Lion Corporation

● February 8, 2022
Evolving Customer-centric and Management Issues
Joji Ono
Professor
School of Business
Aoyama Gakuin University
Telephone Communication Training
As part of efforts to improve customer satisfaction, the Customer Consultation Office has been offering telephone communication training, where the office's staff members become instructors and train other departments, since fiscal 2008. The goal of these training sessions is to horizontally expand the skills in telephone communication with customers that are cultivated by the members of the Customer Consultation Office in their day-to-day business operations throughout various departments within the Group.
Also, we have been implementing telephone communication training in an e-learning format in addition to the traditional in-person style since fiscal 2018.
In fiscal 2021, we completed steps to provide the contents of training lectures in a video format. Recognizing the difficulties in providing face-to-face training in light of the pandemic, this initiative allows individuals to learn on their own using video materials. In addition, we provided online training to the three divisional companies. This online initiative allows users to combine the knowledge garnered in advance through video materials with role-playing based on practical conditions in a remote format.
In addition, e-learning training programs on writing business e-mails were held on six occasions, with many employees participating. Given the increase in working remotely and associated surge in the use of e-mails, we took steps to review guidelines on e-mails and publish a revised version.
CS & Quality Assessment to Measure the Penetration of CS & Quality Management
Since fiscal 2012, SEKISUI CHEMICAL Group has implemented a CS & Quality Assessment (questionnaire survey) for domestic employees once every two years. The results of this survey are provided as feedback to top management and executives at each branch location. Since fiscal 2015, this survey has also been implemented in overseas locations including China.
In fiscal 2021, we developed specific measures, instead of conducting assessments. Based on the results of the fiscal 2020 survey, we planned measures to strengthen our customer feedback structure and held practical training sessions on the use of customer satisfaction surveys.
These sessions targeted CS & Quality managers at business sites in Japan, and consisted of lectures and workshops on the purpose of listening, designing CS questionnaires, and analyzing results.
Persons in charge at the CS & Quality Management Group, Corporate Headquarters served as instructors, and 42 participants from 26 organizations took part in the training.
Improve the Telephone Communication Skills of SEKISUI CHEMICAL Customer Consultation Office
Staff of SEKISUI CHEMICAL Customer Consultation Office respond to questions, concerns, opinions, requests, and other inquiries from customers.
In order to answer customer questions on the spot to the greatest extent possible, we work to ensure that staff in the Customer Consultation Office possess sufficient knowledge of our products and technology.
In fiscal 2021, we worked on improvements that were pointed out to us in response to the results of the telephone communication skills test conducted last year.
Forced to answer the phone while wearing a mask every day due to COVID-19, every effort is made by staff to constantly remain receptive. In adhering strictly to vocalization methods and key points regarding service, every emphasis is placed on speaking clearly so that it is easy for customers to hear.
We will continue to make efforts to improve telephone communication skills with the aim of becoming a Customer Consultation Office that receives positive feedback from satisfied customers
Voice, a Compilation of Feedback Received by the Customer Consultation Office
SEKISUI CHEMICAL Group's Customer Consultation Office receives approximately 10,000 inquiries and comments every year. We directly answer each inquiry and analyze the factors that motivated the customer to make the inquiry in the first place, in order to discover the hidden needs of customers.
VOICE is our yearly bulletin launched in fiscal 2015. This publication collects the comments received by the Customer Consultation Office with the intent of raising awareness and understanding across all of the Group's businesses and extending beyond the boundaries of each employee's working area. The goal is to develop a corporate culture of CS & Quality for all employees.
In fiscal 2021, we published case study interviews showcasing products and services developed by each divisional company, based on their customer feedback. Rather than provide in a booklet format, we posted details of the interviews on the intranet allowing many employees to view from their home, in of the growing number of employees working remotely.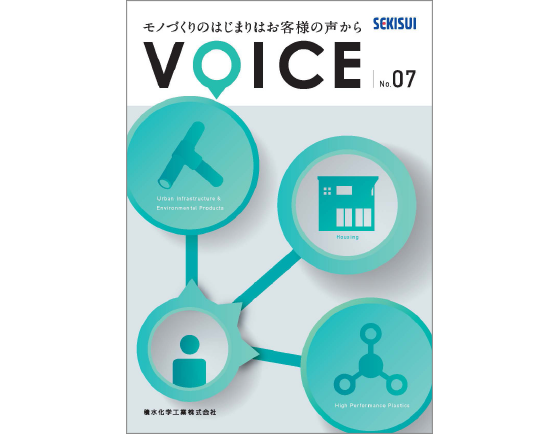 Implementing Customer Questionnaires at the Housing Company
SEKISUI CHEMICAL Group's Housing Company conducts CS surveys of customers who have purchased and built Sekisui Heim homes. The feedback from customers is broadly shared throughout the Company and used in product development and in improvements in the quality of the Group's services. Details of customer dissatisfaction are assessed in detail, and steps are taken to ensure a resolution to promote satisfaction. In fiscal 2021, customers who responded that they were very satisfied reached 80.5%.
STAR 55 Bulletin* Highlights Good Examples of CS & Quality for Group Employees
In 2002, its 55th anniversary, SEKISUI CHEMICAL Group implemented STAR 55 as a program to promote CS throughout the Company and declared CS as the foundation of management for all employees. First published in 2006, we also continue to issue the STAR 55 Bulletin, a newsletter compilation of excellent case studies for CS & Quality for Group employees so that the STAR 55 initiative does not lose momentum.
The STAR 55 Bulletin was issued twice in fiscal 2021, once in August and again in March. Each issue largely covered the efforts made by the frontline in response to COVID-19.
STAR 55 Bulletin No.'s 46 and 47
Vol.46

Vol.47
Origin of the name: STAR 55 Bulletin
S = Sekisui
T = Trust
A = Action
R = Revolution
STAR = Leader, 55 = 55th anniversary
The name STAR 55 expresses the promise that all employees in SEKISUI CHEMICAL Group (S) will earn the trust (T) of customers through their actions (A) and the Group as a whole will trigger a revolution (R) in its corporate culture and character, while fostering the desire for each employee to take a leading role (be a STAR) in their work.
Performance Data
Data Related to Improvements in the Ability of the Customer Consultation Office to Address Customer Feedback
Number of incoming Calls and E-mails, etc. from Customers
| Indicator | Calculation Method |
| --- | --- |
| Number of incoming Calls and E-mails, etc. | Number of inquiries by telephone, e-mail, letters, and other means |
Breakdown of incoming contacts (SEKISUI CHEMICAL)
Index
Calculation Method
Breakdown of incoming contacts
The subjects of incoming calls are recorded on Insider Net and categorized as follows:

General inquiries: Questions about SEKISUI CHEMICAL Group product specifications, how to use products, construction methods, stores selling the products, and services such as repairs
Complaints and dissatisfaction: Incidents in which customers expressed their dissatisfaction or lodged complaints concerning SEKISUI CHEMICAL Group products or services
Compliments: Calls during which praise was received for satisfaction with SEKISUI CHEMICAL Group's products or services
Requests/Expectations: What customers require of SEKISUI CHEMICAL Group products and services (product improvements and new products, etc.), and inquiries relating to business activities, or comments on what is expected of SEKISUI CHEMICAL Group

Note:

Insider Net: A SEKISUI CHEMICAL Group intranet site on which details of incoming calls to the Customer Consultation Office are released in real-time.
Data Relating to Customer Surveys
CS Questionnaire 7-Step Evaluation (Housing Company)