We Are Increasing Risk Sensitivity and Improving the Quality of Our Activities by Further Strengthening Our Risk-management Structures
Basic Concept
Building A System That Can be Brought to Bear on Ever-changing Risks and Crises
Here at SEKISUI CHEMICAL Group, we are building a risk management structure that unifies risk management in a bid to prevent risks from occurring in the first place, and crisis management that addresses serious risks that have manifested. Through this unification of concepts, we are creating a system that can be brought to bear on ever-changing risks and crises.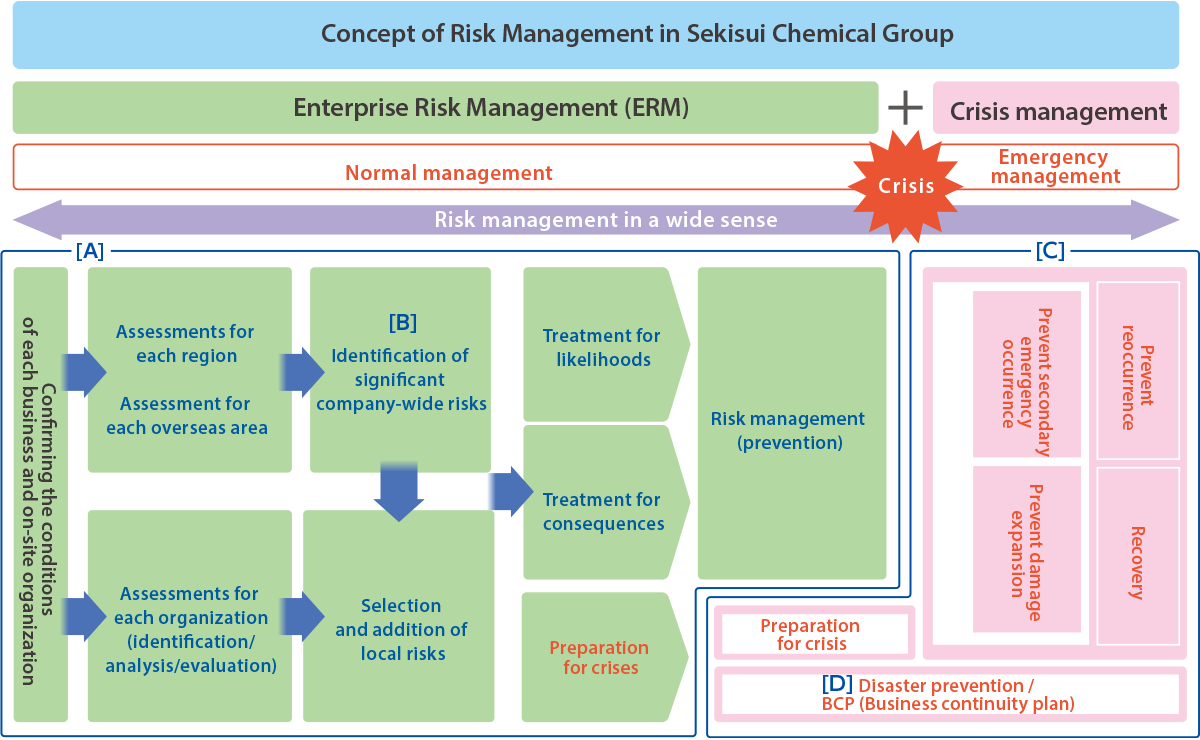 Management Structure
Group-wide Sharing of Risk Management Policies
At SEKISUI CHEMICAL Group, the Managing Director of the ESG Management Department, whose Risk Management Group handles day-to-day risk management operations has assumed ultimate responsibility for risk management since April 2020. We have created a risk management structure that centrally manages activities aimed at preventing risks from occurring in the first place (risk management) and activities that address serious risks that have already manifested (crisis management).
Our risk management activities are based on the PDCA management cycle. Under this cycle, we analyze and evaluate Group-wide risks as well as risks identified by each organization in accordance with the SEKISUI CHEMICAL Group Risk Management Guidelines, implement countermeasures, and then conduct reviews as necessary while taking corrective action. Crisis management activities are conducted in accordance with the SEKISUI CHEMICAL Group Crisis Management Guidelines. A crisis management liaison committee consisting of each Corporate Headquarters' group and divisional company representatives holds regular meetings to review case studies and conduct training.
In fiscal 2021, we identified 17 categories of risk in the five safety, quality, accounting, legal/ethical, and information management fields that could lead to serious Group-wide incidents as serious Group-wide major risks, and incorporated them into our existing organizational risk management activities to realize enterprise risk management (ERM) activities. In order to respond to changes in the environment in which we operate, we will also conduct an annual review of serious risks and mandate risk assessments for all organizations through the Group to strengthen efforts aimed at containing serious Group-wide incidents.
ERM stands for Enterprise Risk Management, and refers to Group-wide risk management.
As the business environment in which companies operate becomes increasingly uncertain and complex, SEKISUI CHEMICAL Group is systematically bringing to light the wide range of risks related to the business objectives of each organization. We have established an ERM system that quantifies each risk based on its likelihood of occurring and its potential impact. Dedicated offices in Corporate Headquarters then identify those risks that have a high possibility of leading to a serious Group-wide incident and share and manage their findings with the Group. We are continually verifying the effectiveness of the ERM system by reviewing uncertainties on a regular basis.
In fiscal 2021, SEKISUI CHEMICAL Group launched a Group-wide Risk Review Subcommittee. Drawing on the specialized expertise of dedicated offices in Corporate Headquarters, the Subcommittee corrected and modified the Group-wide risks identified in fiscal 2020 and examined whether the likelihood of their occurring or their potential impact had changed, in light of changes in factors such as geopolitical risks and social demands. The results of deliberations by the Subcommittee as well as various measures to reduce risks are discussed by the Sustainability Committee and then reported to the Board of Directors for their consideration in management decisions.
Bolstering Risk Management Structures by Organization
Increasing Risk-sensitivity Using PDCA Cycles
In an increasingly complex external and internal environment, it is extremely difficult to accurately assess the risks that may emerge moving forward. SEKISUI CHEMICAL Group believes that increasing risk sensitivity among employees is essential to properly handling such risks, and the Group continuously runs PDCA cycles in line with the international standard for risk management ISO 31000.
These activities were launched during fiscal 2011 among 27 organizations, primarily business units. The number of organizations engaged in these actions has increased each year, reaching 171 in total, including Japanese and overseas affiliates accounting for 94% of consolidated sales in fiscal 2021. Activities have also taken root in the R&D divisions of all divisional companies.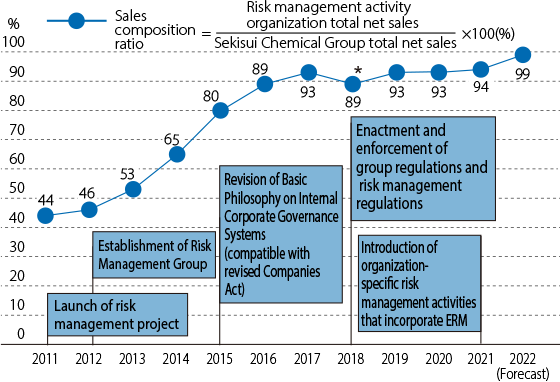 Temporary decline resulting from a large-scale M&A.
Identifying, Analyzing, and Assessing Risks
Risks that SEKISUI CHEMICAL Group Should Manage
To make clear which risks the Group as a whole should prepare itself for, in terms of both organization-specific risk management and Group-wide risk management, we have broadly categorized these as business environment, strategic, and operational risk, and have further subcategorized each category in order to comprehensively identify risk.
Based on the different risk criteria for organization-specific risk management and Group-wide risk management, we quantitatively assess the risk level for each of the identified risks using a risk matrix that combines results and likelihood of occurrence.
Major Risks Faced by SEKISUI CHEMICAL Group
1.

Business environmental risks

Major market trends
Fluctuations in exchange rates, interest rates, and asset value
Raw material price volatility and procurement
Large earthquakes, natural disasters, industrial accidents
Climate Change and environmental issues (resource depletion, water, marine plastics) Politics and society (political change / terrorism)
Politics and society (political change / terrorism)
Impact from the spread of COVID-19
3.

Operational risk

Information-management (information leaks / technical information outflow)
Quality (responsibility for manufactured goods / Major Quality Issues)
Safety (fi re and explosions / major workplace accidents / hazardous substance leakage)
Laws / Compliance / Human Rights (unethical or criminal behavior / volitions of the Monopolies Act or fraudulent transactions / unauthorized overwriting of data / bribery / harassment / environmental regulations, etc.)
Intellectual property (IP disputes)
Basic Philosophy Toward Business Continuity Planning (BCP)
BCP is the very essence of business strategy. Therefore, SEKISUI CHEMICAL Group, whose adoption of a Company system has made the range of the business in which it engages broad, has decided on a basic posture of having those in charge of each line of business (the heads of business units, the presidents of business companies, etc.) determine the necessity of BCP individually, based on the particulars of the business in which they are engaged, and is promoting formulation of business-continuity plans and the implementation of business continuity management (BCM) based on ISO 22301, a standard for methods of implementing BCM. In light of the recent increase in the number of threats, as well as the growing need to determine how to continue operations in the event of a medium to long-term loss of key management resources, and to prepare for such an event, the Group has developed and revised the working of its initial response plan (ERP) that places the protection of human life as the highest priority at all organizations as a Group-wide initiative from fiscal 2021. In addition, major business organizations throughout the Group are promoting efforts to put in place resource-based all-hazard BCPs to address every type of crisis event. Plans are in place to establish ERPs in all organizations during the period of the current medium-term plan. We aim to establish a BCM system that can be regularly reviewed through training and other means within our own organization. Even in an emergency situation that could threaten the continuance of operations, we will minimize losses to our organization and customers while continuing to fulfill our social responsibilities as a company by responding quickly and restoring important functions as soon as possible.
Bolstering the Domestic Crisis-management System
Based on its experience during the Great East Japan Earthquake, SEKISUI CHEMICAL Group carried out a full-scale overhaul of its crisis management system in fiscal 2011 and has been refining that system ever since.
Specifically, we have conducted drills based on the Emergency Response Headquarters Procedures Manual (at the Secretariat), held annual education programs based on the Emergency Situation Initial Response Procedures Manual (for all employees), and organized disaster/infectious disease-preparedness systems based on disaster/infectious disease-preparedness checklists in all offices (around 800 within Japan).
As of January 2012, the rate of sufficiency regarding disaster-preparedness systems, in reference to the Cabinet Office's guidance on corporate measures for disaster prevention, averaged 41% among all sites. Thanks to annual improvements, however, the Group has, since fiscal 2015, reached a point where it has been able to maintain an average rate of over 90%.
Under these circumstances, we have shifted maintenance management to self-management going forward. Meanwhile, we are taking into consideration the need to balance pandemic countermeasures and business continuity in response to the emergence of virus variants when addressing COVID-19. In addition to coordinating closely with healthcare departments and disseminating action guidelines to be implemented in a timely manner, steps are being taken to feedback the results of progress monitored through surveys on measures implemented while upgrading and expanding endeavors.
In preparation for emergency situations, SEKISUI CHEMICAL Group implements Group-wide response measures for emergencies as provided for in the Crisis Management Guidelines and the Emergency Response Headquarters Procedures Manual. Through training and provision of the Emergency Situation Initial Response Procedures Manual to all employees, who carry this manual at all times, we ensure that all employees can take the appropriate action in the event of an emergency.
In 2018, we also prepared an English version of our Emergency Situation Initial Response Procedures Manual, which is provided to all appropriate employees. Moreover, in fiscal 2019 we installed a safety confirmation system in various forms including the work mobile telephones of all employees, which enables rapid confirmation of the safety of our employees in emergencies.
Emergency Situation Initial Response Procedures Manual (April 2022 revised edition)
Japanese edition

English edition
Emergency Response Headquarters Functions
(when a major earthquake occurs)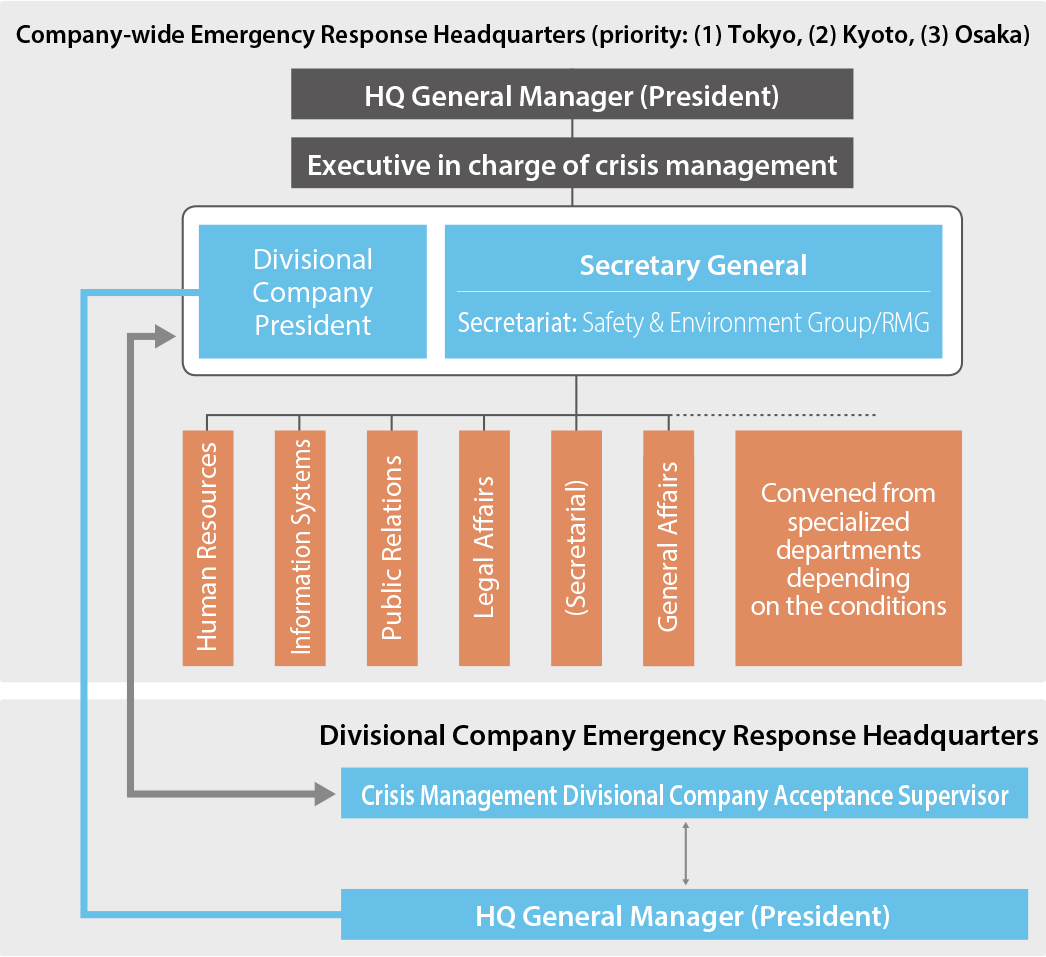 Initial action of the Emergency Response Headquarters (in the event of a major earthquake)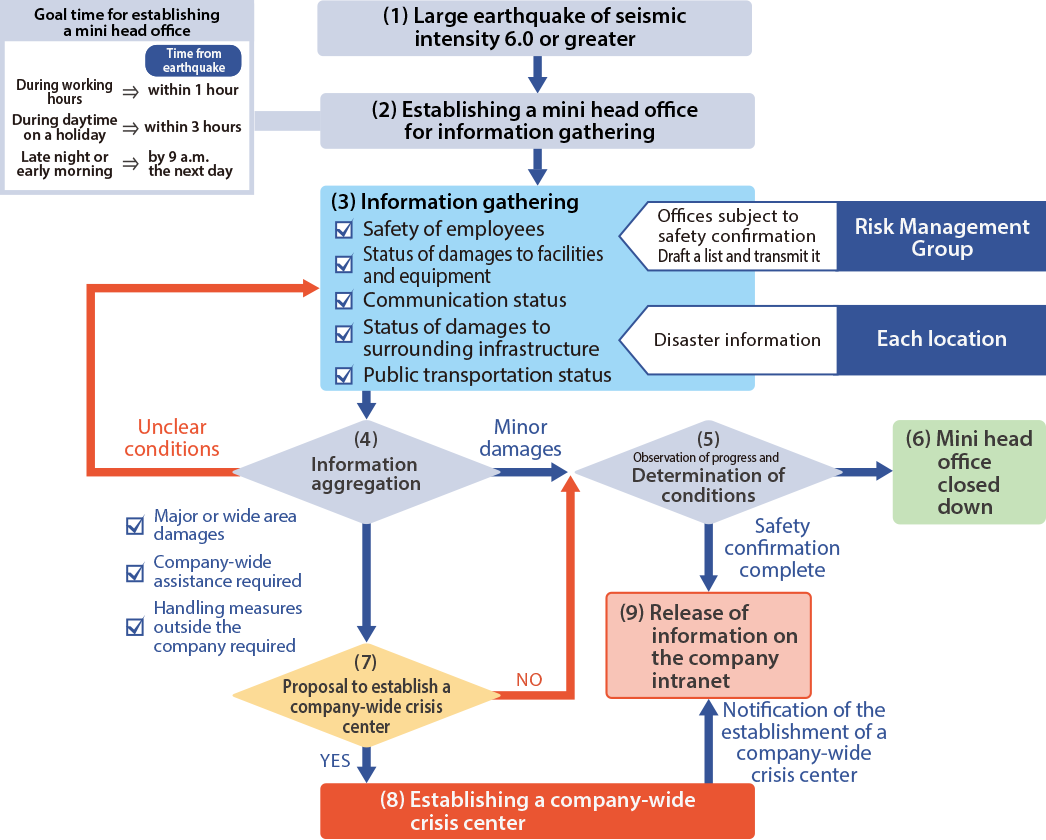 Procedures for contacting divisional companies / Corporate Headquarters from the frontline immediately after an emergency occurs.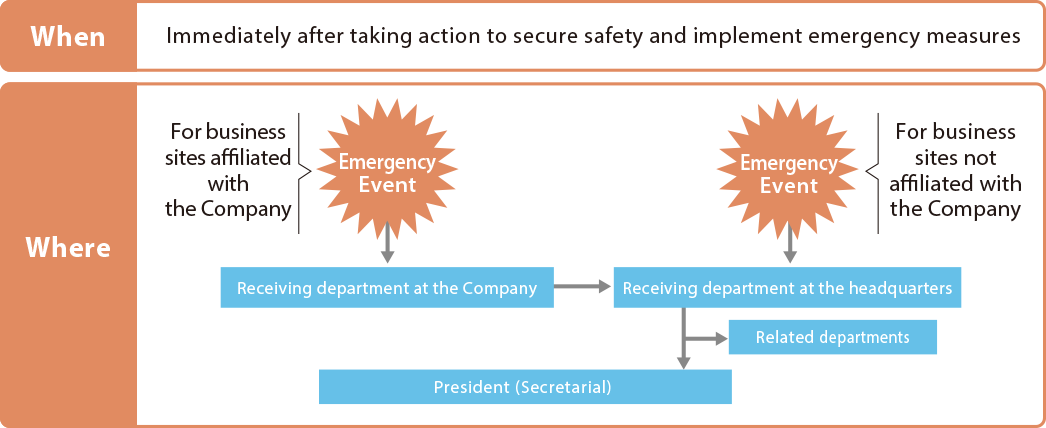 Overseas Crisis Management Organizational System
Based on the Overseas Safety Management Regulations, SEKISUI CHEMICAL Group divides the world into six crisis management regions. The Overseas Crisis Management Office (Risk Management Group, ESG Management Department) plays a central role in sharing crisis management information with business travelers, expatriates and local employees, alerting them in a timely manner and instructing them on travel restrictions in addition to other activities in emergency and non-emergency situations. As the number of overseas Group locations increases with each passing year, we established Regional Headquarters in each of the four main regions and appointed the person responsible for the Regional Headquarters as the Regional Head. In the event of a crisis event, the Regional Head and the Overseas Crisis Management Office will work together to collect information and take initial action. We have also established a highly specialized support framework in coordination with our security assistance and medical assistance partners. Additionally, the Group conducts training sessions for employees seconded overseas before they are dispatched abroad, provides pre-trip e-learning for employees sent on business trips, provides country-specific training focusing in particular on infectious diseases, and educates employees on the basics of crisis management and specific countermeasures.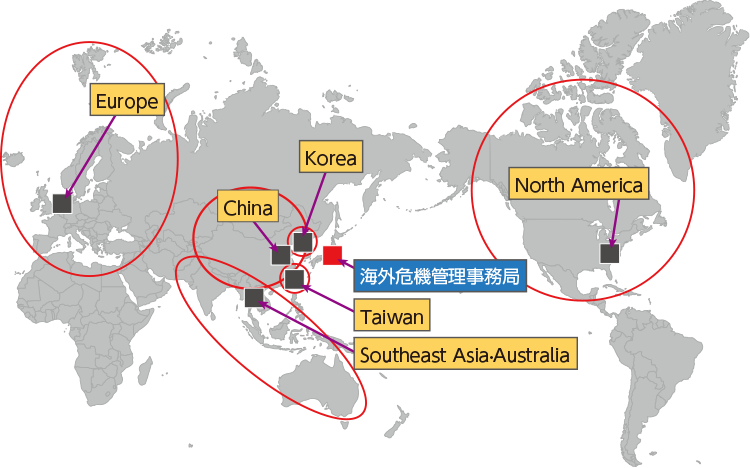 Global Crisis Management Guidelines
Japanese edition

English edition
Chinese edition

Korean edition
Major Initiatives
SEKISUI CHEMICAL Group's Measures to Prevent the Spread of the Novel Coronavirus
In response to the spread of COVID-19, SEKISUI CHEMICAL Group has been implementing a variety of measures to help stem the spread of the virus in order to protect the health of its employees and meet the demands of society. Alongside the quick establishment of a Group-wide emergency task force, we set up a special page dealing with infectious diseases on the Company intranet as part of our effort to disseminate action guidelines and share strategies on how best to prevent the spread of infectious diseases. The safety of our employees is our top priority, and in the event that an infected person is confirmed within the Group, we will promptly assess the situation and share the information with the relevant parties.
Until the global pandemic is brought under control, we will continue to regularly monitor the implementation of infectious disease countermeasures at all of our domestic and overseas business sites as part of our effort to ensure a secure environment for the continuation of our business. There were incidences of infection at domestic and overseas sites in fiscal 2021. Production sites have been able to cope with demand without undue problem due to the follow-up by multi-skilled workers and indirect personnel who had been trained in advance, as well as appropriate inventories.
Dashboard Utilization
By introducing Dashboard, a centralized database of risk-related information for risk-management activities, 1) efficiency; 2) accuracy; and 3) visualization have significantly advanced. We are also working to strengthen the risk identification process by utilizing various audits. In fiscal 2021, we facilitated an appropriate response to major risks from a Group-wide perspective by screening all organization undertaking activities to address major Group-wide risks at the time of risk assessment.
Enhancement of training systems
1) Raising awareness of risk management activities and training of risk managers
The annual risk management training that has been conducted since fiscal 2017 was provided to 22 newly appointed risk managers (persons responsible for duties related to risk management activities in their respective organizations) in fiscal 2021. The cumulative total of participants to date is 243.
2) Enhancement of content of training for overseas crisis managers
<For people going on overseas business trips>
With a view to preventing the spread of COVID-19, we have put in place a business trip training program prior to travel that focuses especially on infectious diseases as a new safety measure. In this manner, we are taking meticulous measures for people taking overseas business trips. In addition to deciding whether or not to travel, we continue to implement various safety measures to ensure that people on business trips can carry out their duties safely.
<For people transferring to a new position or location>
Transferring personnel undergo timely training customized to the circumstances of their country of destination, regarding mental preparations and points of concern focused mainly on safety management when stationed overseas.
<For both business travelers and transferees>
Through e-learning (both basic and applied versions), content dealing with local characteristics, customs, and the like is prepared in a test format, to enhance the employees' crisis-management mindset. With respect to the six countries to which Group employees most commonly travel on business (the United States, South Korea, China, Thailand, India and Vietnam), the applied version of the e-learning is taught, to provide more detailed, country-specific information.