Deepening Engagement
Engagement Survey
SEKISUI CHEMICAL Group periodically conducts an engagement survey targeting all employees every three years. The Group asserts that continued empathy with, and undertaking of, the Vision, as well as the feelings of individual employees that they are always the key players and that they have the determination to do their best and not give up until the results surpass expectations, in other words engagement, is crucial for achieving the SEKISUI CHEMICAL Group Long-term Vision, Vision 2030.
The results of the survey conducted in fiscal 2019 were analyzed and examined by the Business Strategy Department and the Human Resources Department, and served as the basis for formulating the current Long-term Vision and the Medium-term Plan. In fiscal 2020, each Group company, both in Japan and overseas, took the lead in conducting interim surveys on a voluntary basis. In fiscal 2021, steps were taken to conduct an engagement survey in conjunction with a survey on the degree of challenging behavior expression. We will continue to measure the degree of challenging behavior expression and conduct engagement surveys in fiscal 2022 and beyond.
The results of the survey in fiscal 2021 are a 6-point improvement over the fiscal 2019 survey.
Moving forward, we will analyze and formulate measures on a Group-wide and individual company basis as a means to accelerate the improvement of engagement across the entire Group.
Engagement Drive Project
Working to become a vibrant company with a large number of highly engaged employees dedicated to achieving our Long-term Vision, we launched the Engagement Drive Project, made up of members from the human resources departments of each organization, with the goal of increasing engagement. From fiscal 2021, we are accelerating activities, including efforts to foster a culture that encourages challenge.
Engagement Drive Project 2020-2022 Activity Stages

To promote the implementation of action plans geared toward addressing various issues in each organization, we undertook a wide range of support activities in fiscal 2021. These activities included the sharing of materials using internal SNS, posting case studies, conducting workshops and seminars, and providing lectures on examples from other companies.
Carrying on from the previous fiscal year, we continued to hold organizational development seminars to gain a bird's eye view of organizational issues and acquire the know-how necessary to involve stakeholders in the implementation process. Among a host of benefits including the ability to ensure practical application, these efforts helped improve overall project skills.
Number of organizations engaged in activities: 83 in total, including SEKISUI CHEMICAL subsidiary companies in Japan and Headquarters business sites
Engagement Drive Project Major Group-wide Activities in FY2021
Number of participants
Fiscal 2021 Activity Awards & Kick-off Meeting
163
Organizational Structure Development Seminar DAY 1:
Next Steps to Refine Feedback and Action Plans for Organizational Change
54
Organizational Structure Development Seminar DAY 2:
Stakeholder Analysis, Model Approach to Individuals and Each Level
35
Workshop on How to Read the Survey on the Degree of Challenging Behavior Expression
110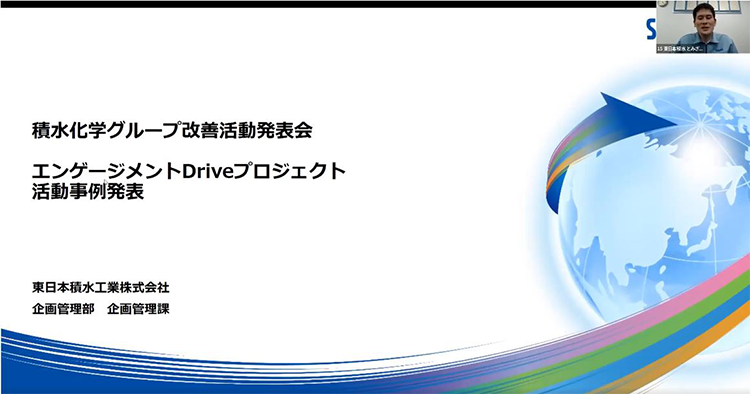 Case study presentation at the SEKISUI CHEMICAL Group KAIZEN Activities Convention in fiscal 2021.

Kick-off meeting of assembled project members
Employee Career Development
Allowing Diverse Human Resources to Excel (Career Autonomy)
Basic Concept
As an overall Company activity, we strive to foster diverse human resources throughout the Group based on the two pillars of training business leaders, who will someday shoulder management, and training efficient staff that can maintain our manufacturing processes. In addition, we apply measures in which the individual, their superiors, and systems work as a unified whole to support career autonomy, whereby employees take the lead in building their careers.
Note:

Career Autonomy: An approach to independent employee career development whereby employees aim to work with vitality in a location to which they are uniquely suited as they prepare to play the role expected of them by their companies.
Major Initiatives
Career Training During Role Turning Points
Under a new human resources system established to realize the Long-term Vision, each individual employee is required to actively and ambitiously contribute to his or her specific role. For this purpose, steps were taken to transition career training from the conventional framework based on the axes of age and seniority to one based on the axes of role and occupation.
In fiscal 2021, we implemented career autonomy e-learning for employees and career autonomy online training for managers and supervisors, under a career education systems based on a new framework.
Target of career autonomy e-Learning: 3,461 employees
Participants of career autonomy online training for managers and supervisors: 393
Career Interview System
From fiscal 2022, SEKISUI CHEMICAL (non-consolidated basis) is taking steps to put in place a system to promote the autonomous career development of each employee through interviews and communication between superiors and subordinates regarding current and future roles and expectations.
Subordinates make career declarations based on their past experience and current duties taking into consideration the roles they would like to play in the future and expectations at SEKISUI CHEMICAL Group. Superiors then discuss with subordinates their career plan during interviews while commenting on the expectations the organization and company hold for each employee based on the employee's aspirations and image toward training that SEKISUI CHEMICAL (non-consolidated) envisages.
In order to realize the career plans that were discussed during interviews, subordinates will consider what abilities and experience they require, how these abilities and experience can be acquired, and then take action with the support of superiors. The content of current and past interviews is shared with superiors and the Human Resources Department, and used when considering development, training, and work assignments.
Improving Group-wide Human Resources Capabilities
SEKISUI CHEMICAL Group is promoting various initiatives to secure and develop human resources with the aim of improving the Group's human resources for sustainable growth.
Performance Data
Results of Intra-Group Job Postings
| | FY2017 | FY2018 | FY2019 | FY2020 | FY2021 | Cumulative Total Since 2000 |
| --- | --- | --- | --- | --- | --- | --- |
| Number of positions posted | 49 | 44 | 45 | 31 | 55 | 441 |
| Number of employees recruited | 130 | 140 | 62 | 54 | 80 | 1,414 |
| Number of applicants | 99 | 115 | 135 | 155 | 236 | 1,399 |
| Number of employees transferred | 19 | 26 | 28 | 28 | 70 | 303 |
Career Path Support System
(Number of people)
FY2017
FY2018
FY2019
FY2020
FY2021
No. of employees who have
changed career courses
Men
14
9
10
14
2
Women
2
2
1
2
4
No. of employees who have
converted to permanent,
full time employment
Men
5
3
2
1
4
Women
11
7
11
14
10
Average Hours of Training and
Development per FTE (SEKISUI CHEMICAL)
FY2017
FY2018
FY2019
FY2020
FY2021
Average hours of training and
development per FTE (hours)
9.9
9.4
9.4
6.3
7.1
Note:

Educational programs held at SEKISUI CHEMICAL's Human Resources Department at Corporate Headquarters
Training Programs Common to the Entire Group to Improve Group-wide Human Resources Capabilities
FY2017
FY2018
FY2019
FY2020
FY2021
No. of New employees receiving
induction training
223
251
243
101*
150
No. of newly appointed
managers receiving training
245
210
252
220
199
Since this training was urgently converted to an online format due to the COVID-19 pandemic, trainees from Group companies are not included.