SEKISUI CHEMICAL Group recognizes that it is the fields of manufacturing development that support quality and, in turn, emphasizes adhering to quality compliance.
Basic Concept
Adhering to Quality Compliance
SEKISUI CHEMICAL Group emphasizes quality compliance. Surmising that risks of quality irregularities and data falsification can occur as a result of insufficient investment in improving quality and various types of pressure from supply chains, the Group set about eradicating the root causes of such risks. To this end, beginning in 2020, we have been building a new quality management system (QMS) as well as digitalizing and reinforcing quality data.
Quality Management
Building Quality Assurance Systems that Reflect Business Characteristics
SEKISUI CHEMICAL Group has built quality assurance systems that extend across all processes, from product development to design, production, and sales.
We have developed a quality assurance system for each process and promote standards-based controls on a daily basis. At the same time, we recognize that it is the fields of manufacturing development that support quality and focus our efforts on innovation in production activities. In developing products and making improvements to quality, we conduct strict design screening from a variety of perspectives, such as those of quality assurance and safety.
In addition, we have established a system that enables maintenance and management of after-sale services for customers.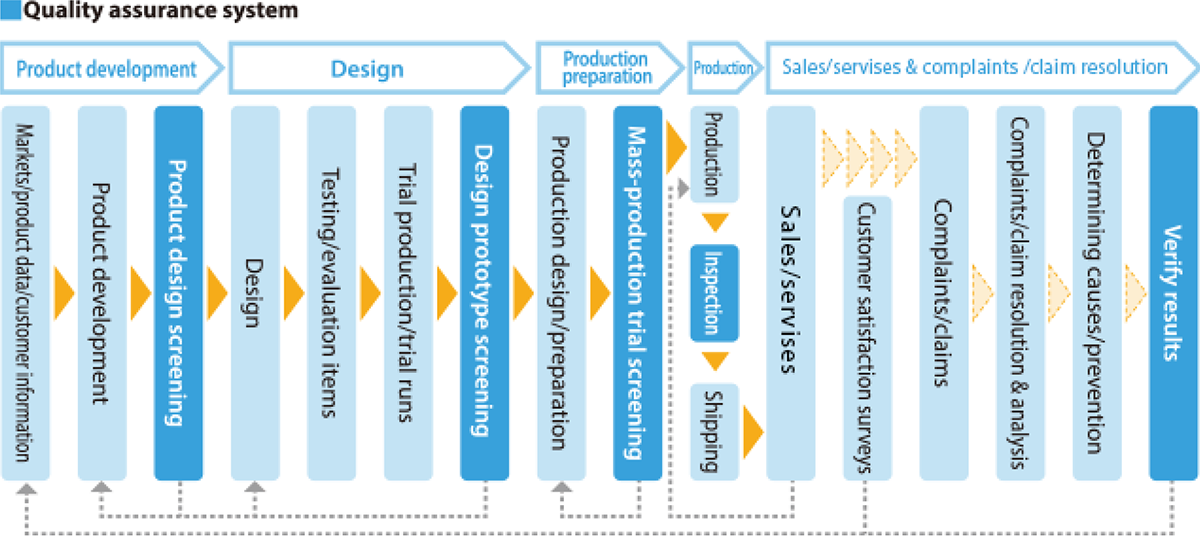 Rebuilding Quality Management Systems
We developed an original management sheet, which we dubbed the SEKISUI Process Management Chart (SPMC), in order to strengthen our process approach when promoting certification under the 2015 ISO 9001 standard. The SPMC provides an overview of the management flows of those processes, making it an effective tool in monitoring daily management, promoting corrective action as well as internal audits, and other activities including quality education.
In addition to conducting hands-on training to improve the quality of internal audits on an ongoing basis, by producing a manual explaining how to use the SPMC together with a process indicator management format, example rules for SPMC operation, and a fill-in sample, we successfully raised the level of SPMC use in fiscal 2021. Every effort will continue to be made to promote the understanding and penetration of the SPMC and to pursue activities aimed at improving operating levels.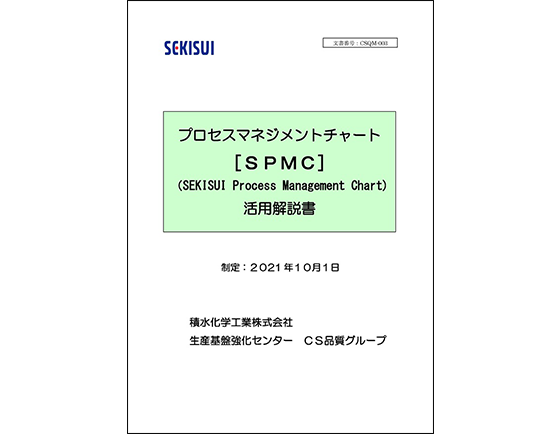 Formulating Quality Guidelines
Undertaking uniform quality control throughout the value chain—from product development to design, production, sales, and after-sales services—SEKISUI CHEMICAL Group is working to improve the level of its quality control in each process by formulating and issuing the following three guidelines.
The Development Guidelines for Strengthening Quality Assurance are aimed at preventing quality-related problems by predicting quality risks that can arise after commercialization. The Guidelines for Daily Management Activities are a collection of basic guides to routine management that must be followed in manufacturing.
The Contract / Specification Guidelines aim to reduce the risk of expanded compensation* related to product sales.
Expanded compensation: Customers compensation in the case of product defects that extend beyond returns and exchanges to include compensation for processing / construction / items made with these products, and other related damage.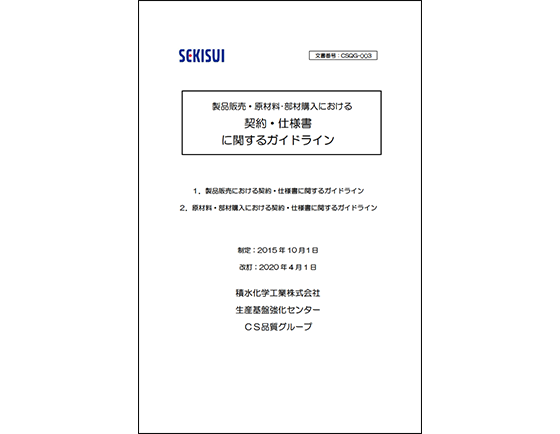 Fiscal 2021 Results
In fiscal 2021, one major quality issue (as defined by individual divisional company standards) occurred*1. As a result, external failure costs*2 increased 20% compared with fiscal 2016. Focusing on strengthening Group-wide quality assurance systems and on design/development processes, we will promote the application of development risk prevention methods (such as QFD and DRBFM) *3 to reduce external failure costs.
The rate of application of development risk prevention methods in fiscal 2021 was 100%.
Major quality issues: Problems related to product, technology, and service quality that could cause significant damage to customers, society, or SEKISUI CHEMICAL Group if not thoroughly resolved on an urgent basis.
External failure costs: Costs arising from responding to product-related complaints.
QFD:Quality Function Deployment
DRBFM: Design Review Based on Failure Mode (a preventive approach in which problems in new designs are discovered and solved by focusing on points of modification and change)
Major Initiatives
Initiatives to Prevent Quality Data Irregularities and Falsification
SEKISUI CHEMICAL Group is putting into place a system and framework for the thorough prevention of data irregularities and falsification based on the new CS & Quality Medium-term Plan, which launched in fiscal 2020.
In fiscal 2021, SEKISUI CHEMICAL Group focused mainly on securing the reliability and transparency of data particularly regarding product inspections and drafting of reports in order to ensure that the specifications agreed upon with our customers are observed. In addition, we are developing systems and revamping daily management work to make data input errors and falsification impossible, while focusing our efforts on digitizing and using inspection data.
SEKISUI CHEMICAL Group will continue to implement efforts to strengthen internal quality control to ensure that the Group re-instill an awareness of compliance for the purpose of enhancing its quality assurance capability and extinguishing any potential for fraud.
Compliance with Laws and Internal Rules for Product Safety
When a legal violation related to product safety becomes known internally or is pointed out from external sources, SEKISUI CHEMICAL Group rapidly discloses information about the incident and moves quickly to discover the cause and prevent a reoccurrence. This is also true if internal rules and standards for product safety have not been followed.
In fiscal 2021, there were no cases where we violated laws or internal rules related to product safety.
Products Information Disclosure and Labeling
Compliance with Laws and Internal Rules Relating to Product Information Disclosure
SEKISUI CHEMICAL Group complies strictly with laws and internal rules relating to the disclosure of product quality and safety. The Group sets checklist items in accordance with laws and product information disclosure at the development stage and confirms adherence.
In fiscal 2021, there were no cases where we violated laws or internal rules related to the disclosure of product quality and safety.
Design and Development Seminars
Conducting Training Focused on Preventing Quality-related Problems
SEKISUI CHEMICAL Group holds a number of seminars on the theme of preventing quality problems. Development Risk Prevention Seminars aim to teach effective and efficient prevention methods. The DR Reviewer Training Seminars are held to improve the skills of employees who conduct DRs*, while the QFD Seminars are conducted to teach methods of organizing information on product development.
In fiscal 2021, we conducted each of the aforementioned training seminars on an online basis.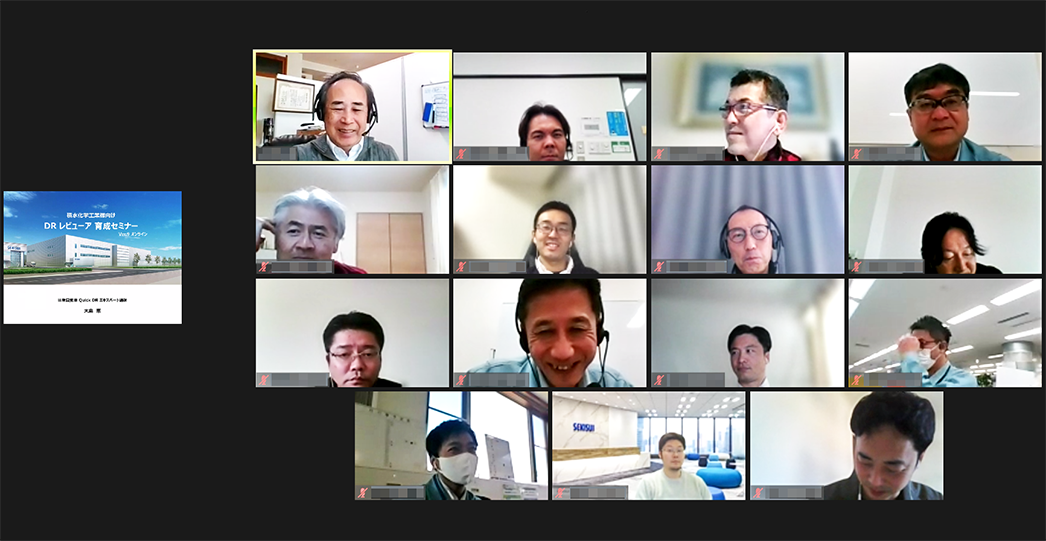 Online DR Reviewer Training Seminar
Quality Assurance System in Collaboration with Suppliers
SEKISUI CHEMICAL Group engages in activities to ensure the quality of goods purchased from suppliers. For example, the Housing Company has established rules for 4M Change* management with suppliers and is building a product quality assurance system by ensuring implementation.
4M Change: A management method to prevent product defects and defective products from leaking to the market by controlling changes in four elements: Man, Machine, Method, and Material.
Creating a Design Screening Platform for New Businesses
SEKISUI CHEMICAL has created a Gate Review (GR)* platform to perform strict design screenings when new businesses are launched and in fiscal 2020 began operating it on a trial basis. GR clarifies discussion points during design screenings by introducing a design check sheet to highlight perspectives that should be considered during the design phase. In addition, we introduced the External Expert Review aimed at gaining insights from internal and external experts as a source of initial design input in such areas as new business fields and legal regulations.
Gate Review (GR):

A continuous activity to judge whether or not to proceed to the next step (checkpoint management feature).
Reenergizing Group KAIZEN Activities
Group KAIZEN Presentations Held Online
SEKISUI CHEMICAL Group has positioned Group KAIZEN Activities at the heart of its improvement and innovation endeavors aimed at solving problems and achieving tasks. For more the 50 years, the Group has continued to advance these activities at each of its business sites in Japan and overseas.
We formulated the Group KAIZEN Activities Guidelines in 2020 based on the medium-term policy of creating a vibrant workplace in which each individual can grow and strive to further develop human resources through manufacturing.
In fiscal 2021, we worked on reforming the qualities and promoting the independence of activities.
In promoting the independence of activities, we took steps to develop supervisors so that each business site can naturally take the initiative to promote KAIZEN Activities as a part of their business operations.
The January 2022 Group KAIZEN Activities presentation (Group-wide competition) was held using an online format as a result of COVID-19.
While unable to hold the event as a group, successful steps were taken to share the same space and time through the use of video screens. This included presentations by four overseas teams using a program that took into account time differences between locations.
The fact that many people were able to view the presentation by taking advantage of the convenience of this communication tool was of considerable benefit from an information sharing perspective.
In addition, we were able to share ideas and methods for improvement through various tools, and without a doubt, were successful in reforming the quality of activities. We will continue to promote KAIZEN activities in line with changes in the social environment.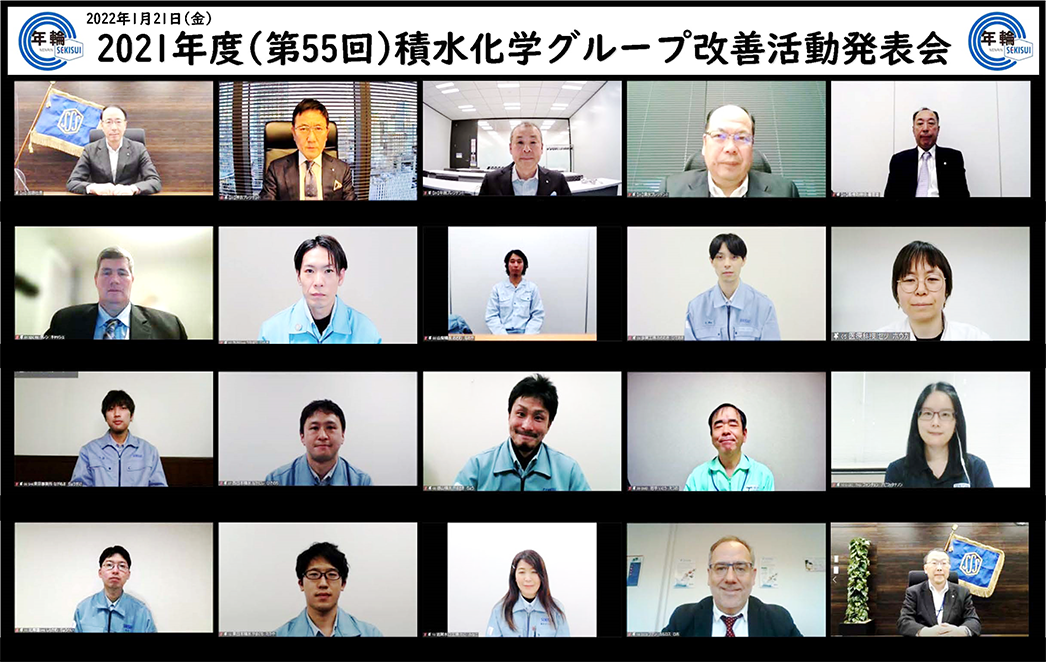 Fiscal 2021 KAIZEN presentation
Performance Data
Business Sites That Have Received Third-party Certification for Their Quality Management Systems
Data Concerning Major Quality Issues
Number of Major Quality Issues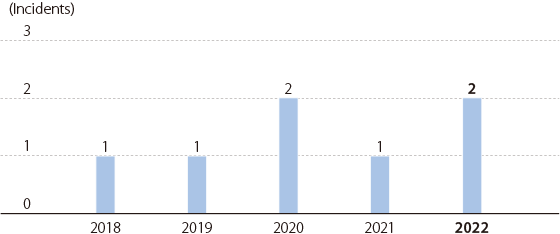 Index
Calculation Method
Major Quality Issues
These refer to product and service quality issues determined by Corporate Headquarters or divisional company presidents, based on evaluations and judgments by the quality assurance manager, which could cause significant damage to customers, society, or SEKISUI CHEMICAL Group and lead to the loss of society's trust in the Group if not thoroughly resolved on an urgent basis including:

1)

Major incidents

(1)

Of the accidents that threatened user lives or lead to bodily harm, those in which the harm is serious.

(2)

Product loss or destruction incidents for which there is a risk of severe or fatal user injuries

2)

Problems which have serious impacts (cause serious loss) to customers, users, or society

3)

Compliance (such as complying with related laws and regulations) problems related to product or service quality

4)

Product recall problems
Data Concerning External Failure Costs
External Failure Costs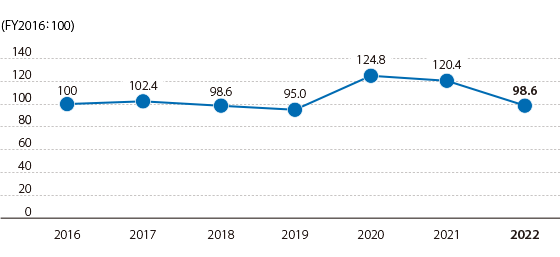 | Indicator | Calculation Method |
| --- | --- |
| External failure costs | Costs arising from responding to product-related complaints |
Other Data
FY2016
FY2017
FY2018
FY2019
FY2020
FY2021
Number of participants in the
Development Risk Prevention
Seminar (cumulative total)
302
418
502
555
604
657
Number of participants in the
DR Reviewer Training Seminar
(cumulative total)
166
259
283
296
349
363
Number of participants in the
QFD Seminar (cumulative total)
-
-
31
90
188
251