Transforming into a Vibrant Company
To become an excellent and vibrant company where employees thrive on challenges, SEKISUI CHEMICAL Group aims to foster an organizational culture in which each individual plays a leading role and can take on a variety of challenges.
Our Vision of a Vibrant Company
We believe that a vibrant company is one in which each and every individual takes on a leading role and is able to take on a variety of challenges, achieving an energetic corporate culture which makes employees want to stretch and push themselves.
To become a vibrant company, we aim to create a virtuous cycle in which all employees have a shared vision and contribute to solving social issues through their work to create a successful track record. This sense of accomplishment and growth further motivates them to take on the challenge of playing a leading role in realizing this vision.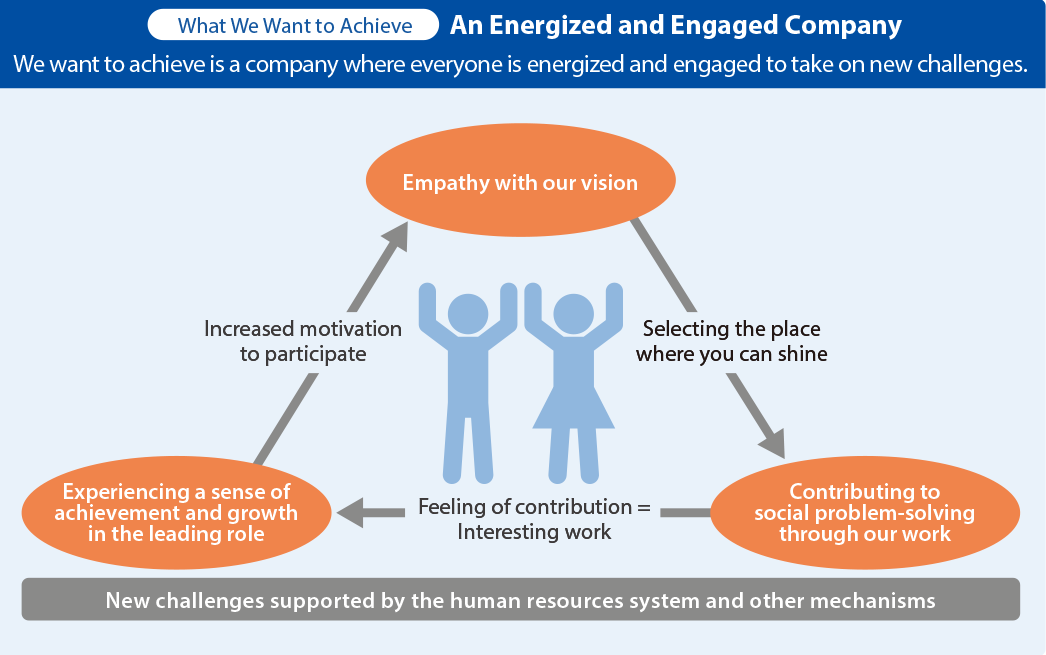 Message to All of Our Employees from the President
Our president has released a message to all of our employees expressing his hope to become a vibrant company.
Based on this aspiration, we are implementing and expanding policies linked to the understanding and promotion of initiatives for becoming a vibrant company by employees of the Group.
Message from the president to the employees on becoming a vibrant company
The vibrant company that I have in mind, is one in which the employees are fully aware, take pride, and are able to take on specific challenges.
In order to utilize the Group's wide-range of businesses to improve life for everyone around the world and the global environment, a diverse group of employees with different personalities, experiences, and characteristics must be allowed to demonstrate their individual capabilities, personalities, and characteristics to the greatest extent possible. In 2015, SEKISUI CHEMICAL Group established the Diversity Management Policy. In deploying diversity management across the entire Group, steps were then taken to promote female empowerment as a first step. Thanks largely to the dual efforts of promoting women's empowerment while creating a positive organizational environment, SEKISUI CHEMICAL was selected as a Nadeshiko brand among a number of other achievements. Our goal moving forward is to build an organization in which all employees, including women, can actively participate in the business and take on challenges on a daily basis.
To this end, SEKISUI CHEMICAL Group will work to improve productivity, reform its systems and culture, and enhance Governance (Internal Control) through such wide-ranging measures as digital transformation, automation of the plant floor, work style reforms that allow diverse human resources to excel, health and productivity management, and efforts aimed at expanding opportunities and challenges.
SEKISUK CHEMICAL Group's mission is to be acclaimed by stakeholders as a truly excellent company and a corporate group that increasingly contributes to the sustainability of society. It is our hope that all employees will continue to take up each challenge with a strong sense of pride.
Let's refine our ESG management and harness the collective strengths of all Group employees to overcome every challenge and grow.
President and Representative Director
SEKISUI CHEMICAL Co., Ltd.
Keita Kato
Promotion System
Convened under the Sustainability Committee, and chaired by the executive officer and head of the Human Resources Department, the Human Resources Subcommittee is comprised of the heads of the human resources each divisional company.
The Human Resources Subcommittee met twice in fiscal 2021, once in November and once in March to deliberate on key KPIs and KPIs for each policy.
Human Resource / Promotional Structure (since fiscal 2021)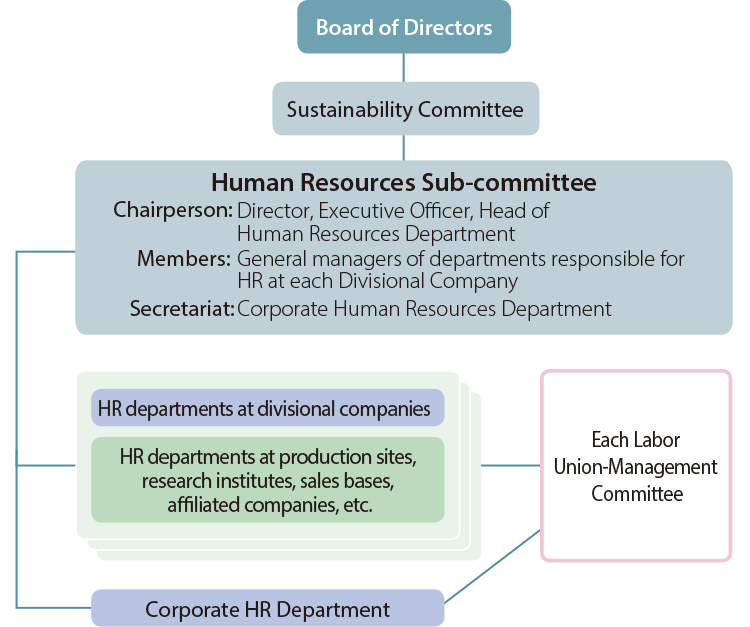 Set Specific Goals and Implement Measures
The Medium-term Management Plan (fiscal 2020-2022) involves implementing initiatives to become a vibrant company that encourages employees to take on challenges as well as realize a challenge-oriented corporate culture regarding key human resource issues for achieving the sustainability of society and SEKISUI CHEMICAL Group, targeted under the Long-term Vision.
Key Initiatives and management frameworks
Implement the Long-term Vision, instill ESG management

Transition to a challenge-oriented corporate culture

Shift to human resources management based on having the right person in the right place