SEKISUI CHEMICAL Group is committed to continuously securing the approval of customers by maximizing the quality of our employees, quality of our structures, and quality of our products.
Management Approach
Since 1999, SEKISUI CHEMICAL Group has placed the utmost emphasis on satisfying its customers and has accordingly practiced customer satisfaction (CS) management.
Recognizing that both customer satisfaction and quality are inseparable, we have engaged in CS & Quality management since 2004 in a bid to consistently deliver sufficient value to our customers, ensuring they will continually select our Group's products and services.
Rallying to the catchphrase that customer feedback is the root of our monozukuri (manufacturing) activities, we are actively honing the quality of our people (employees), the quality of our structures, and the quality of our products and services. In this manner, the Group is working in unison to consistently deliver the quality that is always approved by customers.
SEKISUI CHEMICAL Group's CS & Quality Management Circulation Diagram

Flowchat Outlining the Reflection of Customers'Voices Back into Management

CS & Quality Management Promotion System
Establishing the CS & Quality Subcommittee that Reports to the Sustainability Committee
SEKISUI CHEMICAL Group deliberates on and determines all financial and non-financial initiatives and policies through its Board of Directors.
We maintain a CS & Quality Subcommittee, which reports to the Company's Sustainability Committee. Both the Sustainability Committee and CS & Quality Subcommittee meet twice a year to deliberate on non-financial CS & Quality issues. In fiscal 2021, CS & Quality Subcommittee meetings were held twice, in October and March.
CS & Quality Management Promotion System (from FY2020)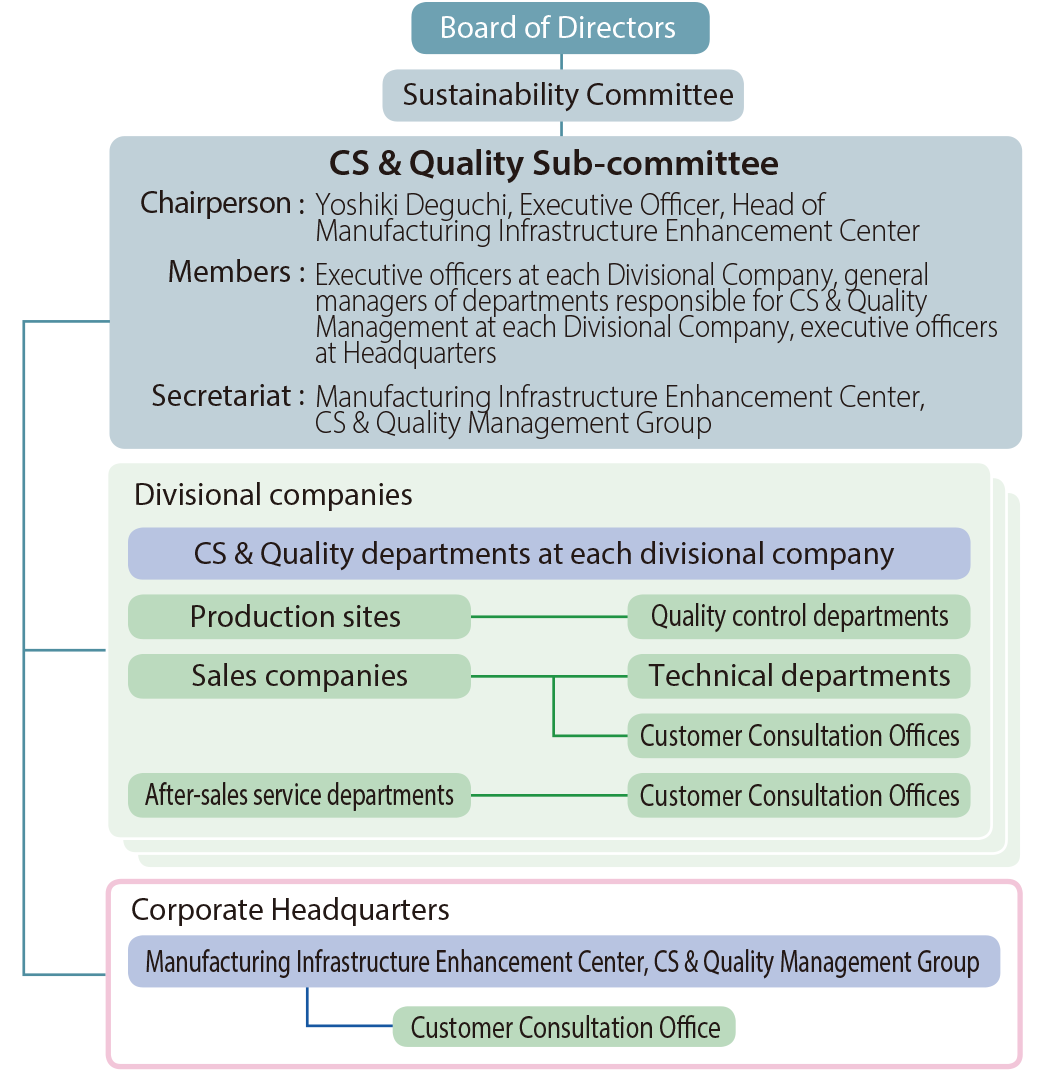 Initiatives Under the CS & Quality Medium-term Plan (FY2020-FY2022)
Roadmap for CS & Quality Management Initiatives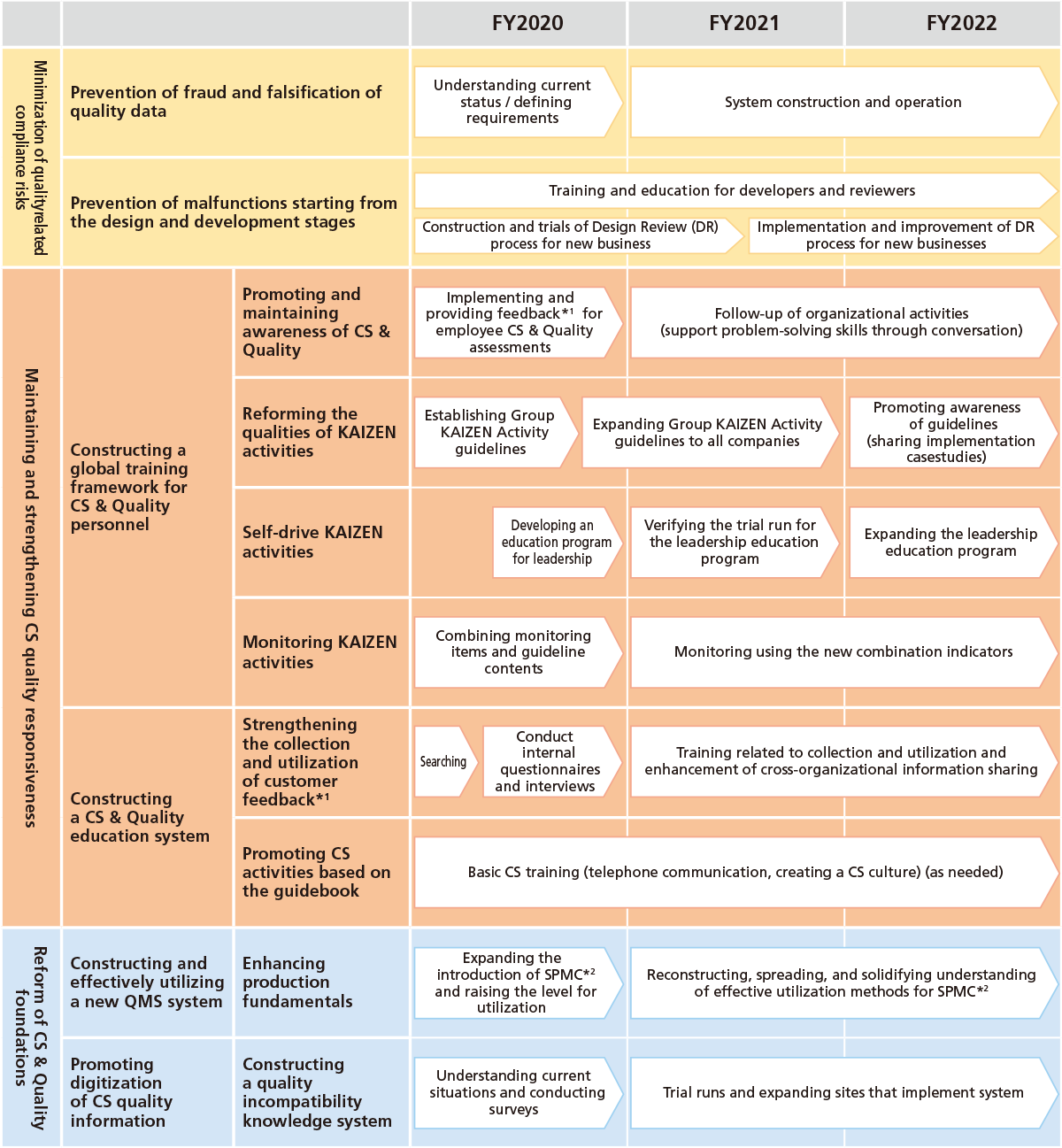 SPMC: Sekisui Process Management Chart.
Major Initiatives
Follow-up Activities for the Self-declaration for Consumer-oriented Management
The Company supports the Consumer Affairs Agency's initiative of bringing about Consumer-oriented Management. Reflecting this support, we made a self-declaration for consumer-oriented management*, expressing our philosophy and plans for initiatives, in January 2017.
An undertaking through which companies declare their commitment to engaging in consumer-oriented management, take action based on their declarations, and follow-up by disclosing the outcomes of initiatives.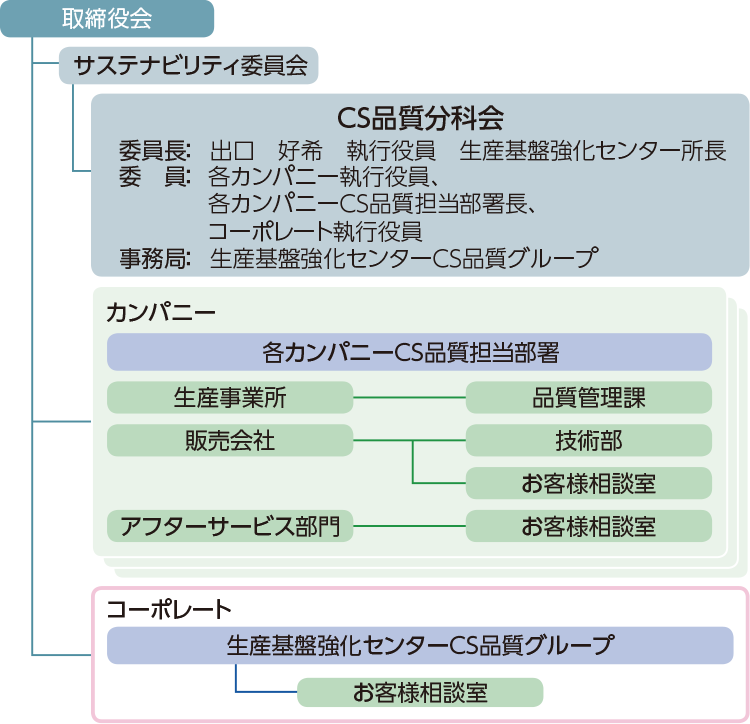 Activities Based on the Self-declaration for Customer-oriented Management
Mindful that customer opinions are a valuable resource for management, our CS & Quality Management is based on the principle that customer feedback is the root of our monozukuri (manufacturing) activities and focused on aggressively pursuing innovations in the Quality of Our Employees, the Quality of Our Structures, and the Quality of Our Products. We aim to contribute to the realization of a worry-free and prosperous society by continuing to provide new value to our customers and society.
The following are five activities undertaken in fiscal 2021 based on our Self-declaration for Consumer-Oriented Management.
1. Ensuring Basic Qualities
SEKISUI CHEMICAL Group has constructed a quality assurance system extending from the product development stage to all processes including design, manufacturing, and sales, and has put in place a quality assurance system while promoting design and development management as well as day-to-day management activities.
Group companies in Japan and overseas are developing and promoting Group KAIZEN Activities, in which employees in each workplace form small groups to address various topics such as improvements in quality and productivity.
2. Creating Attractive Qualities
We held the CS & Quality Seminar: Attractive Qualities Module with the goal of enhancing our employees' attractive qualities.
Recognizing the need to prevent further spread of COVID-19, this initiative was held twice in fiscal 2021, once in July 2021 and again in February 2022 in a live streaming format.
In addition, we publicly released the Asaka Lead Town Story of Attractive Qualities in February, which was the award winner for the Attractive Qualities Screening System held in fiscal 2019.
3. Upgrading Technological Capabilities
We are holding a variety of seminars where the objective is to learn about effective and efficient preventative measures in order to avoid the occurrence of quality issues when developing new products.
We are also effectively utilizing our quality management systems (QMS) with a process approach mindset. For internal audits in particular, we are promoting activities aimed at increasing the use of the SPMC (Sekisui Process Management Chart), an in-house assessment tool.
We believe the ability to respond effectively to our customers is a key attractive quality and are accordingly implementing training to improve telephone communication skills.
With the aim of improving each individual's skills, Telephone Communication Training video materials were produced and made available on the intranet for repeated study at the pace of the individual in fiscal 2019.
4. Enhancing Communications
SEKISUI CHEMICAL Group believes a consumer-oriented business requires effective understanding of the needs of its customers through communication with individuals from both inside and outside the Company. To this end, we are focused on creating a variety of communication opportunities.
In our Housing Company business, we are continually implementing customer satisfaction surveys.
In addition, SEKISUI CHEMICAL publishes and distributes the VOICE booklet, which summarizes customer inquiries gathered by the Customer Consultation Office, to all Group employees.
5. Providing Thorough Employee Education
SEKISUI CHEMICAL Group conducts CS & Quality training each year for new recruits as well as employees newly appointed to managerial positions. Training for new recruits considers the Group's approach toward CS & Quality management as well as daily operating behavior that is conducive to customer satisfaction. Training for employees newly appointed to managerial positions considers how to achieve CS & Quality as a department as they move into positions of responsibility.
In addition, we also consider measures such as our Employee CS & Quality Assessments, which are conducted on a periodic basis, to be initiatives for assisting employee education.