Having designated 2018 as the inaugural year of work style reforms, SEKISUI CHEMICAL Group has implemented reform initiatives under a three-year plan. After having first put in place a Statement of Work Style Reforms, the Group initiated three reform activities and achieved success across a variety of areas, including reductions in working hours and flexible work styles.
Going forward, we will take on the challenges of creating workplaces that are both supportive and fulfilling for our employees.
SEKISUI CHEMICAL Group Statement of Work Style Reforms
We will pursue highly productive work styles that maximize results in a limited amount of time by breaking away from work styles that produce results over time so that all employees can demonstrate their characteristics. In order to improve productivity, the Company actively invests in management resources, and unifies managers and workers to coalesce their wisdom Company-wide. We nurture work satisfaction by improving the quality of the jobs, and promote the workers' active participation of diverse human resources by returning the success of reforms to employees.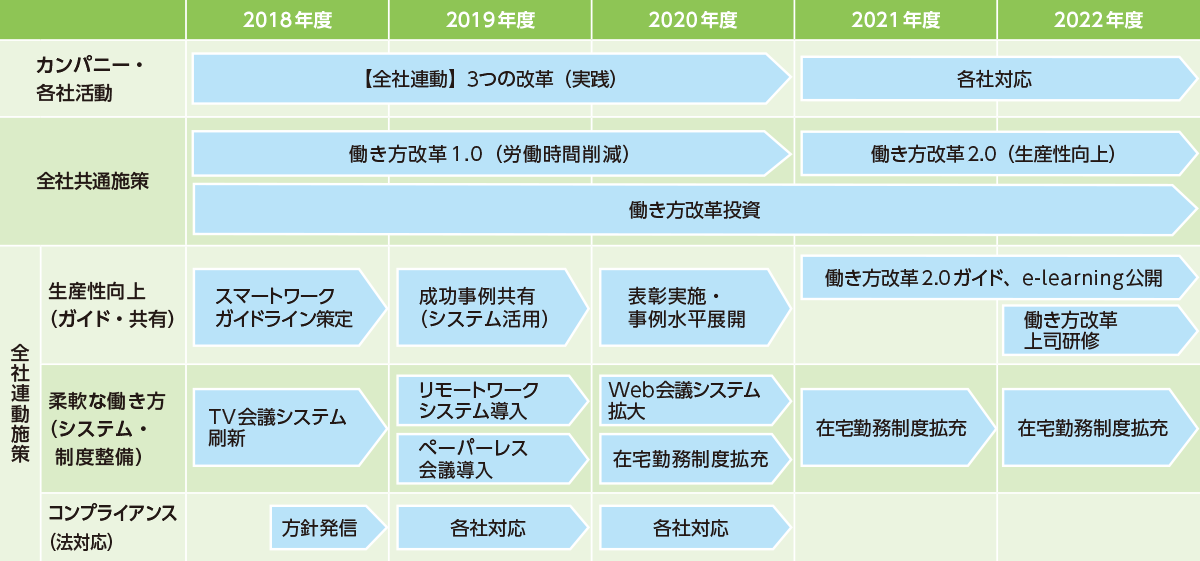 Work Style Reforms 2.0
From fiscal 2021, we have brought about the evolution of our efforts to Work Style Reforms 2.0. We will continue to work on improving work productivity while keeping in mind that DX is being promoted on a Company-wide basis.
<Increase Productivity in Work Style Reforms 2.0>
In addition to refining our previous efforts to reduce working hours (Work Style Reforms 1.0), we will also improve the quality of work and increase productivity by having each and every employee work in a self-directed manner.
To this end, we are promoting measures to put into practice self-directed work styles by each and every employee and self-directed support-type management by superiors. In fiscal 2021, we prepared a guide and an e-learning program that explain the concept behind Work Style Reforms 2.0. This guide and e-learning program will be rolled out from fiscal 2022.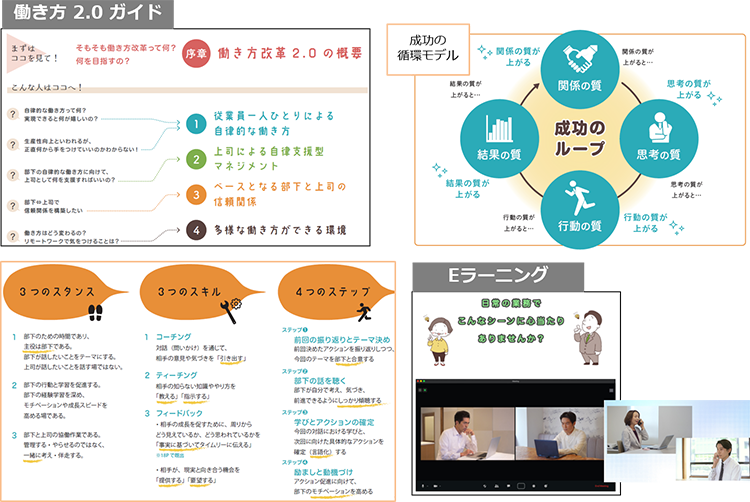 Investment in Work Style Reforms
Substantial capital investment and the introduction of systems are essential to continuously realizing the effects of business and work environment reforms.
With this in mind, SEKISUI CHEMICAL Group decided to invest 10 billion yen over the three years from 2018 to 2020 in an effort to reduce working hours Group-wide. Over this three-year period, we invested a total of approximately 7 billion yen, which led to a Group-wide reduction of working hours approximately 170,000 hours.
Despite extending the period of investment by one year and engaging in further efforts, we fell short to the total budget of 10 billion yen owing to the COVID-19 pandemic.
We have seen a certain improvement in the awareness toward the need to reduce working hours. Looking ahead, we will integrate Work Style Reforms investment into ESG investment and continue to roll out as appropriate.
Labor-Management Committee
In order to promote the realization of flexible work styles and reductions in working hours, we continue to hold multiple discussions between the labor union and management. Through the Labor-Management Committee, steps were taken to upgrade and expand options for working remotely from the home and flexible working hours in fiscal 2020 (abolished restrictions on reasons for use, abolished core hours, etc.).
In addition, in order to handle the coexistence of remote work and commuting during the COVID-19 pandemic, we introduced an allowance for actual commuting expenses and an allowance for working from the home. Amid the prolonged impact of COVID-19, we revised the prevailing systems to expand the discretion of superiors at each workplace while allowing for greater flexibility in the use of telecommuting in such areas as work location and frequency of use in response to the growing diversification of work styles in fiscal 2022.Looking ahead, we will continue to hold repeated, constructive discussions between the labor union and management to promote the creation of work sites that are compatible with the new normal and where working is both easy and rewarding.
Acceptance and Use of Remote Work System
In order to realize flexible work styles that are not tied to the workplace, since fiscal 2018 we have endeavored to establish a workplace environment where work and communication from both inside and outside the Company are almost seamless. We have also promoted system revisions that contribute to more flexible working styles and have created an environment in which both going to an office and remote work can coexist.
In fiscal 2021, we accelerated the deployment of each system to each Group company and made great progress in the introduction of working from home/flexible hours systems. We also expanded the deployment of providing allowances for actual commuting expenses (19 companies as of July 2021).
Lobbying on Compensation and Labor Conditions
With the aim of securing and developing human resources throughout SEKISUI CHEMICAL Group that goes beyond divisional company and individual Group company frameworks, we will continually work to upgrade various systems and improve labor conditions based on the results of our analysis of labor conditions at domestic Group companies. We also conduct investigations of not only compensation levels but also working hours, use of paid leave, and flexible work style aspects, which are linked reform measures in the very way we work - with the intent of optimizing conditions across the entire Group.
Labor-management Cooperation and Communication
At SEKISUI CHEMICAL (non-consolidated), management and the labor union strive to mutually understand and respect their roles and positions. It is believed that through close communication between the labor union and management, our common problems based on a shared objective of advancing the Company can be solved.
Among SEKISUI CHEMICAL subsidiary companies in Japan, there were 15 independent labor unions with 5,341 employees in the All-SEKISUI CHEMICAL Labor Union Federation, while SEKISUI CHEMICAL Labor Union, which is the core organization in the Federation, had 2,360 members (as the Group employs a union shop system, the membership rate of employees eligible to become union members is 100%) in fiscal 2021.
Notifications of Major HR-related Changes
Based on the proposals submitted to the labor union and feedback received from each of the union branches, SEKISUI CHEMICAL has decided to move forward with HR system revisions and large-scale organizational reforms which will entail major changes and have significant effects on employees. The labor agreement specifies that when employees belonging to the labor union are to be seconded or transferred, the labor union is to be notified at least one month prior to the change and the applicable employee's willingness to accept their new position is confirmed prior to assignment.
Performance Data
Overtime Hours* (SEKISUI CHEMICAL)
| | FY2017 | FY2018 | FY2019 | FY2020 | FY2021 |
| --- | --- | --- | --- | --- | --- |
| Monthly average per employee (hours) | 19.9 | 19.5 | 18.0 | 15.6 | 18.2 |
Calculated on the basis of a 7.5-hour work day.
Figures from previous years (from fiscal 2018) retroactively revised.
Paid Vacation Day Utilization Rate (SEKISUI CHEMICAL)
FY2017
FY2018
FY2019
FY2020
FY2021
Average per employee (%)
(Excluding managers)
51.1
64.0
71.4
58.2
64.9
Average Number of Paid Vacation Days Taken (SEKISUI CHEMICAL)
FY2017
FY2018
FY2019
FY2020
FY2021
Average per employee (days)
(Excluding managers)
9.6
12.1
13.6
11.2
12.5