KPI (Degree of Challenging Behavior Expression)
Degree of Challenging Behavior Survey
Guided by the statement, Innovation for the Earth, which lies at the heart of its Long-term Vision, Vision 2030, SEKISUI CHEMICAL Group is working diligently to link efforts aimed at realizing a sustainable society to the sustainable growth of the Group by solving social issues and providing peace of mind that continues into the future. More than anything, it is important for each and every employee to demonstrate their abilities and to break free from convention while continuously taking on challenges in order to realize this Long-term Vision.
SEKISUI CHEMICAL Group has identified certain KPIs to measure the degree to which the Group as a whole achieves five key issues (governance (internal control), DX, the environment, human resources, and fusion) in the conduct of its ESG management.As an indicator to measure whether SEKISUI CHEMICAL Group is an excellent and vibrant company where employees thrive on challenges, we have identified the degree of challenging behavior as a KPI. In a bid to confirm this KPI, the Company implements an employee survey.
The efforts of each and every employee to take on challenge is of utmost importance in realizing our Long-term Vision. The objectives of the survey are to periodically determine whether employees are in fact engaging in challenging behavior and whether the organization is conducive to taking on challenges. The results are then used to ensure improvements at each workplace. In fiscal 2020, the program was implemented to measure the baseline scores. In fiscal 2021, steps were taken to reset the target values after confirming the progress of the activities. We will continue to conduct surveys in fiscal 2022 and beyond, and use the results to make further improvements. This is expected to help create a corporate culture that encourages challenge.
Degree of challenging behavior expression survey (FY2021)
Degree of challenging behavior expression rate:13%(Japan 8%, Overseas 38%)
Percentage of respondents who answered "Yes" to the question
"I am taking concrete actions to engage in challenging behavior to realize Vision 2030.
Coverage rate : 93%(Japan 100%, Overseas 83%)
Percentage of companies surveyed of the Group's 164 companies
Response rate : 62%(Japan 60%, Overseas 69%)
Employees who responded to the survey as a percentage of all employees of the companies
where the survey was conducted.
Implementing the Long-term Vision
In order to realize the Long-term Vision, Vision 2030, it is important for organizational managers, who are the key persons to developing the workplace, to incorporate the Vision in the vision of each department and communicate it to employees. This leads to the empathy of employees while fostering the spirit of challenging among individuals. In line with the three-year roadmap, in fiscal 2021, we applied prior examples of fostering the spirit of challenge in the workplace aimed at engaging in two-way communication with management and putting challenges into practices.
First, feedback from the president on the opinions expressed in last year's activities and prior examples were showcased on the intranet and widely disseminated to employees. Next, Long-term Vision Workshops were conducted for managers. We reexamined actions within the Company's organizational setting that generate challenges based on the know-how extracted from prior examples and mutual advice provided among other managers. Based on these actions, we will continue dialogue with employees in each workplace in order to put challenges into practice.
Overseas, we are planning and implementing similar measures in four regions (North America, Europe, China, and Southeast Asia) in a manner tailored to each region. We aim to create workplaces where each employee finds work meaningful and worthwhile, and is able to take on challenges with enthusiasm.
Long-term Vision Deployment Roadmap (Overview of Initiatives for the 3-Year Period)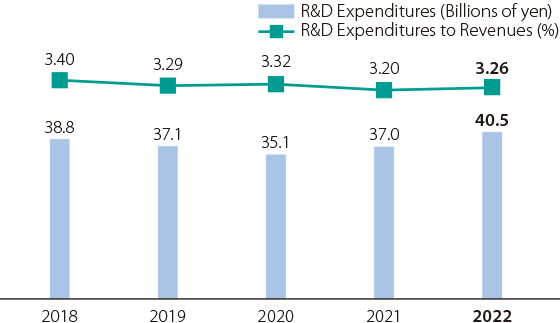 Long-term Vision Workshops for Managers
ライン展開と職場ワークショップについて加藤社長より
フィードバックをいただきました

「あなたの仕事でしょ・・・」から「一緒にやろう!」へ
営業・製造・お客様とつながったら「真のニーズ」がみえてきた

Workshops
Impressions of the Workshop Participants
"I learned that other participating managers have similar problems, and I empathized with their struggles and innovations."
"I was inspired to imitate the examples presented and efforts of other managers."
"I am thinking of doing a Vision Caravan at my company to foster opportunities for dialogue with management."
"I want to increase communication (opportunities for praise) with members."
"It was a good opportunity for us to review our actions by using the know-how extracted from the case studies to reflect on how our own organization is managed."