Long-term Environmental Management Vision
Put in place in 2019, SEKISUI Environment Sustainability Vision 2050 aims for the same goals as SEKISUI Environment Sustainability Vision 2030, which was formulated in 2013.
Through its corporate activities, products, and businesses, SEKISUI CHEMICAL Group contributes to solving various natural and social environmental issues in order to realize an earth with maintained biodiversity. We remain conscious that the business activities we carry out incorporate the Earth's natural capital as well as meaningful social capital from society. We are therefore committed to accelerating efforts aimed at returning such capital back to the environment and society while collaborating with stakeholders.
Working toward the realization of an earth with maintained biodiversity entails the same stance required to achieve the SDGs set for 2030. This is because this earth cannot be realized without a society in which many of the issues in natural and social environments have been solved.
The following three activities are emphasized as activities that contribute to solving issues.
(1)

Expand and create markets for Products to Enhance Sustainability*1

(2)

Reduce environmental impact

(3)

Conserve the natural and social environments*2
We seek to invigorate these activities and accelerate solutions to problems. This means that while each and every employee should be conscious of the range of environmental issues, we need to do more than just have a talented group of personnel with considerable ability to contribute to solving issues; it will be necessary, we believe, to partner with all groups of stakeholders and collaborate to move forward on activities.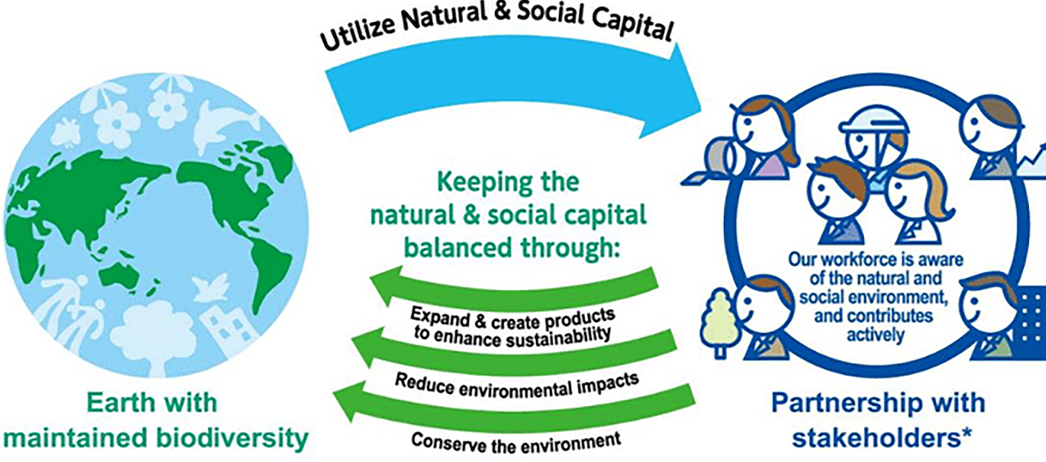 *Stakeholders:"Customers", "Shareholders", "Employees", "Business partners", "Local Communities and the Environment"