Environmental Management System
Promoting an Environmental Management System Based on ISO 14001
Environmental Management System
The environmental aspects of SEKISUI CHEMICAL Group have been managed and promoted under the Sustainability Committee since fiscal 2020. The CSR Committee, which had been in place until fiscal 2019, had discussed major CSR initiatives and activity policies. By changing the structure of this committee and renaming it the Sustainability Committee, we have turned it into a forum to deliberate on policies and strategies for improving the sustainability of society and SEKISUI CHEMICAL Group. In addition, we have positioned the environment as one materiality for improving sustainability and established the Environmental Sub-committee, which is subordinate to the Sustainability Committee.
At the first Sustainability Committee meeting (held in December 2020), the committee deliberated on the main sustainability-related initiatives, including the environment, as well as activity policies and related issues. A framework was created for the deliberations of this committee to be reported to and approved by the Board of Directors, then applied to management. In addition, the determination and implementation of a detailed activity plan related to the environment will be carried out through meetings of environmental managers from Corporate Headquarters and each divisional company.
In fiscal 2021, the Environmental Sub-committee met twice, in November and March, confirming progress and deliberating on the effectiveness of measures related to such issues as greenhouse gas emission reduction, handling water risk problems, and initiatives for reducing the volume of waste products generated. In addition, in such cases as when urgent expansion of measures is required, management meetings (which meet monthly and are chaired by the head of the Business Strategy Department who is also the person in charge of the ESG Management Department) deliberate on these matters as needed and report to the Board of Directors.
Environmental Management Promotion System (from fiscal 2020)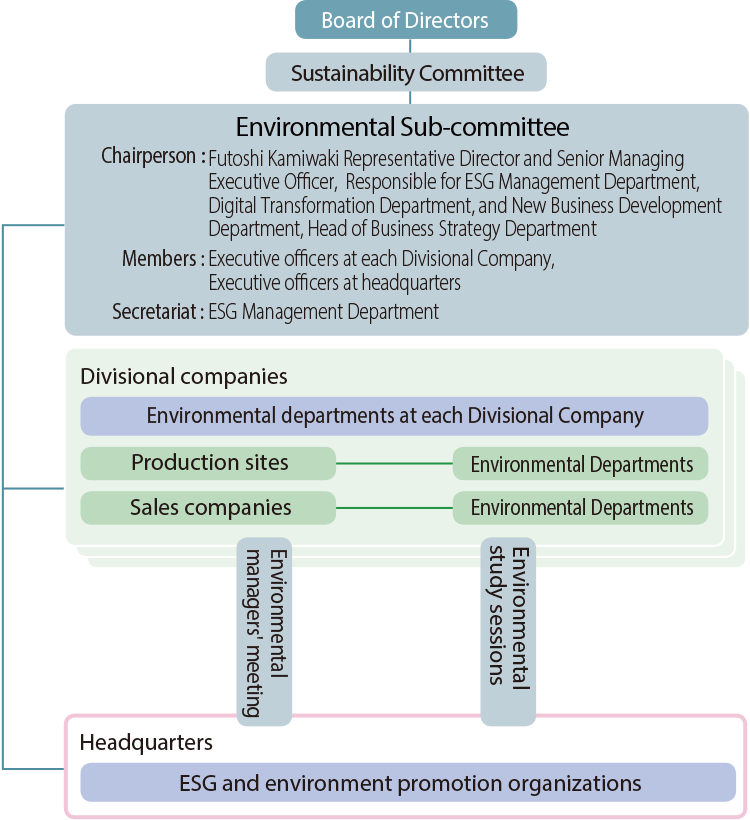 Environmental Management Across the Supply Chain
When starting or continuing business transactions, we ask our suppliers to establish an environmental management system in conformity with ISO 14001 and to reduce their environmental impact.
With regard to important environmental issues such as climate change, we are confirming whether reduction targets have been set and efforts are under way.
The raw materials used in manufacturing are employed to identify the volume consumed as a part of efforts to ensure material balance and also in monitoring environmental impact. Recognizing that climate change is the most important environmental issue in the case of the raw materials we use, we are stepping up efforts particularly with regard to the reduction of greenhouse gas emissions.
From a raw material perspective, we are requesting the presentation of greenhouse gas emissions data during raw material manufacture from more than 10 manufacturing companies, while promoting efforts to reduce greenhouse gases under Scope 3 for the future for the four major resins that are purchased in large volumes and have high levels of greenhouse gas emissions.
Group EMS-Aligned Environmental Activities in Offices
SEKISUI CHEMICAL Group encourages environmental activities in its offices that are in line with its Environmental Management System (EMS). At our offices located throughout Japan, we refer to the EMS for guidance on environmental activities, such as turning off lights during lunch breaks and other steps to conserve energy and reducing the use of paper.
Setting Self-management Targets That Are Stricter than Environmental Laws and Regulations
SEKISUI CHEMICAL Group has set its own environmental management targets. This includes reducing emissions into the atmosphere and water environments, which are stricter than legal regulations. Each business site closely follows these internal targets. We aim to prevent environmental accidents before they occur by conducting internal environmental audits to uncover latent environmental risks.
In addition, we are developing comprehensive activities by sharing information on new legal and regulatory trends as well as incidents of other companies within the Group.
In fiscal 2021, there were no reports of violations of environmental laws or regulations including transgressions relating to the disposal of waste, wastewater discharge, and contamination. There were also no reports on incidences of administrative guidance. There was one minor incidence of fire and one of heavy oil leakage. There were no complaints (see p. 174). Moving forward, SEKISUI CHEMICAL Group will continue to work to ensure compliance with all statutory and regulatory requirements while promoting thoroughgoing safety.
Major Initiatives
Expansion of EMS Overseas
At our overseas business sites, we are also expanding EMS implementation with similar policies to Japan. We are putting in place systems for obtaining environmental impact data and taking initiatives to reduce environmental impact based on this data.
As of the end of March 2022, 49 business sites in Japan and 41 business sites overseas had acquired ISO 14001 or other similar certifications. The proportion of SEKISUI CHEMICAL Group production sites and research facilities which have acquired these certifications is now 94%.
Additionally, the Group aims to achieve ISO 14001 certification at all production sites.
Conducting Emergency-preparedness Drills
To prevent and mitigate environmental pollution during an emergency, our employees at each business site are trained at least once a year in emergency procedures and communications for a variety of scenarios unique to each business site. The implementation results from the main training held in fiscal 2021 are set out below.
Training for Measures and Notices to be Carried Out in Emergencies
| Simulated emergency scenarios | Number of times drills performed |
| --- | --- |
| Leakage and outflow of oil and other materials | 40 |
| Atmospheric release of solvents and other materials | 5 |
| Fire incidents | 32 |
| Earthquake incidents | 8 |
| Emergency reporting drills | 15 |
| Comprehensive disaster drills | 32 |
| Handling of other equipment-related accidents | 2 |
Performance Data
Scope of Tabulation for Environmental Performance Data
Note:

Regarding the scope of aggregation for environmental performance data, all SEKISUI CHEMICAL (consolidated) business sites (100% of production sales amounts) are subject to environmental reporting.
Business Sites That Have Received Third-party Certification for Their Environment Management Systems
Indicator
Calculation Method
Number of EMS-certified business sites
Number of business sites that have received external EMS certification
External EMS certification: ISO 14001, Eco-Action 21, etc.
The proportion of all production sites and research facilities within SEKISUI CHEMICAL Group that have received external EMS certification
The proportion of all EMS-certified business sites within SEKISUI CHEMICAL Group = The number of all production sites and research facilities that have received external EMS certification / The number of all production sites and research facilities within SEKISUI CHEMICAL Group
Environment-related Accidents, Complaints, etc.
Content
Response
Accidents
Fires
Fire from laboratory equipment during continuous operation
Reinforce risk assessment and install multiple interlocks
Leaks
Leakage of heavy oil due to piping corrosion
Renewed piping and replaced soil, added leaks to daily inspection item
Complaints
No complaints occurred.
In fiscal 2021, there were two environmental accidents which occurred. In both cases, we identified the cause and carried out permanent recurrence prevention measures.