Overview of SEKISUI CHEMICAL Group
Under its Long-term Vision, Vision 2030, SEKISUI CHEMICAL Group has set Innovation for the Earth as its vision statement. Focusing mainly on the following four business domains, we will work to create peace of mind for the future toward the realization of a sustainable society by creating innovation.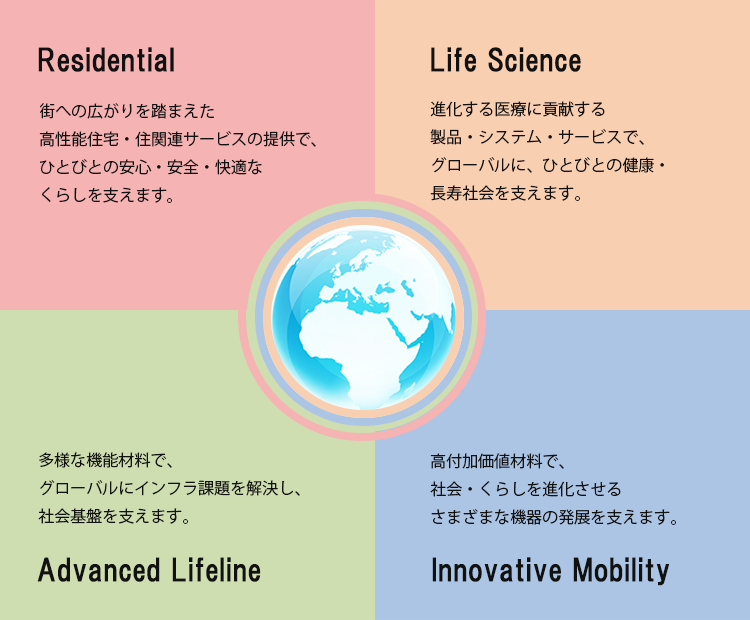 Residential: Housing Company
| Main businesses | Main products and services |
| --- | --- |
| Housing, Stock, Town and Community Development, Residential Services, and Overseas Businesses | Manufacturing, construction, and sales of steel frames and wood unit housing; as well as sales of building lots, renovations, real estate, homes for the elderly with services, interior goods, exterior sales and construction, power trading, and town and community development |
Advanced Lifeline: Urban Infrastructure & Environmental Products Company
| Main businesses | Main products and services |
| --- | --- |
| Pipes and Infrastructure (for housing, buildings, industrial and chemical plant use, and public infrastructure), Buildings and Living Environment, and Performance Materials | Manufacturing, sales, and installation of a wide range of products such as PVC pipes and fittings, polyethylene pipes and fittings, plastic valves, pipe renewal materials and technologies, reinforced plastic composite pipes, water tanks, construction materials (rain gutters, materials for building interiors), nursing instruments, bathtub units, decorative plastic sheets, synthetic wood, soundproof vibration-suppressing materials, blow-molded containers, construction materials, and functional tatami mats |
Innovative Mobility: High Performance Plastics Company
| Main businesses | Main products and services |
| --- | --- |
| The fields of Electronics, Mobility, Housing Infrastructure, and Industrial applications | Manufacturing and sales of products such as micro-particles for liquid crystal displays, film used to protect photosensitive film and optical film during manufacturing, components of semiconductor chips, industrial tape, interlayer film for laminated glass, foamed polyolefins, plastic and rubber molded products, heat dissipation materials (grease and sheets), carbon fiber reinforced plastic (CFRP) composite mold materials, functional plastic resin for infrastructure materials, fire protection materials, non-flammable polyurethane, polyurethane, livestock panels, adhesives, packaging tape, plastic containers, polyvinyl alcohol resin, and hygiene materials |
Life Science: Medical Business
| Main businesses | Main products and services |
| --- | --- |
| Diagnostics, Pharmaceuticals & Fine Chemicals, and Drug Development Solutions | Manufacturing and sales of products such as in-vitro diagnostics reagents, analyzers, active pharmaceutical ingredients (APIs) and pharmaceutical intermediates, drug development solutions, and enzymes |
Other businesses
Main products and services
Manufacturing, sales, and servicing for film-type lithium-ion batteries and other products outside of our four main businesses (Housing Company, UIEP Company, HPP Company, and Medical Business)
SEKISUI CHEMICAL Group Worldwide

Note:

Figures current as of the end of March 31, 2022 (on a consolidated basis)
Business Data
Employee ratio by region

Sales ratio by region
See the Fact Book for details of management indicators.