Major Initiatives
SEKISUI CHEMICAL Group is promoting efforts to preserve the natural environment of local communities through various measures, including the conservation of forests and satoyama (semi-natural ecosystems), control of invasive species, beautification of the environment, and environmental education, while contributing to achievement of the SDGs..
Contributing to the Conservation of the Natural Environment that Forms the Foundation of Society
SEKISUI CHEMICAL Group is working to conserve the natural environment in order to realize an earth with maintained biodiversity as stipulated in the SEKISUI Environment Sustainability Vision 2050. Working in collaboration with NPOs and other organizations, we are developing social contribution activities related to the local environment such as nature conservation activities in each region while at the same time presenting in-house awards for outstanding activities. We believe that it is effective to develop environmental human resources and solve social issues by having employees take the initiative in carrying out activities.
Group offices carried out various measures including clean-up activities in surrounding areas, forest conservation, and environmental education in fiscal 2022.
Major social and SDGs contribution activities undertaken or participated in during fiscal 2022 (Domestic/Environmental fields)
Working with local communities to conduct activities that protect the natural environment and biodiversity
| SDGs | Details of Activities | Purpose | Continuity | Coordination / Cooperation |
| --- | --- | --- | --- | --- |
| | Sekisui no Mori maintenance activities (TOKUYAMA SEKISUI CO., LTD.) | Conserve forest environments and enhance the functioning of forests | 2000~ | NPO Yamaguchi Satoyama Network |
| | Tohoku Coastal Forest Restoration Activities Tane Project (Sekisui Heim Tohoku Co., Ltd.) | Restore coastal forests using locally grown seedlings | 2015~ | Disaster Area Uncultivated Land Relief and Regional Seedling Production Network |
| | Former Matsuo mine site tree-planting activities (Sekisui Medical Co., Ltd., Iwate Plant ) | Plant trees to restore waste land into forests | 2007~ | Study Club on REGIONAL ENVIRONMENT Planning in TOUHOKU |
| | Higashiyama forest conservation activities (Kyoto R & D Laboratories) | Conduct clean-up activities and plant endangered plant species to preserve the environment of Higashiyama | 2018~ | Council for Kyoto Traditional Forest Culture in the city of Kyoto |
| | Yurikago Rice Paddy Project (Shiga-Ritto Plant, Nishinihon Sekisui Industry Co., Ltd., etc.) | Restore the paddy field environment to enable fish native to Lake Biwa to spawn | 2014~ | Agricultural and Rural Development Promotion Division, Department of Agriculture and Fisheries, Shiga Prefecture; Kurimidezaike-cho, Higashiomi, Shiga |
| | Lanceleaf tickseed extermination activities (Sekisui Heim Industry Co., Ltd. Kanto Office) | Remove lanceleaf tickseed, an invasive alien species, to conserve local ecosystems | 2020~ | Kasama City Environmental Conservation Division, Council for Considering the Environment of Kasama |
| | Nakaumi and Lake Shinji Clean-up Activities (SEKISUI SEIKEI, LTD., Izumo Plant) | Conduct clean-up activities to conserve the environment around Nakaumi and Lake Shinji | 2006~ | Izumo City, Shimane Prefecture, others |
| | Picking up trash throughout Chiba Prefecture (SEKISUI SEIKEI, LTD., Chiba Plant) | Contribute to the conversion of garbage to resources and beautify the local environment through clean-up activities | 2021~ | NPO Marugomi JAPAN |
| | Kasama Children's Nature Academy(Extracurricular classes) (Sekisui Heim Industry Co., Ltd., Kanto Office) | Raise environmental awareness among children through biological surveys and water quality tests of local rivers | 2006~ | Kasama Municipal Minami Gakuen Compulsory Education School |
| | Biotope nature observation event (Kyushu Sekisui Industry Co., Ltd.) | Conduct nature walks through the onsite biotope to provide children the experience of interacting with the natural environment | 2019~ | Kanzaki Municipal Chiyoda Tobu Elementary School |
| | Moist Forest flora and fauna observation event (Extracurricular classes) (Chiba Sekisui Industry Co., Ltd.) | Provide children with the opportunity to learn about changes in nature by observing flora and fauna at Moist Forest, a local grove of miscellaneous trees | 2015~ | Ichihara Municipal Urutsu Elementary School |
| | Toyohashi Children's Nature Academy /Tidal flat conservation and flora and fauna observations (Sekisui Heim Industry Co., Ltd., Chubu Office) | Raise interest in environmental issues together with local residents and children through the observation of flora and fauna and clean-up activities at neighboring tidal flats | 2003~ | Toyohashi Museum of Natural History |
Supporting Children's Forest Creation Team Activities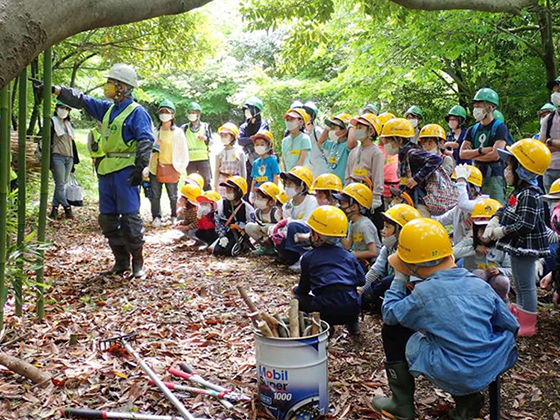 【Site】

Sekisui Heim Chubu Group Nagoya City, Aichi Prefecture

【Collaborating partner】

Nagoya Higashiyama Forest Creation Association

【Purpose】

Conserve the satoyama (semi-natural ecosystems) of the city
Support children's satoyama experiences

【Continuity】

Participation since 2017

【Effect】

Fiscal 2022: Held 3 times with 106 children participating
【Related SDGs】
Coordinating with the NPO Nagoya Higashiyama Forest Creation Association, which engages in activities to preserve the precious satoyama environment that remains in the Higashiyama district of Nagoya City, we support the activities of the Children's Forest Creation Team, in which local children participate.
Eradication of Invasive Aquatic Grasses in the Shinmachi River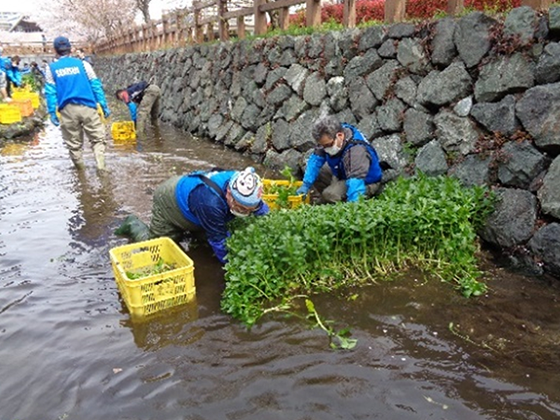 【Site】

Shikoku Sekisui Co., Ltd./ Saijo City, Ehime Prefecture

【Collaborating partner】

Saijo Nature School

【Purpose】

Conserve native aquatic plants

【Continuity】

Activity since 2015, activities will continue in collaboration with NPOs in the future

【Effect】

Fiscal 2022: Conducted twice, removed1,458 kg of foreign aquatic plants during year
【Related SDGs】
In collaboration with Saijo Nature School, a local NPO, Shikoku Sekisui Co., Ltd. employees work regularly to eliminate foreign aquatic plants such as water speedwell (Veronica anagallis-aquatica), watercress (Nasturtium officinale), and Western waterweed. In this manner, efforts are being made to preserve indigenous species such as curly-leaf pondweed (Potamogeton crispus).
Overseas Group Environmental Conservation Activities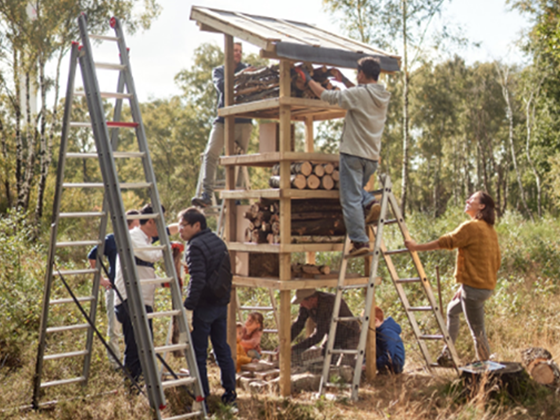 SEKISUI EUROPE B.V.
SEKISUI ALVEO B.V.
SEKISUI POLYMATECH EUROPE B.V.
SEKISUI S-LEC B.V.
(Netherlands)
The four companies jointly held a Nature Working Day to contribute to the local natural environment by cleaning up ponds and green areas and creating bio-hotels (habitats for living creatures).
【Related SDGs】