The "3S Principles" (Service, Speed, Superiority)
At SEKISUI, we serve our stakeholders by creating social, environmental and economic value through responsible business practices.
At SEKISUI, we accelerate innovation by eagerly taking on new challenges, adapting to change and staying ahead of the times.
At SEKISUI, we contribute to society by helping to solve social issues with our superior technologies and quality.
*

Social and Society : The entire society including "Stakeholders" ("Customers," "Shareholders," "Employees," "Business Partners," "Local Communities and the Environment") which have been prescribed in the "Corporate Philosophy

SEKISUI symbol comprises
Our company symbol comprises the three S's of the company's original name, adopted at the time of its foundation, "SEKISUI SANGYO" enclosed in a hexagonal shape resembling a tortoise shell (the chemical symbol for benzene), symbolizing the Chinese character meaning "water."
In November 1959, this mark was defined as the "3S Principle" and formally established as the company creed.
"The difference between people living their lives in accordance with ideals and those simply going where the currents and eddies of life take them becomes ever more apparent as the long years of their lives pass. The same is true of business. Only when employees mass under a common ideal arising from a basic policy of business management can the company demonstrate its great power as a corporate community."
It was in the spirit of this intent that the 3S Principle comprising Service, Speed and Superiority was established as the motto of SEKISUI.
SEKISUI CHEMICAL Group and Stakeholders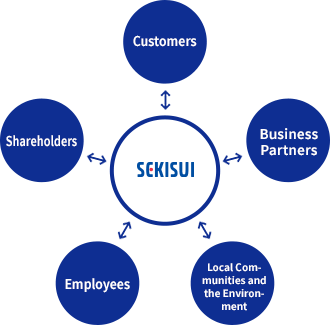 SEKISUI CHEMICAL Group aims to meet the expectations of its stakeholders "Customers," "Shareholders," "Employees," "Business Partners," "Local Communities and the Environment,"and contribute to society through its business activities, and has embodied this ambition in its Corporate Philosophy called the "3S Principle" (Service, Speed, and Superiority).
Customers

Satisfy customer needs to the fullest extent
Provide the best possible services to customers
Shareholders

Strive for the sustained growth of corporate value
Ensure the clear and timely disclosure of information
Employees

Establish a culture that encourages empoyees to set their own goals and be willing to take on new challenges
Assure the validity of the performance-based evaluation
Business Partners

Deepen relationships with business partners and assosiated companies
Promote coexistence and co-prosperity through fair transactions
Local Communities and the Environment

Contribute to society and the environment with our products
Build harmony with local communities as a good corporate citizen
Origin of our Company Name
The term "SEKISUI" is derived from Sun Tzu's The Art of War, an ancient Chinese classic.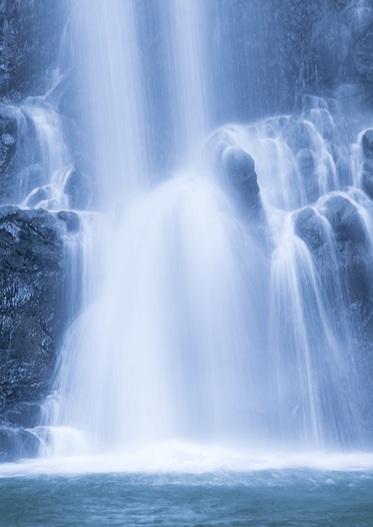 The Onrush of a conquering force is like the bursting of pent-up waters into a chasm a thousand fathoms deep.
Sun Tzu states:

"The victor of a battle is determined in one fell swoop with tremendous force, just as pent-up water [SEKISUI] drops into a deep gorge.
And before the battle, he must position himself for victory."
Adaption of this concept into corporate activities:

Expanding business activities will inevitably encounter problems and challenges.
To overcome them, it is important to gain a full understanding of and analyze your opponent's situation, to consolidate your own structure, and release the power of pent-up waters to be victorious in battle.
Constitution of Group Principle