SEKISUI CHEMICAL Group's Principle comprises elements such as our Corporate Philosophy, Group Vision that expresses an ideal form aimed for by the Group in the medium to long term, and our concrete Management Strategies to realize the Group Vision.
Based on "Group Principle", and by the unified efforts of all employees of the group we aim for a corporate group which is sustainable for the next 100 years.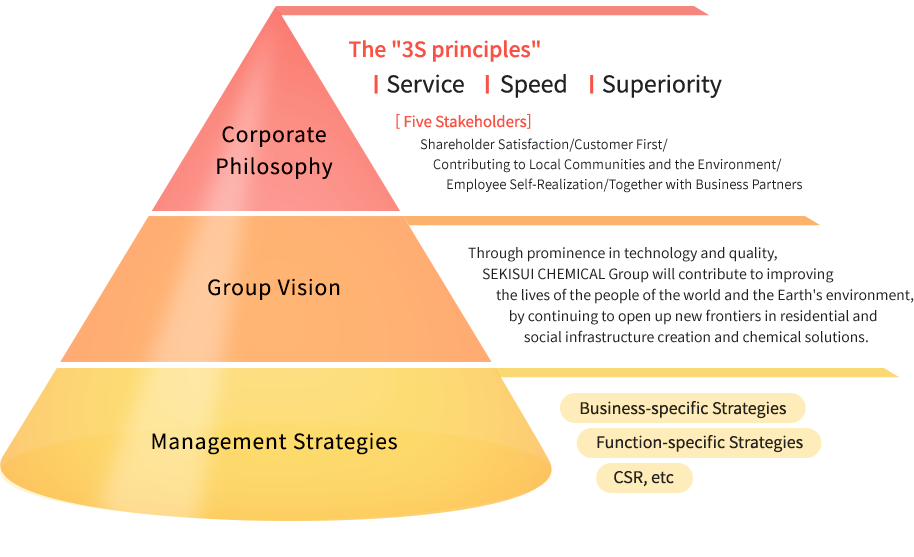 Constitution of Group Principle
Corporate Philosophy-The "3S Principles"
SEKISUI CHEMICAL Group aims to meet the expectations of its stakeholders and contribute to society through its business activities, and has embodied this ambition in its Corporate Philosophy called the "3S Principles" (Service, Speed, and Superiority).
At SEKISUI, we serve our stakeholders by creating social, environmental and economic value through responsible business practices.
At SEKISUI, we accelerate innovation by eagerly taking on new challenges, adapting to change and staying ahead of the times.
At SEKISUI, we contribute to society by helping to solve social issues with our superior technologies and quality.
Through prominence in technology and quality,
SEKISUI CHEMICAL Group will contribute to improving the lives of the people of the world and the Earth's environment, by continuing to open up new frontiers in residential and social infrastructure creation and chemical solutions.
Long-term Vision "Vision 2030"
The SEKISUI CHEMICAL Group has set its vision statement as "Innovation for the Earth" which embodies the strong desire to support life infrastructure and create "peace of mind that continues into the future" toward the realization of a sustainable society by continuing to generate innovation.
Vision Statement
Innovation for the Earth
In order to realize sustainable society,we support the basis of LIFE and will continue to create "peace of mind for the future".
Management Strategies (Medium-term Management Plan)
We has formulated its new medium-term management plan "Drive 2022" as given below. As the first step in the SEKISUI CHEMICAL Group Long-term Vision "Vision 2030" , the plan seeks to enhance the SEKISUI CHEMICAL Group's business base and accelerate preparations for the next stage of growth through full-scale ESG management.
"Drive" sustainable growth, reform, and preparation toward realization of Vision2030
Promote ESG management and build a corporate system that allows sustainable enhancement of corporate value
Undertake the "Three Drive" as the first step of the long-term vision

Existing Business Drive (1) Business growth & reform

New Business Drive (2) Create & acquire new business for long term growth

Business Base Drive (3) Strengthen ESG management base

Accelerated by Fusion & Digital transformation
ROIC (Return on Invested Capital)
ROE
ROE (Return On Equity)
Constitution of Group Principle