High Performance Plastics Company

Realizing Smart Mobility and Smart Communication
We support the development of various devices that advance society and our lives with high value-added materials.
Electronics
We supply products such as fine particles, sealants and adhesives, and tapes and films that have functions including conductivity and insulation, thermal management, gap formation, and cushioning and protection for use in various types of displays, electrical devices, communications equipment, circuit boards, and semiconductors.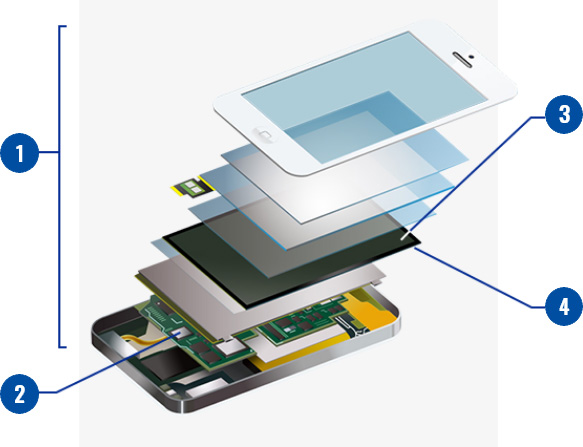 Film and Tape

Functional foam tape
Conductive adhesive tape
Highly clear double-faced tape
Cushion material
High-adhesion, UV releasable tape

Substrates and Mounting Materials

Heat release products
Anisotropic conductive paste (Epowell AP)

Microsphere (Fine particles)

Gap control spacers(Micropearl SP, GS)
Plastic core conductive particles(Micropearl AU)

Resin

UV curable adhesive(Photolec)
Materials
Homogeneous Microsphere Synthesis

High-precision control and of microsphere with less variation help to make liquid crystal displays(LCDs) higher definition and smaller.
Microsphere Surface Functionalization

The metallic plating layer is formed uniformly on fine resin particles with uniform diameters. In addition, the hardness and elasticity of particles can be configured through the resin core design.
Photoactive Material

We develop strong adhesives with high heat resistance using our unique photosensitive materials technologies. In addition to UV curable adhesives which adhere in a certain period of time after being illuminated with ultraviolet rays, we also have a variety of other products for different uses, such as UV sealing agents.
Polyvinyl butyral resin

Using our unique technologies, we develop polyvinyl acetal resin products centered on polyvinyl butyral (PVB) resins suitable for various types of binders and primers.
Epoxy resin

We develop our own epoxy resins for use in adhesive applications requiring high heat resistance and reliability, such as for semiconductors and electronic components.
High-Adhesive and Easy-Peelable Material

This technology produces adhesives that have strong adhesive properties when in use, yet can easily be peeled off using triggers such as light or heat.
Adhesive Compound Design

Using our unique adhesive design technologies, we achieve the high transparency and reliable adhesion (heat and moisture resistant) required for display uses, such as optical films and cover panels.
Processing
High-Precision Multi-layer Extrusion

Using our multi-layer co-extrusion production method, we reduce adhesive deposits and can apply adhesives on adherends without leaving stains. Using variations of substrates and adhesives, they can be applied to optical films of different surface forms, such as matt surfaces and prism surfaces.
Thin Film Depsition by Sputtering

This is a technology for continuous deposition of inorganic performance films using high-precision sputters. In addition to transparent conductive films, the use of this technology is also spreading to other uses, such as heat reflection and electromagnetic wave shielding.
Mobility
In addition to products such as interlayer film for laminated glass, foams for automobile interior parts, molded products and tapes, we supply heat release materials and electromagnetic wave protection materials for electric and autonomous driving devices. We also provide interior and exterior parts for aircraft and drones, carbon fiber reinforced plastic (CFRP) mold materials, and thermo plastic sheets used in aircraft interiors, etc.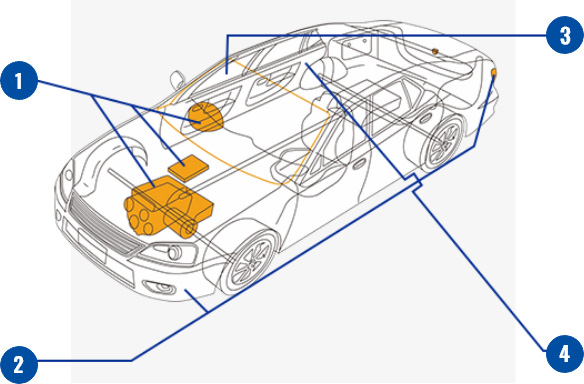 Automotive (Car Electronics)

Heat release materials for EV batteries
Functional foam tape
Highly clear double-faced tape
Gap control spacers(Micropearl SP, GS)
Plastic core conductive particles(Micropearl AU)
Plastic core solder balls(Micropearl SOL)

Automotive (For exteriors)

Watertight sealing material(EXSEAL)
Molded parts for vehicle exteriors

Automotive (For windows)

Interlayer film for laminated glass(S-LEC film)

Sound insulation interlayer film
Solar control interlayer film
Sound insulation/solar control interlayer film
Interlayer film for head-up display

Automotive (For interiors)

Polyolefin foam
Products Manufactured with High-Magnification Foam Molding Technology
Low-odor, low-VOC double-sided tape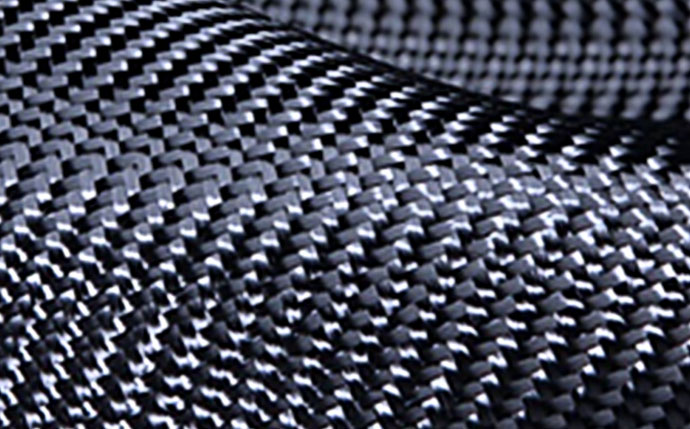 Carbon Fiber Reinforced Plastics (CFRP)
CFRP is a composite material that combines carbon fiber and resin. Due to its light weight and durability, its use in fuselages is expected to reduce the amount of fuel required for flight, as well as CO2 emissions.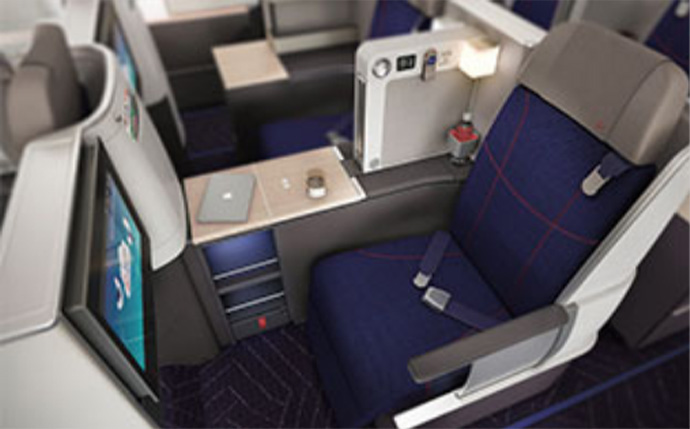 Thermo Plastic Sheets
We are developing our thermo plastic sheets business globally, mainly in the United States, for use as interior materials for aircraft and automobiles, housing materials for advanced medical equipment, and exterior materials for automobiles and construction machinery.
Materials
Adhesive Compound Design (Low VOC)

Our adhesive technologies suppress VOC and smell to achieve less impact on both the environment and humans. We do not use any of the 13 substances designated by the Ministry of Health, Labour and Welfare to be harmful to the human body.
Themoexpandable Microsphere

Thermoexpandable microspheres, with independent air bubbles, have the excellent characteristic of being able to control the size of air bubbles through particle selection.
Processing
Multi-layer Extrusion

This technology adds a variety of functions by using different materials to make multi-layer molded films.
High-Magnification Foaming

This is a high-magnification foaming technology, where ultra-thin polypropylene resin is injection molded and expands to more than twice its thickness by the gas pressure within the resin.
Related sites
High Performance Plastics Company Core website
Mobility products general information
Interlayer films for automotive laminated glass
Foaming materials used for interior and exterior automotive components
Double-faced tape for fixing of interior parts, and Low-smell and ultra low-VOC double-faced tape
Functional resins and particles, Polyvinyl alcohol (PVA) resin
Plastics, rubber and chemical products, and Heat Release Materials for EV Batteries
Carbon Fiber-reinforced Composite Molded Products for Aircraft and Drones
Functional plastic sheets "KYDEX® "and "ALLEN®"
Industrial
We supply products created from cutting-edge technologies, such as adhesives, packaging tapes, and plastic containers for use in daily life and throughout society.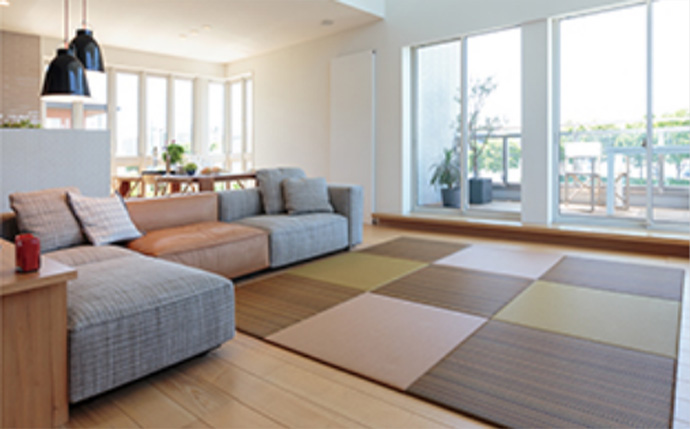 Plastic tatami mats (MIGUSA)
From houses to restaurants and hotels, these help to create spaces with a Japanese style. Using sophisticated plastics processing technology, the feeling and moisture absorption of soft rush is maintained while achieving high functionality such as durability, safety, and a rich blend of colors. The mats are resistant to mites and mold, and can be used by people with allergies with peace of mind.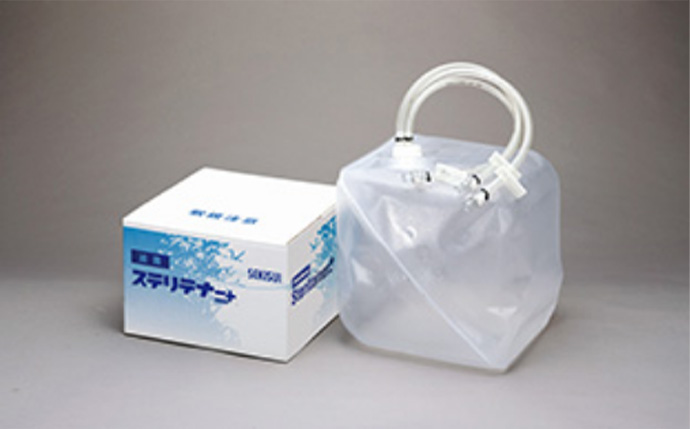 High performance containers
We offer High performance containers for medical and industrial fields.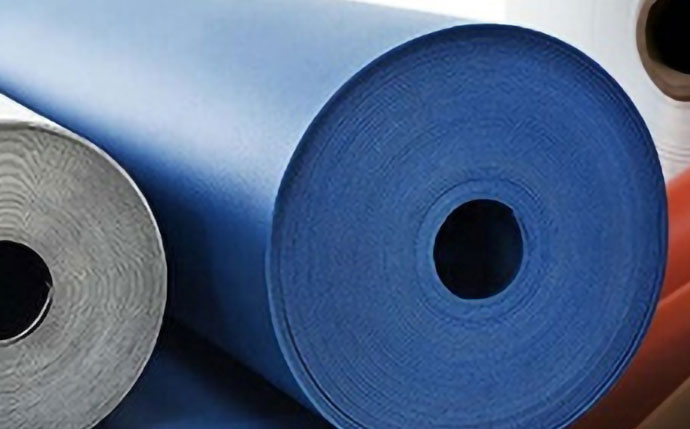 Polyolefin Foams
It is widely used in the fields of construction, civil engineering, automobile interiors, and industrial materials for its light weight, heat insulation, cushioning, moldability, impermeability, and durability, among other features. It is particularly useful for saving energy in everyday life as insulation, waterproofing, and anti-condensation material for building equipment and interior/exterior applications.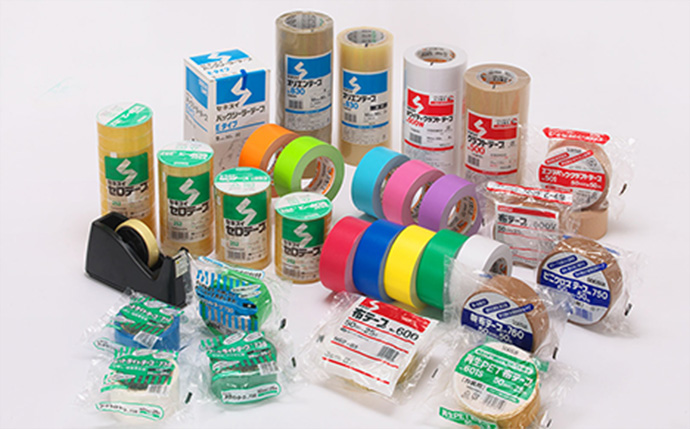 Packaging tapes
We offer a wide range of tapes which can be used for various applications depending on the base material. In addition, we also have environmentally friendly products which use fewer resources (by using recycled materials) and reduce waste.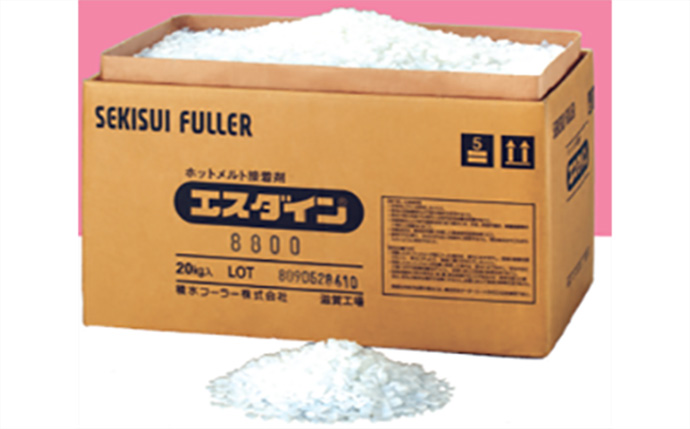 Hot melt adhesive
This adhesive is a plastic resin that adheres instantly. It is solid at room temperature but becomes a liquid when heated. It is applied in liquid form. It rapidly cools several seconds after pressure joining, enabling it to function as an adhesive.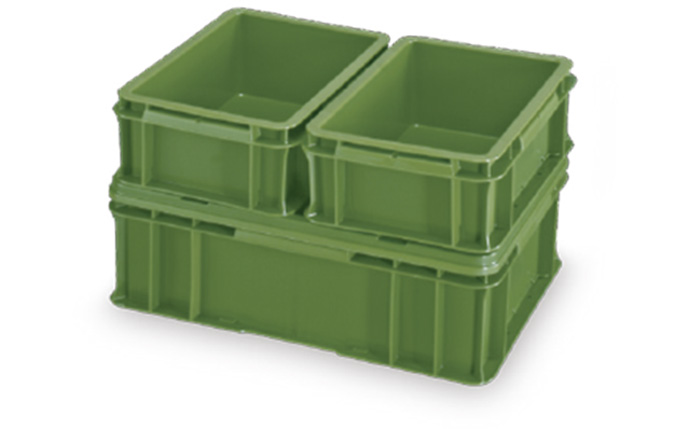 Recycled plastic containers
This product uses plastic material waste (recycled container materials) and waste plastic. We have minimized our impact on the environment by using 100%* recycled materials. This was made possible by utilizing our original sandwich formation technology that sandwiches the recycled container materials (core layer) with recycled plastic (skin layer). (*Excluding coloring materials)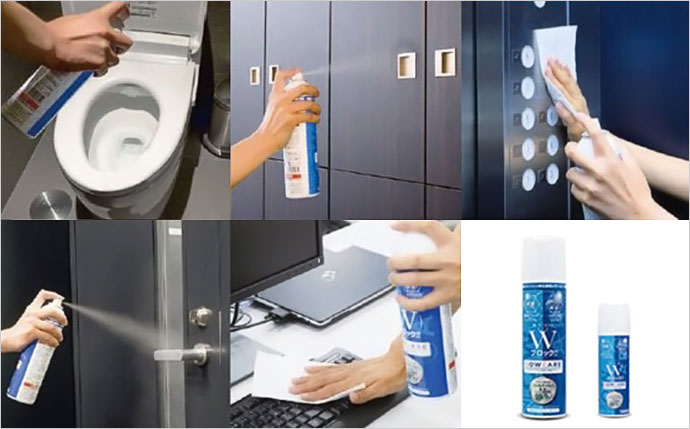 Care Materials
Anti-allergenic processing agent, anti-viral processing agent.
Research center