Cosmo Energy Holdings Co. Ltd. and SEKISUI CHEMICAL CO., LTD. (hereafter, "SEKISUI CHEMICAL") today concluded a basic agreement regarding a joint study toward CO2-to-valuables conversion (Carbon Capture and Utilization; hereafter, "CCU") using a SEKISUI CHEMICAL technology for the high-yield conversion of carbon dioxide (CO2) to carbon monoxide (CO) (hereafter, "chemical looping reaction technology").
SEKISUI CHEMICAL has developed a chemical looping reaction technology that converts CO2 to CO at a high CO2 conversion rate of 90% using a unique catalyst and reaction process developed in-house. CO converted from captured CO2 is attracting attention as a useful substance for CCU as it can serve as a raw material for alcohols such as methanol and ethanol, which are key substances that can be used in chemical products and energy applications, as well as synthetic fuels and the like.
Through this joint study, the two companies will examine factors such as the CO2 reduction effect and investment profitability, with the aim of producing sustainable products derived from CO2 emitted from refineries and other Cosmo Energy Group facilities.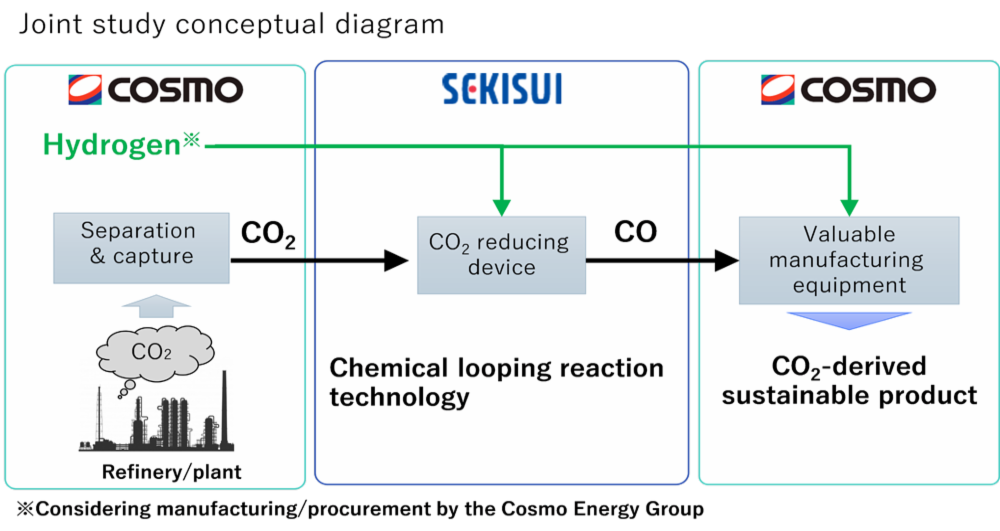 The Cosmo Energy Group announced its 2050 Carbon Net Zero Declaration and is accelerating decarbonization-related initiatives under its Vision 2030 and Seventh Consolidated Medium-Term Management Plan Oil & New ~Next Stage~. This project is one of a number of concrete measures that the Group is taking to "strengthen competitiveness of the Oil Business and pursue low carbonization" as set forth in Vision 2030. It is being carried out with the goal of solving societal challenges and achieving sustainable corporate development toward the realization of the Group's management vision of achieving "harmony and symbiosis between our planet, man and society."
The SEKISUI CHEMICAL Group has set "Innovation for the Earth" as its vision statement in its long-term vision, Vision 2030, declaring that it will "support the basis of LIFE and will continue to create 'peace of mind for the future' in order to realize a sustainable society" through continuous innovation. It is also working on new technologies and projects that contribute to decarbonization. Going forward, the SEKISUI CHEMICAL Group will continue to help solving social issues, with the aim of balancing the realization of a sustainable society with the Group's growth, and will undertake initiatives to ensure that it continues to be a company that is trusted by its stakeholders.
※: About chemical looping reaction technology
An innovative technology that uses as a unique catalyst and reaction process developed in-house by SEKISUI CHEMICAL to convert CO2 to CO, which serves as a raw material for alcohols, acetic acid and other chemical products, and synthetic fuels, etc. at a high CO2 conversion rate of 90%.
About SEKISUI CHEMICAL Group
Headquartered in Japan, SEKISUI CHEMICAL CO., LTD. (TSE: 4204) and its subsidiaries make up the SEKISUI CHEMICAL Group. 26,000 employees in over 180 companies throughout 21 countries and regions aim to contribute to improving the lives of the people of the world and the earth's environment. Thanks to a history of innovation, dedication and a pioneering spirit, SEKISUI CHEMICAL now holds leading positions in its three diverse business divisions as well as top global market share in interlayer film, foam products, conductive particles and more.
Since its foundation in 1947, the SEKISUI CHEMICAL Group has dedicated itself to social and environmental contribution and is now an internationally recognized leader in sustainability and environmental initiatives, having recently been selected as one of the Global 100 most sustainable companies. SEKISUI CHEMICAL Group will continue to maintain a strong corporate presence for 100 years and beyond.
Press Contact
SEKISUI CHEMICAL CO., LTD.
Corporate Communication Department
Email: kouhou@sekisui.com
Disclaimer
This press release may contain forward-looking statements. Such forward-looking statements are based on current expectations and beliefs and are subject to a number of factors and uncertainties that could cause actual results to differ materially from those expressed or implied by such statements due to changes in global economic, business, competitive market and regulatory factors.