SEKISUI CHEMICAL CO., LTD. (President and Representative Director: Keita Kato; hereinafter, "SEKISUI CHEMICAL") concluded a capital and business partnership agreement with LATYS Intelligence Inc. (Headquarters: Montreal, Canada; CEO: Paul Tornatta; hereinafter, "LATYS"), which develops wireless networking solutions for WiFi, 5G, and 6G next-generation telecommunications field.
Going forward, SEKISUI CHEMICAL aims to develop a communication environment design service business by combining its next-generation communications components.
1. Background
SEKISUI CHEMICAL Group has identified "Next-generation communication components" as one of the Innovation Areas and seven key themes to realize its long-term vision "Vision 2030." Focusing on the development of components and devices that control high-frequency radio waves, the Group is accelerating commercialization to solve the issues faced in next-generation communications.
LATYS, one of the Group's business partners, has also commercialized its own wireless relay systems, and is developing tools to optimize equipment deployment (simulation) for effective use of these systems. This will enable the automation of the deployment and installation of wireless relay systems to achieve a good communication environment, which was previously done based on empirical knowledge.


LATYS' wireless relay building blocks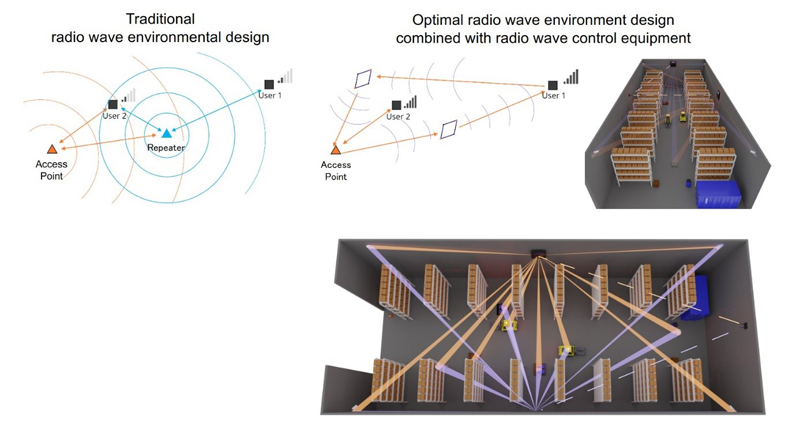 Conceptual example of communication environment optimization using LATYS' wireless relay systems
2. Details of the Business Partnership and Future Initiatives
SEKISUI CHEMICAL has signed a capital and business partnership with LATYS to develop a service business, including the provision of components/devices and construction proposals, in order to build a good communication environment that allows pleasant connections anytime, anywhere by combining SEKISUI CHEMICAL's next-generation communication components and LATYS' tools for optimal deployment. Through this partnership, SEKISUI CHEMICAL will contribute to the development and sustainability of next-generation communication infrastructure.
SEKISUI CHEMICAL is accelerating collaboration with startup companies and academia to expand and strengthen strategic business areas. For the exploration of new technologies and businesses, SEKISUI CHEMICAL will continue to engage in similar partnerships in the future.
Futoshi Kamiwaki, Senior Managing Executive Officer of SEKISUI CHEMICAL, said "We are excited to support LATYS and provide new solutions to the wireless network through our collaboration. By combining LATYS's advanced metasurface and deployment technologies with SEKISUI's next-generation communication components, we will provide new value to next-generation communication infrastructure."
Paul Tornatta, CEO of LATYS, expressed his excitement about the partnership: "We are thrilled to welcome SEKISUI as a strategic partner and investor. Their commitment to innovation and sustainability aligns perfectly with our vision for reshaping wireless communication. With SEKISUI's support, we aim to further enhance our technology and expand its application in various industries."
[Reference] Overview of LATYS
| | |
| --- | --- |
| (1)Name | LATYS Intelligence Inc. |
| (2)Headquarters | 321 Rue de la Commune, Suite 300, Montreal, Quebec H2Y 2E1, CANADA |
| (3)Representative | CEO Paul Tornatta |
| (4)Services | Development, manufacture, and sale of wireless relay systems and provision of communication environment design services |
| (5)Year of establishment | 2020 |
| (6)Website | |
About SEKISUI CHEMICAL Group
Headquartered in Japan, SEKISUI CHEMICAL CO., LTD. (TSE: 4204) and its subsidiaries make up the SEKISUI CHEMICAL Group. 26,000 employees in over 180 companies throughout 21 countries and regions aim to contribute to improving the lives of the people of the world and the earth's environment. Thanks to a history of innovation, dedication and a pioneering spirit, SEKISUI CHEMICAL now holds leading positions in its three diverse business divisions as well as top global market share in interlayer film, foam products, conductive particles and more.
Since its foundation in 1947, the SEKISUI CHEMICAL Group has dedicated itself to social and environmental contribution and is now an internationally recognized leader in sustainability and environmental initiatives, having recently been selected as one of the Global 100 most sustainable companies. SEKISUI CHEMICAL Group will continue to maintain a strong corporate presence for 100 years and beyond.
Press Contact
SEKISUI CHEMICAL CO., LTD.
Corporate Communication Department
Email: kouhou@sekisui.com
Disclaimer
This press release may contain forward-looking statements. Such forward-looking statements are based on current expectations and beliefs and are subject to a number of factors and uncertainties that could cause actual results to differ materially from those expressed or implied by such statements due to changes in global economic, business, competitive market and regulatory factors.