SEKISUI CHEMICAL CO., LTD. (President and Representative Director: Keita Kato; hereinafter, "SEKISUI CHEMICAL") concluded a capital and business partnership agreement with Volocopter GmbH(Headquarters:Zeiloch 20, 76646 Bruchsal, Germany, CEO:Dirk Hoke, hereinafter "Volocopter")which develops and manufactures an Electric Vertical Takeoff and Landing (hereinafter "eVTOL") and a drone for Advanced Air Mobility (hereinafter "AAM") market.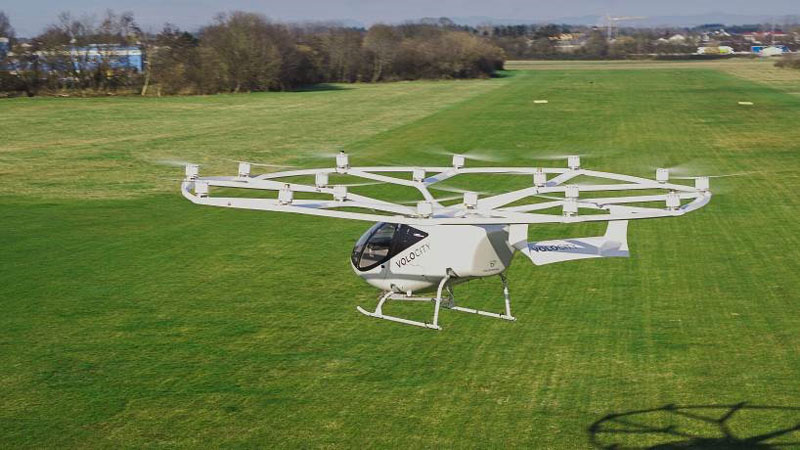 "VoloCity" an eVTOL developed by Volocopter
1. Backgrounds
AAM is an air transportation system using eVTOL and drones. eVTOLs are expected to be a novel and sustainable means of transportation, with lower greenhouse gas emissions and less noise during takeoff and landing than existing commercial aircrafts and helicopters because they are electrically driven. In Japan, the first eVTOL operation is planned for the Osaka Expo in 2025.
SEKISUI CHEMICAL Group has positioned "Innovative Mobility" as one of the strategic business domains defined in its long-term vision "Vision 2030," and is focusing on business expansion in the aircraft, automobile, and electronics fields.
Volocopter has developed its own multicopter type eVTOL aircraft and the infrastructure necessary to operate the eVTOL, thereby launching its AAM business ahead of its global competitors. The company plans to obtain type certification for its eVTOL aircraft from the European Union Aviation Safety Agency (EASA) in 2024 and to begin commercial services in Paris, Rome, Singapore and the Neom region of Saudi Arabia.
2. Details of the business partnership and future initiatives
SEKISUI CHEMICAL concluded a capital and business partnership agreement with Volocopter to apply and jointly developing various materials and technologies cultivated through our business in the aircraft, automobile, and electronics fields to the eVTOL aircraft being developed by Volocopter in addition to supporting Volocopter's business expansion in Japan.
We are accelerating our collaboration with start-up companies and academia to expand and strengthen our strategic business domains. We will continue to pursue similar alliances to explore new technologies and businesses.
3. Sponsorship of VoloCity Airtaxi's full-size aircraft exhibition and demonstration ride event
We are also sponsoring Volocopter's Urban Air Mobility Showcase (Grand Front Osaka North Building Foyer,"Knowledge Plaza") on March 8-12, 2023, and this partnership is scheduled to be announced within the event. A full-size aircraft model exhibition and demonstration ride are scheduled for this event, which will be open to the public from 10th to 12th, as well as governments, local governments, shareholders and partner companies.
[Reference] Summary of Volocopter
| | |
| --- | --- |
| (1)Name | Volocopter GmbH |
| (2)Headquarters | Zeiloch 20, 76646 Bruchsal, Germany |
| (3)CEO | Dirk Hoke |
| (4)Business | Development, manufacturing and sales of eVTOL aircrafts and Drones, and providing transportation services |
| (5)Established year | 2011 |
| (6)Website | |
About SEKISUI CHEMICAL Group
Headquartered in Japan, SEKISUI CHEMICAL CO., LTD. (TSE: 4204) and its subsidiaries make up the SEKISUI CHEMICAL Group. 27,000 employees in over 200 companies throughout 21 countries and regions aim to contribute to improving the lives of the people of the world and the earth's environment. Thanks to a history of innovation, dedication and a pioneering spirit, SEKISUI CHEMICAL now holds leading positions in its three diverse business divisions as well as top global market share in interlayer film, foam products, conductive particles and more.
Since its foundation in 1947, the SEKISUI CHEMICAL Group has dedicated itself to social and environmental contribution and is now an internationally recognized leader in sustainability and environmental initiatives, having recently been selected as one of the Global 100 most sustainable companies. SEKISUI CHEMICAL Group will continue to maintain a strong corporate presence for 100 years and beyond.
Press Contact
SEKISUI CHEMICAL CO., LTD.
Public Relations Department
Email: kouhou@sekisui.com
Disclaimer
This press release may contain forward-looking statements. Such forward-looking statements are based on current expectations and beliefs and are subject to a number of factors and uncertainties that could cause actual results to differ materially from those expressed or implied by such statements due to changes in global economic, business, competitive market and regulatory factors.