SEKISUI CHEMICAL CO., LTD. (President: Keita Kato; hereinafter "SEKISUI CHEMICAL") received the Silver Award in the Environmentally Sustainable Company category of the 4th "ESG Finance Awards Japan", sponsored by the Ministry of the Environment.
The objective of the "ESG Finance Awards Japan" is to share with society the progressive initiatives of institutional investors, financial institutions, intermediaries, and companies that have made a positive impact on ESG finance and environmental/social business, leading to the promotion and expansion of ESG finance.
An "Environmentally Sustainable Company" refers to a company that incorporates environment-related opportunities and risks into its management strategy to increase corporate value and produce positive effects on the environment. They are selected based on evaluation criteria such as "risks/business opportunities/strategies", "KPI", and "governance".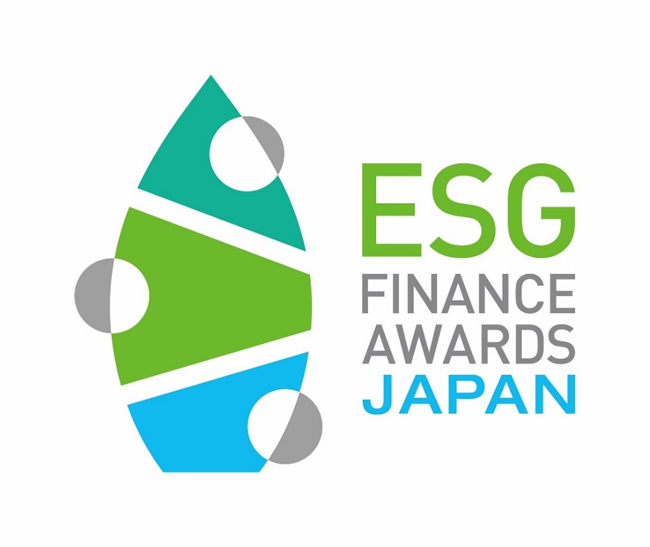 This award recognizes SEKISUI CHEMICAL Group's use of the Products to Enhance Sustainability System to create a positive impact on solving environmental and social issues through its products and businesses.
The Products to Enhance Sustainability System was launched in 2006 as the Environment-Contributing Products System, and in 2017, the target of problem solving was expanded not only to the natural environment but also to the social environment. In 2020, criteria necessary for sustainability was introduced so that our products and businesses can continue to solve social issues. In addition, a "premium frame" was set for products with particularly high social problem-solving capabilities and high profitability, and are developing measures to expand sales of those products by focusing management resources.
Also, this award recognizes the company's management stance of striving for thorough risk management, its originality in visualizing impacts based on the rate of return to natural and social capital, and its transparency in disclosing details of the process to identify materiality.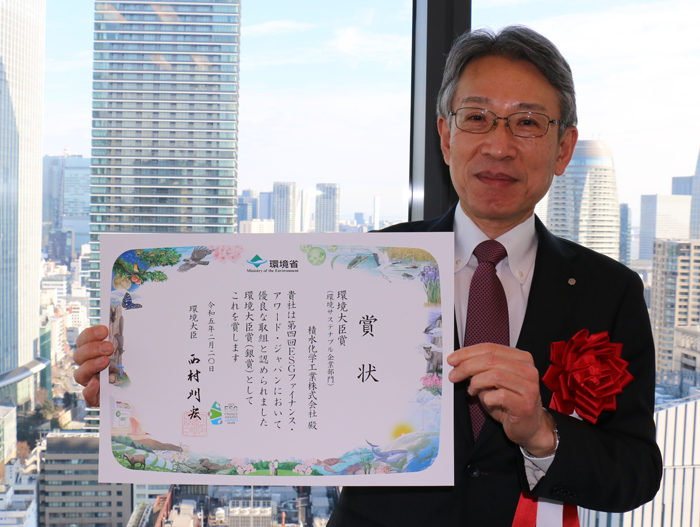 Representative Director and Senior Managing Executive Officer Futoshi Kamiwaki
Under the long-tern vision "Vision 2030", SEKISUI CHEMICAL Group has identified its vision statement "Innovation for the Earth", which incorporates the Group's commitment to drive continuous innovation as a means of supporting the basis of LIFE and continuing to create peace of mind for the future in order to realize a sustainable society.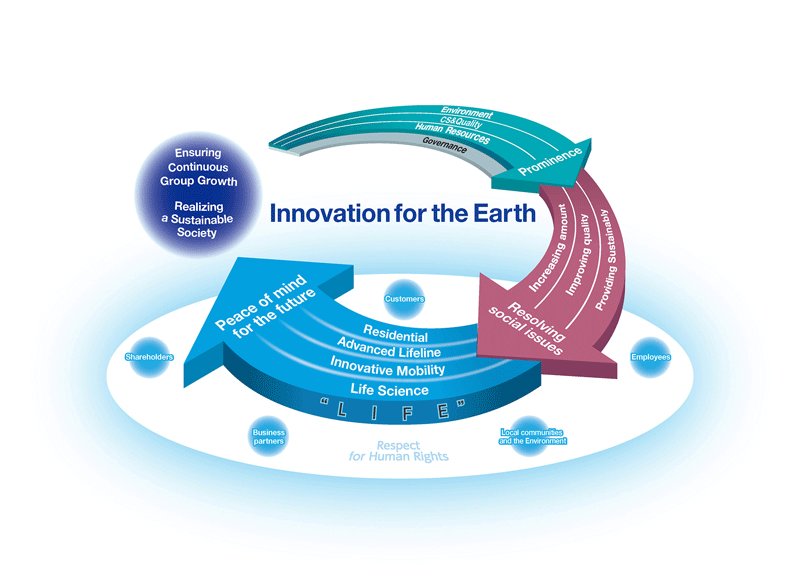 Conceptual diagram of SEKISUI CHEMICAL Group's ESG management
About SEKISUI CHEMICAL Group
Headquartered in Japan, SEKISUI CHEMICAL CO., LTD. (TSE: 4204) and its subsidiaries make up the SEKISUI CHEMICAL Group. 27,000 employees in over 200 companies throughout 21 countries and regions aim to contribute to improving the lives of the people of the world and the earth's environment. Thanks to a history of innovation, dedication and a pioneering spirit, SEKISUI CHEMICAL now holds leading positions in its three diverse business divisions as well as top global market share in interlayer film, foam products, conductive particles and more.
Since its foundation in 1947, the SEKISUI CHEMICAL Group has dedicated itself to social and environmental contribution and is now an internationally recognized leader in sustainability and environmental initiatives, having recently been selected as one of the Global 100 most sustainable companies. SEKISUI CHEMICAL Group will continue to maintain a strong corporate presence for 100 years and beyond.
Press Contact
[Press] Public Relations Department
Email: kouhou@sekisui.com
[Public] ESG Management Department
Email: communication_esg@sekisui.com
Disclaimer
This press release may contain forward-looking statements. Such forward-looking statements are based on current expectations and beliefs and are subject to a number of factors and uncertainties that could cause actual results to differ materially from those expressed or implied by such statements due to changes in global economic, business, competitive market and regulatory factors.