SEKISUI CHEMICAL CO., LTD. (President and Representative Director: Keita Kato; hereinafter, "SEKISUI CHEMICAL") has launched the new brand "UNISONTM" (trademark registration pending) for the biorefinery business that uses microorganisms to convert municipal/industrial waste into resources. Through the promotion of UNISONTM, SEKISUI CHEMICAL aims to create a new resource recycling social system with the participation of a wide range of stakeholders as partners.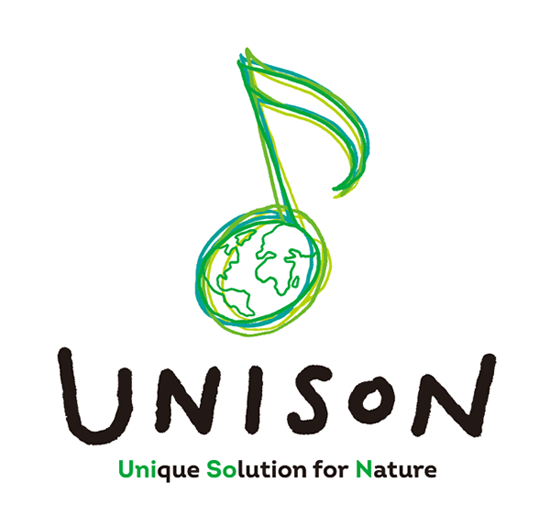 The various materials used when creating things are all gifts from the earth. Because these resources are limited, they are returned to the earth once they have fulfilled their roles, given a new life and recycled. This is how SEKISUI CHEMICAL wants to run society together with the earth and connect lifestyles with life.
The name "UNISONTM" expresses the desire for the earth and humanity, nature and chemistry to work together and resonate with each other like a chorus. In addition, "Unique Solution for NatureTM" represents an unparalleled solution for plastic resource recycling, with the starting letters of each word forming the name "UNISON."
"UNISONTM" is a biorefinery business brand that uses microbes to create resources from municipal/industrial waste through BR ethanol technology and other methods. This revolutionary technology, the first of its kind in the world, turns combustible waste collected at waste disposal facilities into gas without the need for sorting , and converts the gas into ethanol using microbes developed by U.S. company LanzaTech NZ, Inc. without the use of chemical catalysts, heat or pressure. It is expected to make a significant contribution to the realization of a sustainable society by helping to reduce the use of fossil resources, curb CO2 emissions, and resolve the issue of marine plastic waste.
To achieve the "new social system for resource recycling," SEKISUI CHEMICAL is aiming to establish a new recycling system that returns discarded waste into materials so that they can be reused repeatedly. This will require collaboration by a wide range of participants (corporations, local municipalities, consumers, public authorities etc.). The aim is to extensively promote co-creation for a sustainable society.
<New social system for resource recycling>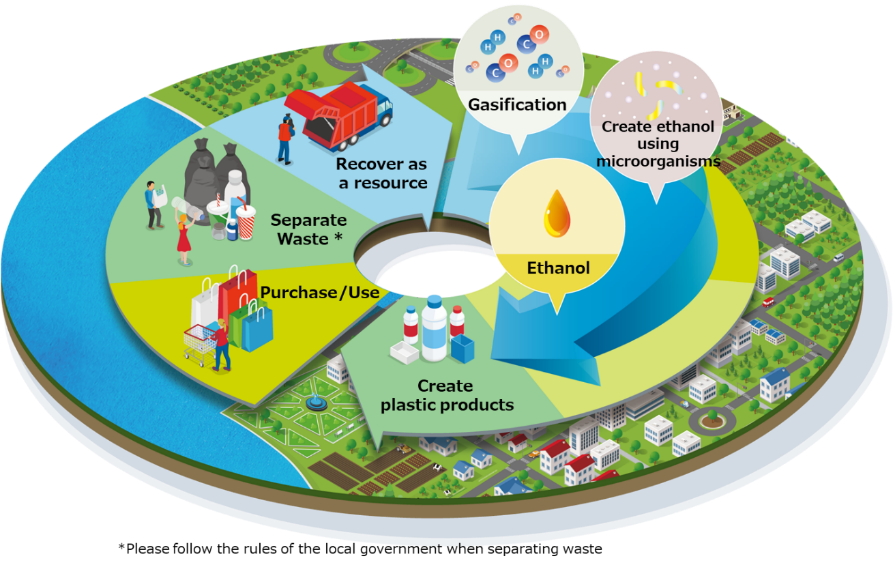 In its long-term vision "Vision 2030," SEKISUI CHEMICAL has adopted "Innovation for the Earth" as its vision statement, and declared that "in order to realize sustainable society, we support the basis for LIFE and will continue to create "peace of mind for the future"." "UnisonTM" is an innovation that embodies this declaration. SEKISUI CHEMICAL will continue to contribute to solving social issues with the aim of both realizing a sustainable society and the growth of the SEKISUI CHEMICAL Group, as well as promote initiatives to remain a company that is trusted by all of its stakeholders.
About SEKISUI CHEMICAL Group
Headquartered in Japan, SEKISUI CHEMICAL CO., LTD. (TSE: 4204) and its subsidiaries make up the SEKISUI CHEMICAL Group. 26,000 employees in over 190 companies throughout 21 countries aim to contribute to improving the lives of the people of the world and the earth's environment. Thanks to a history of innovation, dedication and a pioneering spirit, SEKISUI CHEMICAL now holds leading positions in its three diverse business divisions as well as top global market share in interlayer film, foam products, conductive particles and more.
Since its foundation in 1947, the SEKISUI CHEMICAL Group has dedicated itself to social and environmental contribution and is now an internationally recognized leader in sustainability and environmental initiatives, having recently been selected as one of the Global 100 most sustainable companies. SEKISUI CHEMICAL Group will continue to maintain a strong corporate presence for 100 years and beyond.
Contact Information
[Press contact]
SEKISUI CHEMICAL CO., LTD.
Public Relations Department
E-mail: kouhou@sekisui.com
[Customer contact]
SEKISUI CHEMICAL CO., LTD.
BR Business Group, New Business Development Department
E-mail: br-press@sekisui.com
Disclaimer
This press release may contain forward-looking statements. Such forward-looking statements are based on current expectations and beliefs and are subject to a number of factors and uncertainties that could cause actual results to differ materially from those expressed or implied by such statements due to changes in global economic, business, competitive market and regulatory factors.