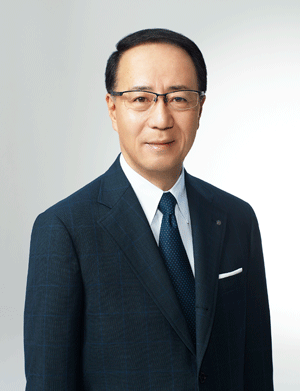 Today, SEKISUI CHEMICAL CO., LTD. celebrated its 75th anniversary, a milestone in our history. This is due to the support of everyone, and I wish to express my sincere gratitude.
Since our establishment on March 3, 1947, SEKISUI CHEMICAL has been demonstrating prominence in technology, quality, and other aspects as a company that leads the plastic industry. We have contributed toward improving the lives of people around the world and the global environment in various fields, including housing, infrastructure, mobility, electronics, and pharmaceuticals and fine chemicals. We have also polished our ESG management, and in January of this year, we were recognized for the fifth consecutive year as one of the Global 100, a group of the 100 most sustainable corporations in the world.
SEKISUI CHEMICAL's journey is a history of squarely facing social issues and continuing to take on challenges to address them through products, technologies, and services. We do not simply produce things, instead we have continued to propose solutions at a high level through innovation. Such products and technologies matching the needs of advanced markets have supported our journey and led us toward new growth as well as the next leap forward.
Realizing sustainability for the Earth and society has become an even more important global goal than before. To contribute toward the realization of a sustainable society, the employees of SEKISUI CHEMICAL Group will unite as one to continue to work hard and take on challenges for both the future—which starts from now—as well as our 100th anniversary and keep generating innovation.
I hope you will continue to give SEKISUI CHEMICAL Group your support in the future. Thank you.