SEKISUI CHEMICAL CO., LTD. (President: Keita Kato; hereinafter "SEKISUI CHEMICAL") is promoting the SEKISUI CHEMICAL Group's vision statement, "Innovation for the Earth: In order to realize sustainable society, we support the basis of LIFE and will continue to create 'peace of mind for the future,'" which is incorporated in "Vision 2030," the Group's long-term vision looking ahead to fiscal 2030, and is focusing on into ESG management with the aim of improving the sustainability of society and achieving profitable growth for the Group. With regards to environmental issues, which are key ESG management issues, SEKISUI CHEMICAL formulated a resource recycling policy and related strategies to the policy that contribute to the resolution of climate change issues. SEKISUI CHEMICAL is aiming to realize a circular economy in 2050. In addition, we are promoting "SEKISUI Environmental Sustainability Plan: Accelerate II," an Environmental Medium-Term Plan which contains targets the company aims to achieve in fiscal 2022. We look to create "peace of mind for the future" through the steady execution of these initiatives going forward.
1.Establishing a Resource Recycling Policy and Strategies
Solutions need to be deployed over the long term to solve issues pertaining to resource recycling. SEKISUI CHEMICAL established a resource recycling policy to "realize a circular economy" in 2050. Moreover, back-casting from long-term targets, we established strategies and a roadmap based on this policy.
As a manufacturer, SEKISUI CHEMICAL believes it is crucial to promote resource recycling along the product lifecycle. In collaboration with our supply chain, we aim to minimize the use of virgin raw materials derived from fossil fuels, promote recycling of resources through material circulation, and aim for a circular economy through our business.
The Group policy consists of the following three points.

[SEKISUI CHEMICAL Group "Resource Recycling Policy"]
[1] Promote innovation that contributes to resource circulation
[2] Expand the use of non-fossil fuel sourced and recycled materials in business operations
[3] Maximize the recycling of waste disposed during product life cycles back into materials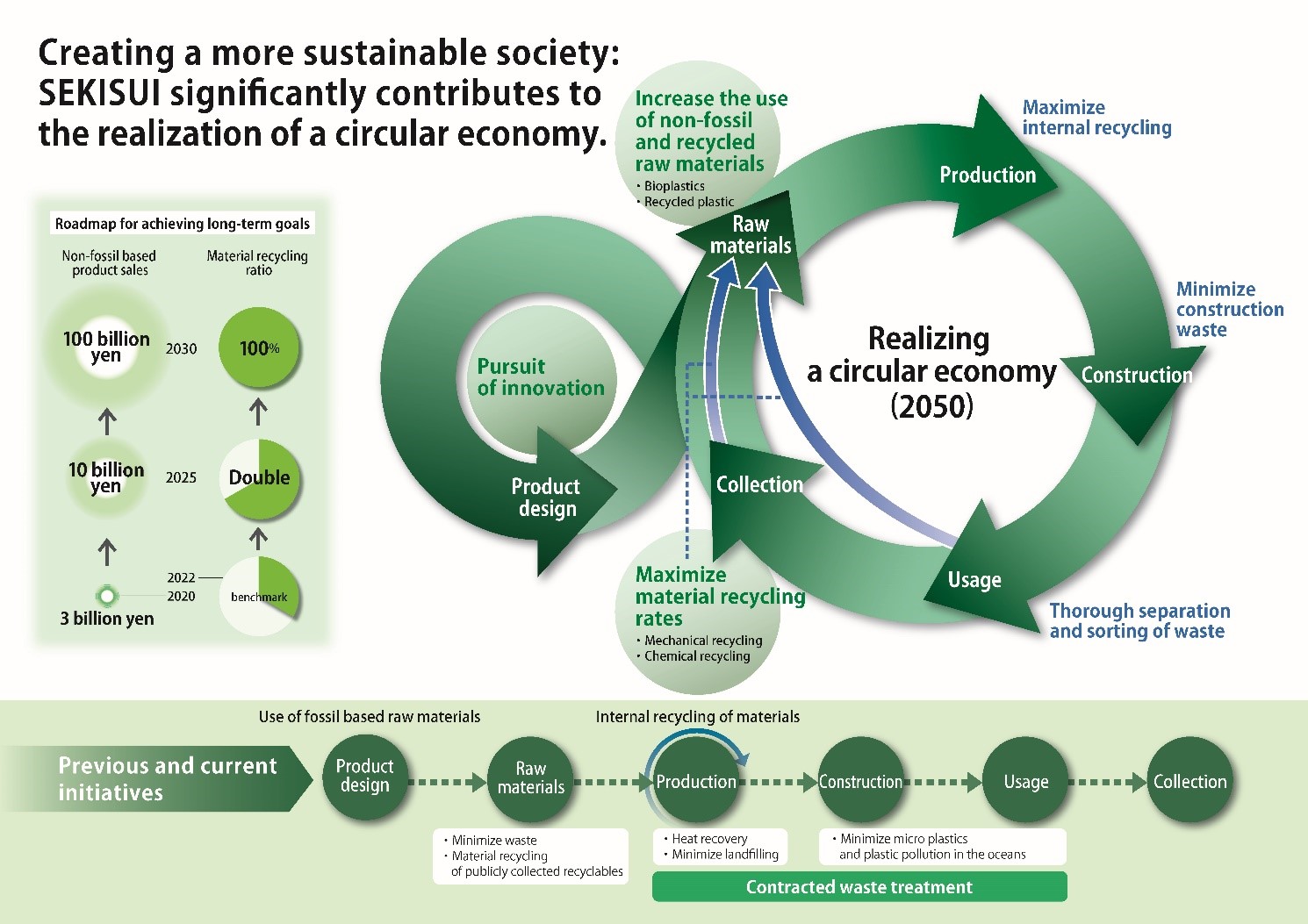 Figure: Image of the SEKISUI CHEMICAL Group resource recycling strategy
In "Vision 2030", SEKISUI CHEMICAL Group will strategically expand its business areas and double sales volume through solving social issues, aiming to achieve a sustainable society and corporate growth. Plastics will continue to be an important material in all business areas. Up until now, in the production process, we have continually made efforts to reduce the amount of waste generated, using waste per unit of output as an indicator for these efforts. In addition, the generated scraps have been recycled back into the production process. When treating it as waste, we have implemented recycling methods, including thermal recycling, when disposing of materials as waste.
In our newly-formulated resource recycling policy, the ratio of plastic materials SEKISUI CHEMICAL will use, which are comprised of bioplastics and other recycled materials that are not derived from fossil fuels will expand. In our production processes, we will promote internal recycling more than ever before, and further promote to minimize the waste products generated from our construction sites. In addition, in both the use and collection stages, we will work on our product design and supply chain to ensure waste products can be disposed of with thorough separation and classification. In this way, we will promote initiatives to maximize reuse of material resources, such as mechanical and chemical recycling*1, and other methods.

*1 Chemical recycling
SEKISUI CHEMICAL Group is developing chemical recycling technologies to create ethanol through the gasification of combustible waste and use of the power of microorganism as a raw material for plastics. After examination at a pilot plant in Yorii-machi, Saitama Prefecture, SEKISUI CHEMICAL is presently constructing a demonstration plant in Kuji City, Iwate Prefecture with one-ten's commercial capacity scale (processing capacity of approximately 20 tons/day). The plant is scheduled to start operation in 2022.
Within these life cycles, we believe that innovation at the product design stage is important for the promotion of resource circulation. By designing new products and revising the various processes for existing products, we are promoting initiatives for innovation that will accelerate resource circulation.
Resource recycling initiatives need to also be undertaken as a decarbonization strategy to reduce greenhouse gases generated by the manufacture of raw materials and derived during waste processing. In addition, SEKISUI CHEMICAL aims to realize decarbonization by expanding Smart Heim Denki services and boosting sales of houses with ZEH (zero energy house) specifications. SEKISUI CHEMICAL believes it is possible to realize unique strategies to achieve decarbonization and resource recycling simultaneously with SEKISUI CHEMICAL Group's diverse businesses, including chemicals and housing, are aiming to achieve.
Table: Roadmap for Achieving Long-Term Targets
2020-2022
By 2025
By 2030
Business strategy
Net sales of products to enhance sustainability
that contribute to resource
circulation
1.1 times
(vs. fiscal 2020)
1.3times
2 times or more
Conversion of Raw
material resources
Net sales of products derived from
non-fossil and using recycled materials
3 billion yen
10 billion yen
100 billion yen
Recycling of
generated waste
Recycling rate of waste plastics back into
new materials
Analyze current conditions
and setting benchmarks
2 times
100%
2.Progress of Environmental Medium-Term Plan:
"SEKISUI Environmental Sustainability Plan Accelerate II (FY2020 – FY2022)"
SEKISUI CHEMICAL aims to realize its long-term environmental vision. The environmental medium-term plan which is being executed from fiscal 2020 emphasizes the environmental issues of climate change, resource recycling and water risk.
Table: Environmental Medium-Term Plan Targets and Fiscal 2020 Results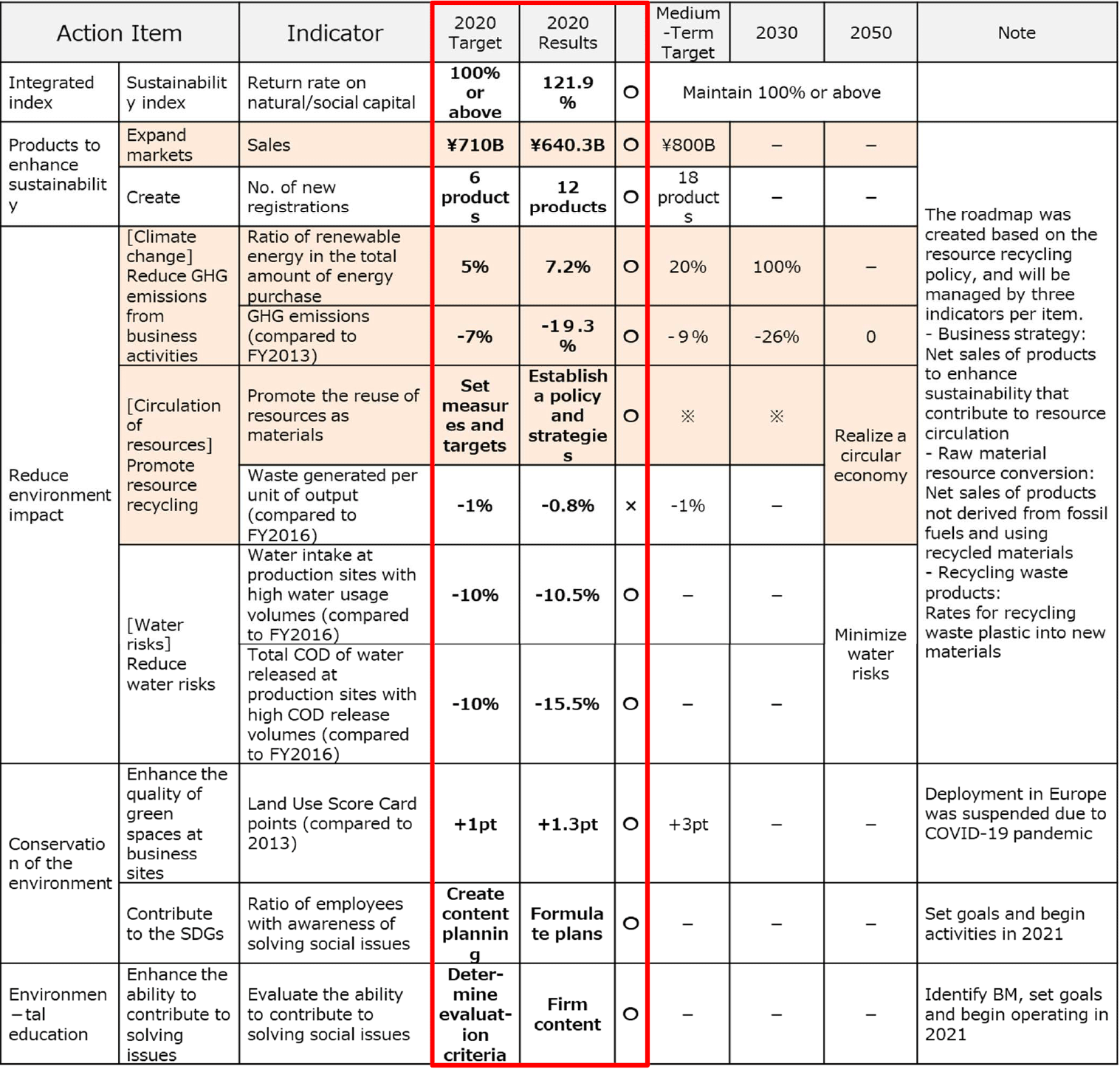 Notes:
1. Return rates are calculated using the "MiLCA" LCA calculation system based on the LIME2 concept, developed by Professor Norihiro Itsubo of Tokyo City University.
2. COD (Chemical Oxygen Demand): The amount of oxygen required to oxidize substances in water (oxygen consumption); an indicator of water quality. If COD is high, the amount of organic and non-organic substances in the water is high, and it can be determined that water quality is low.
3-1 Integrated Index
The contribution of products to solving environmental issues has expanded, and the return rate to natural capital and social capital in the integrated index has increased by 7.4 points from the previous year to 121.9%, achieving the target.
3-2 Product to Enhance Sustainability
Within the "Products to Enhance Sustainability", SEKISUI CHEMICAL established a strategic "premium" category and launched strategic proposals and management to enhance the ability to create profit and contribute to solving social issues. We are also starting confirmation of the "sustainability assessment" for each product to ascertain benefits from sustainable management.
SEKISUI CHEMICAL did not achieve its targets related to sales volume of "products to enhance sustainability". However, the sales ratio stood at 60.6%, an increase of 2.3 points versus the previous fiscal year. We were able to confirm that the transformation of our business portfolio into products that contribute significantly to solving social issues. Moving forward, we aim to further expand "product to enhance sustainability", and further develop products and expand their markets especially that use raw materials not derived from fossil fuels and from recycled materials.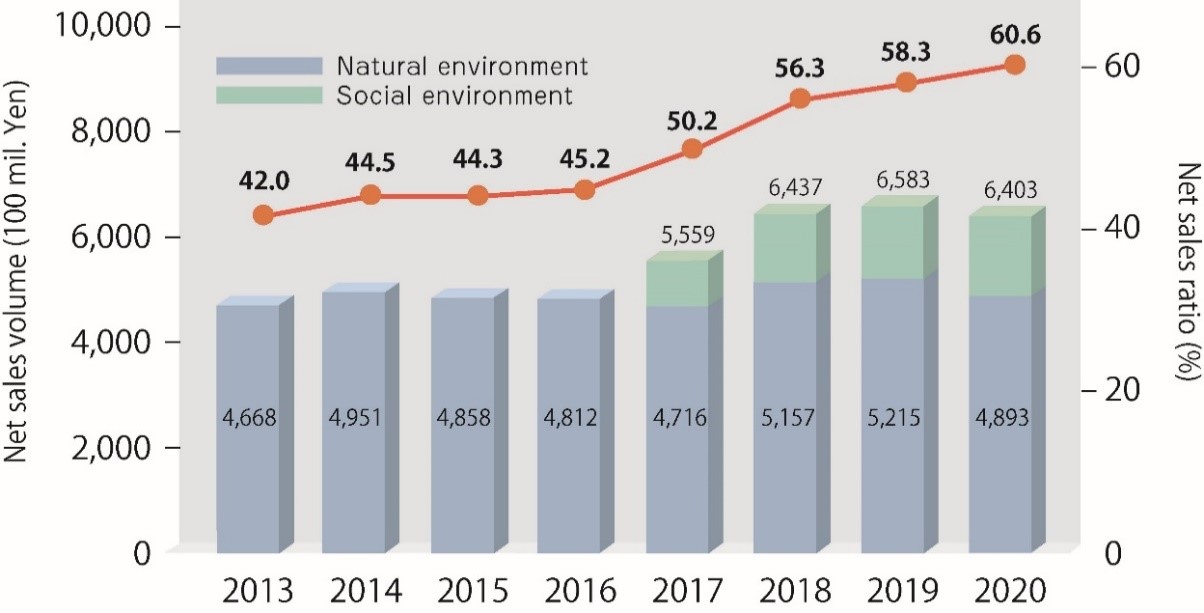 Figure: Sales and sales ratio trends for sustainability-contributing products
3-3 Measures to Address Climate Change
Regarding the reduction of greenhouse gas (GHG) emissions, based on the current Environmental Medium-Term Plan (fiscal 2020-2022), SEKISUI CHEMICAL is transitioning to the "energy procurement innovation" phase, which pivots around the conversion of electricity consumption to renewable energy (see figure below).
From fiscal 2020, SEKISUI CHEMICAL has been actively converting to renewable energy within business sites. This includes, for example, the installation of solar power-generation equipment for in-house consumption at our manufacturing sites and the conversion of electricity purchased from external sources to renewable energies. Five new solar power-generation systems have been installed, and we achieved a total power output of 6.3 megawatts from solar power-generation at our 10 business sites in Japan and abroad. In regards to electricity purchased from external sources, eight business sites located in Japan and abroad completed the transition to using 100% renewable energy. Accordingly, the ratio of renewable energy of purchased electricity, including the electricity consumed by our own plants was 7.2% in fiscal 2020.
In August 2020, we became a member of RE100*2, with the aim of not just using renewable energy internally, but promoting its use throughout society.
*2 RE100 (Renewable Energy 100%) is led by The Climate Group in partnership with the CDP and operated as a part of the "We Mean Business" alliance. In Japan, the Japan Climate Leaders Partnership (JCLP) has supported participation and measures by Japanese companies as an official regional partner of RE100 since 2017.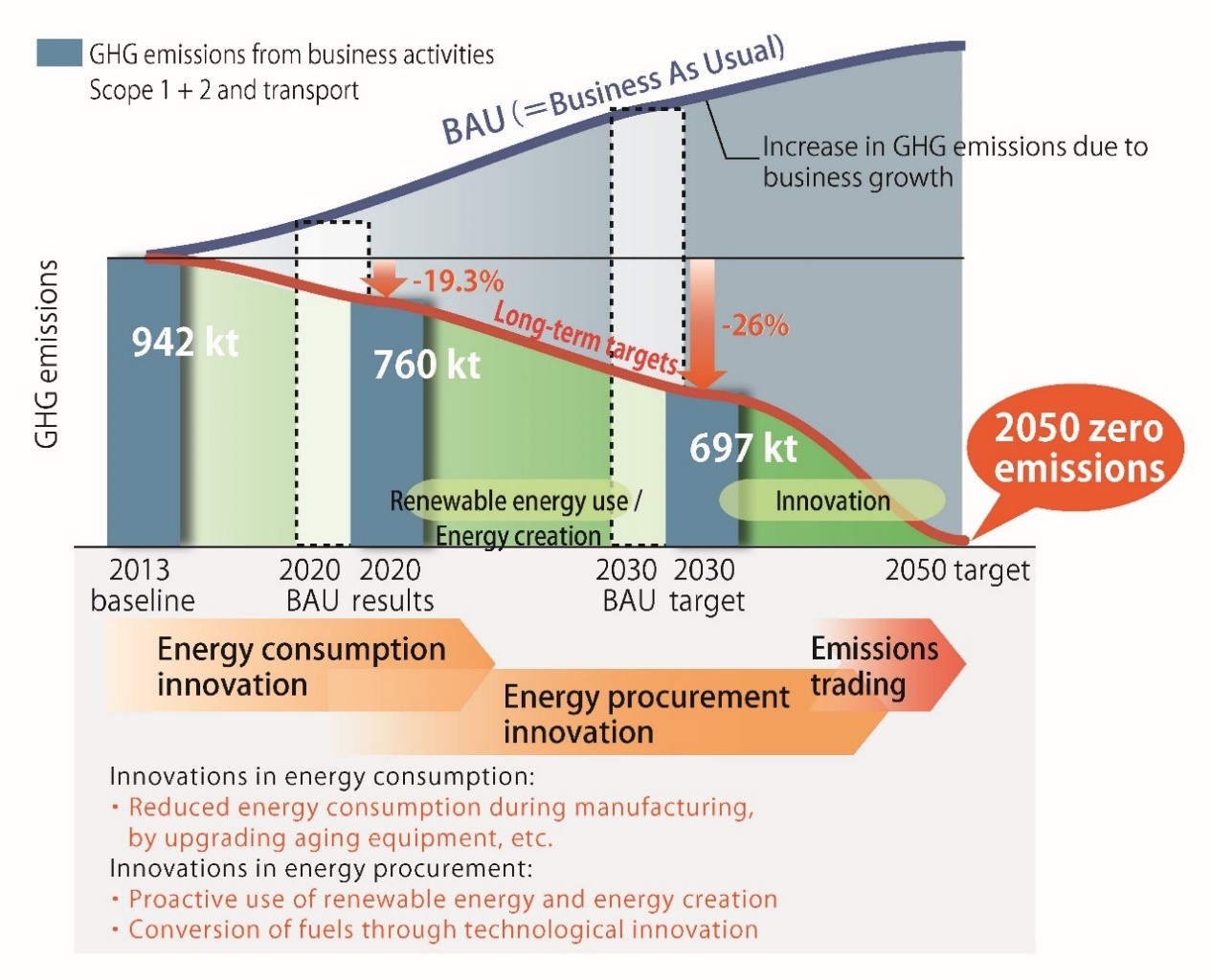 Figure: Roadmap for greenhouse gas reductions
Note: BAU (Business As Usual): The increase in emissions in conjunction with normal economic activities
In fiscal 2020, reflecting factors including the conversion of purchased energy to renewable energy, emergence of benefits from environmental contribution investment implemented under the previous Environmental Medium-Term Plan, and a decrease in production due to COVID-19 impact, the rate of reduction of greenhouse gases from business activities was 19.3% (versus fiscal 2013). SEKISUI CHEMICAL achieved its target for fiscal 2020, which was a reduction of 7% (versus fiscal 2013), and also attained its medium-term target, a reduction of 9% (versus fiscal 2013), earlier than scheduled.
Going forward, SEKISUI CHEMICAL will also consider moving up its 2030 milestone, mainly by using the Smart HEIM Denki, a service that was launched in April 2019, and the ESG investment budget of 40 billion yen.


Figure: Trends of greenhouse gas emissions from business activities
SEKISUI CHEMICAL became the world's first company in the chemical sector to acquire SBT initiative certification*3 in June 2018. We set greenhouse gas emissions reduction targets from a long-term perspective and have expressed our intention of working in collaboration with our supply chain. The reduction rate for greenhouse gas emissions along the supply chain (SCOPE 3) was 10.8% versus fiscal 2016, achieving our fiscal 2020 target of 7.7% reduction (versus fiscal 2016). Emissions from purchased products and services increased by 4.7% (versus fiscal 2016). However, emissions during product use were reduced 54.0% (versus fiscal 2016), and this reflects the sales ratio of houses with the ZEH specification, which was 85% in fiscal 2020. This sharply surpassed the target of 65%.
Going forward, we will aim to further reduce greenhouse gas emissions through collaborations with our supply chain and consumer enlightenment.
*3 Science Based Targets: With the adoption of the Paris Agreement, SBT initiative certification was proposed through joint initiatives including the United Nations Global Compact. The SBT Initiative certifies company-set GHG reduction targets are scientifically based targets that contribute to long-term climate change measures.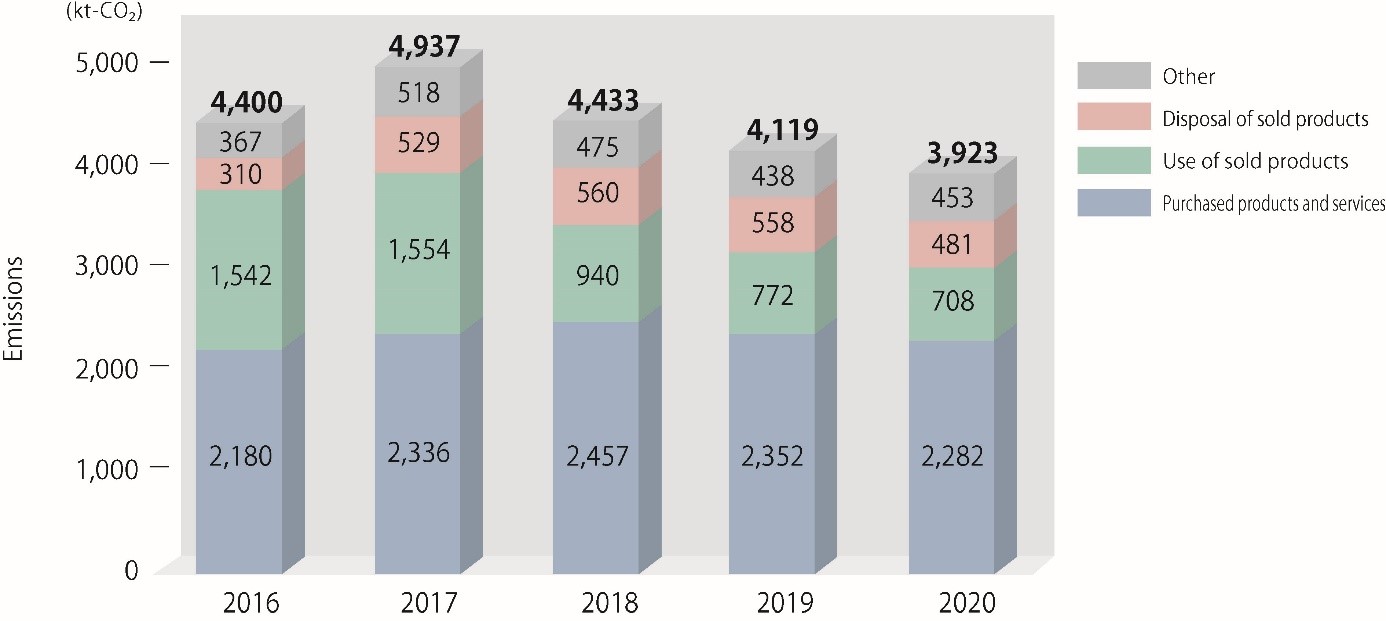 Figure: Trends in greenhouse gas emission along the supply chain
Under our strategies regarding climate change issues, we are identifying the risks faced by SEKISUI CHEMICAL by climate change and formulating measures to mitigate those risks and transform them into opportunities. We disclose information on the background to those measures in accordance with the TCFD*4 recommendations. Since expressing our commitment to the recommendations in January 2019, we have conducted periodic reviews and disclosed information (the latest review was conducted and information disclosed in July 30, 2021).
*4 TCFD (Task Force on Climate-related Financial Disclosures): A task force for climate change related financial disclosures established in 2015 by the Financial Stability Board (FSB), an international organization that seeks stability in financial systems.
3-4 Measures to Address Resource Depletion
SEKISUI CHEMICAL aims to realize a circular economy (2050) by addressing resource depletion issues. We established a resource recycling policy, strategies and roadmaps to promote the reuse of resources as materials (see the previous section). Going forward, we plan to undertake initiatives based on these roadmaps.
We aim to solve various issues, including the related ocean plastic issue, by promoting resource recycling. Accordingly, we plan to actively participate in initiatives with various companies and industrial groups (such as CLOMA and JaIME), to accelerate solutions through these collaborative initiatives.
3-5 Measures to Address Water Risks
SEKISUI CHEMICAL will back-cast and set milestones to take actions to minimize water risks in 2050.
- We will select business sites/suppliers with large-scale business impact and sites with significant water risks in the local region by evaluating those parameters.
- For our business sites with large-scale business impact, we will minimize risks by 2023.
- For suppliers with large-scale business impact, we will minimize risks by implementing measures, such as review suppliers, by 2030.
- For our business sites with significant water risks in the region, we will minimize environmental impact by 2030.
- We will create monitoring guidelines and monitor the increases in business and environmental impacts of all sites.


Figure: Roadmap for the reduction of water risks
To accelerate returns to natural capital, including the conservation of water resources, SEKISUI CHEMICAL promotes the development of products that contribute to sustainability to minimize the environmental impact from supply chain operations and help resolve local water issues. Moreover, as a future initiative being undertaken at locations around the world, SEKISUI CHEMICAL will continue to focus on contributing to the resolution of local water issues by establishing a collaborative system with those living in watershed areas between 2030 and 2050.
3-6 Measures to Enhance the Ability to Contribute to Solving Social Issues
SEKISUI CHEMICAL will be implementing measures through education and social contribution activities for the development of corporate culture and human resources to improve the ability to contribute to the solving of social issues. In fiscal 2020, SEKISUI CHEMICAL established human resources indicators and the detail of activities.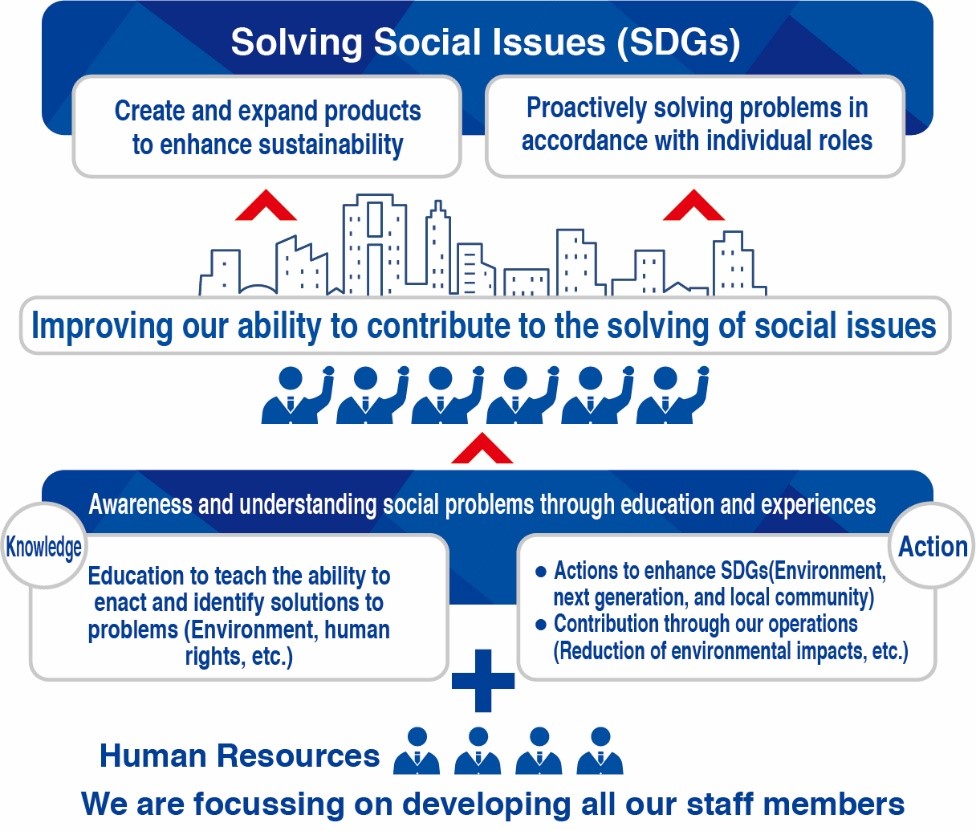 Figure: Positioning of education and activities for enhancing the ability to contribute to solving social issues
In addition to supporting the growth of our employees through experience in their current positions, we will provide education that fosters awareness of problem-solving and the ability to act. SEKISUI CHEMICAL's employees will spearhead activities premised on solving social issues. This serves to transform their consciousness and enhances their ability to contribute to solving social issues.
END
About SEKISUI CHEMICAL Group
Headquartered in Japan, SEKISUI CHEMICAL CO., LTD. (TSE: 4204) and its subsidiaries make up the SEKISUI CHEMICAL Group. About 27,000 employees in about 200 companies throughout 21 countries aim to contribute to improving the lives of the people of the world and the earth's environment. Thanks to a history of innovation, dedication and a pioneering spirit, SEKISUI CHEMICAL now holds leading positions in its three diverse business divisions as well as top global market share in interlayer film, foam products, conductive particles and more.
Since its foundation in 1947, the SEKISUI CHEMICAL Group has dedicated itself to social and environmental contribution and is now an internationally recognized leader in sustainability and environmental initiatives, having recently been selected as one of the Global 100 most sustainable companies. SEKISUI CHEMICAL Group will continue to maintain a strong corporate presence for 100 years and beyond.
Press Contact
SEKISUI CHEMICAL CO., LTD.
Public Relations Department
E-mail:  kouhou@sekisui.com
Disclaimer
This press release may contain forward-looking statements. Such forward-looking statements are based on current expectations and beliefs and are subject to a number of factors and uncertainties that could cause actual results to differ materially from those expressed or implied by such statements due to changes in global economic, business, competitive market and regulatory factors.