The High Performance Plastics Company (President: Ikusuke Shimizu) of SEKISUI CHEMICAL CO., LTD. (Head Office: Osaka City; President and Representative Director: Keita Kato; hereinafter, "SEKISUI CHEMICAL") has established the Minase Innovation Center (MIC) within the Research & Development Institute (location: Mishima-gun, Osaka), a major research and development base constructed by SEKISUI CHEMICAL in 1961. The aim is to further expand its scale and accelerate innovation. An outline of MIC is shown below.

MIC exterior


MIC interior (1st floor)
1.Background and aims of MIC establishment
The SEKISUI CHEMICAL Group's long-term vision, "Vision 2030" was established in May this year, extending to cover the period up to 2030. Under this vision, the vision statement, "Innovation for the Earth" has been organized to continuously stimulate innovation, thereby enabling us to realize a sustainable society by supporting the basis of LIFE and create "peace of mind for the future."
Continuing on from the previous medium-term management plan (from FY2017), we are aiming to create new values by fusing internal and external technology, opportunities and resources with "fusion" as a keyword in our business strategy. In particular, in the three strategic fields of the High Performance Plastics Company (electronics, mobility and building and infrastructure), changes in telecommunications and the automobile industry such as the spread of 5G in the telecommunications industry and development of CASE including automated driving in the automobile industry have made the fusion of human resources and information in various fields necessary for producing innovation.
The establishment of the MIC will encourage internal and external fusion, thereby further promoting the creation of innovation that can contribute to social problem solving and growth the SEKISUI CHEMICAL Group and the High Performance Plastics Company.
2. MIC outline
1) Open innovation space establishment (Display/demonstration testing area "TECHNOLOGY GARAGE")
The first floor of the MIC is used as an open innovation space for customers.
The said space has a display/demonstration testing area called "TECHNOLOGY GARAGE" , permanently displaying the latest technology and products of the High Performance Plastics Company along with the concept car constructed last year. We also prepared "LABO STUDIO," which can be used to perform experiments, and also for meetings. Opinion exchange and prototyping with customers will speedily promote, produce the seeds of innovation and enhance relationships with customers.
2) Office layout and equipment to promote internal co-creation
Through 2nd to 5th floor, it contains an idea creation space, office, experiment laboratory and cafeteria.
A spiral, meandering corridor has been adopted to promote interaction and co-creation amongst employees of the Company in strategic fields such as electronics, mobility and building and infrastructure. The design has also been adjusted in various ways, providing several space to easily engage in dialogue. In response to the ever-increasing demand for solutions that combine technologies and expertise in electronics, mobility, and building and infrastructure, we will integrate our in-house technologies and expertise.
3) Promoting internal and external communication in the COVID-19 pandemic
As opportunities for meeting with customers have been minimized in order to prevent the spread of COVID-19, we are considering ways of offering meetings, presentations and prototyping with customers utilizing internet technology. Even during the COVID-19 pandemic, we are aiming to effectively leverage the MIC as a base for internal and external open innovation.
4) MIC building
Address
2-1 Hyakuyama, Shimamoto-cho, Mishima-gun, Osaka
(Closest station: "Shimamoto Station" on the JR Kyoto Line or "Minase Station" on the Hankyu Kyoto Main Line.)
Number of floors
Five
Total floor area
5,967 m2
* Authorized as "ZEB Ready (ZEB Ready: Next-generation building that has reduced annual primary energy consumption input and output design values by at least 50%)" and "BELS (Building-Housing Energy-efficiency Labeling System) 5 stars rank."
[ Examples of products of high performance plastics companies that have actively used TPF, and our technology platform (TPF) ]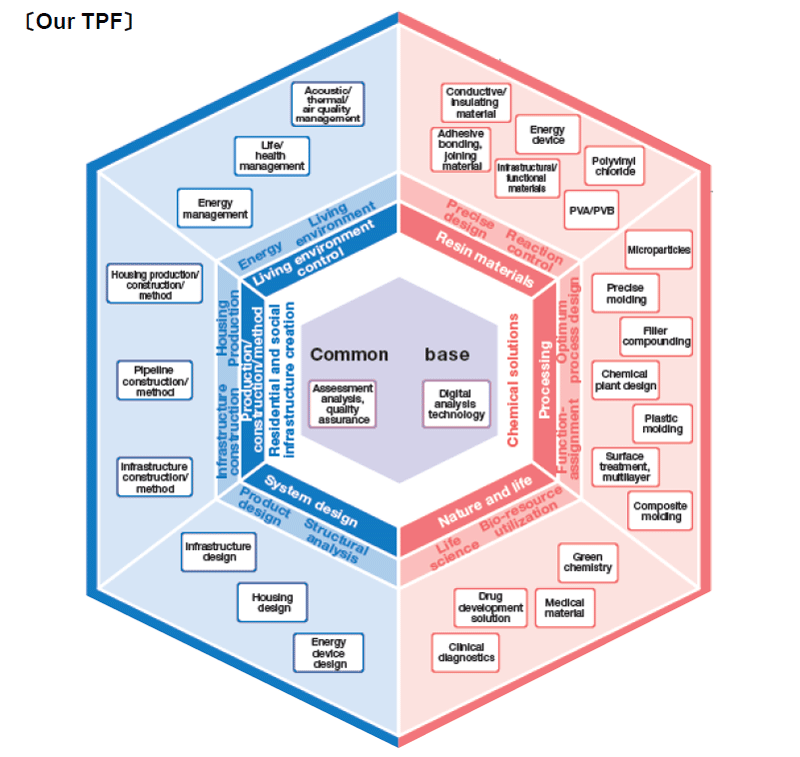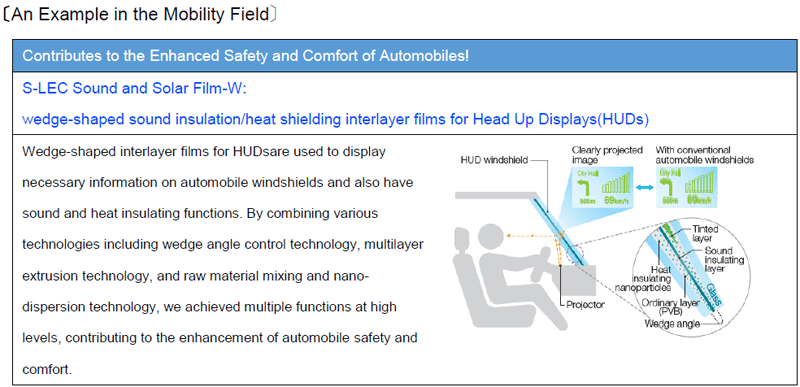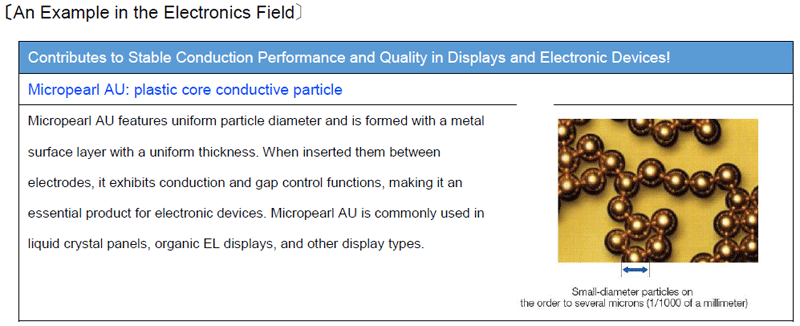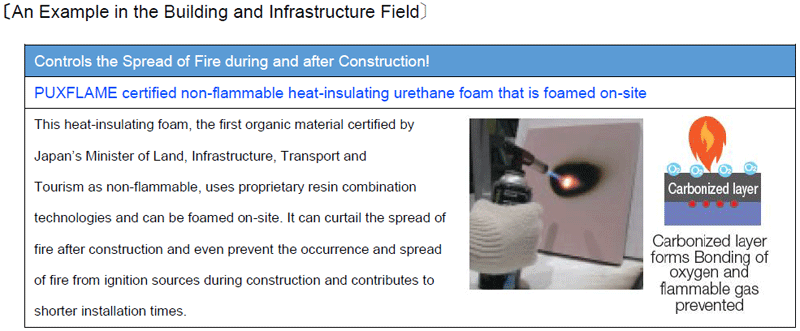 About SEKISUI CHEMICAL Group
Headquartered in Japan, SEKISUI CHEMICAL CO., LTD. (TSE: 4204) and its subsidiaries make up the SEKISUI CHEMICAL Group. 27,000 employees in over 200 companies throughout 21 countries and regions aim to contribute to improving the lives of the people of the world and the earth's environment. Thanks to a history of innovation, dedication and a pioneering spirit, SEKISUI CHEMICAL now holds leading positions in its three diverse business divisions as well as top global market share in interlayer film, foam products, conductive particles and more.
Since its foundation in 1947, the SEKISUI CHEMICAL Group has dedicated itself to social and environmental contribution and is now an internationally recognized leader in sustainability and environmental initiatives, having recently been selected as one of the Global 100 most sustainable companies. SEKISUI CHEMICAL Group will continue to maintain a strong corporate presence for 100 years and beyond.
Press Contact
SEKISUI CHEMICAL CO., LTD.
Public Relations Department
Fax: +81-(0)3-6748-6547
Disclaimer
This press release may contain forward-looking statements. Such forward-looking statements are based on current expectations and beliefs and are subject to a number of factors and uncertainties that could cause actual results to differ materially from those expressed or implied by such statements due to changes in global economic, business, competitive market and regulatory factors.