SEKISUI CHEMICAL CO., LTD. (Head Office: Osaka City; President and Representative Director: Keita Kato; hereinafter, "SEKISUI CHEMICAL") has formulated its long-term vision "Vision 2030" until fiscal 2030 as given below so as to continue sustainable growth through innovation amid the expectation of significant changes in social issues going forward.
SEKISUI CHEMICAL Group Long-term Vision "Vision 2030"
1. Overview
The SEKISUI CHEMICAL Group has set its vision statement as "Innovation for the Earth" which embodies the strong desire to support life infrastructure and create "peace of mind that continues into the future" toward the realization of a sustainable society by continuing to generate innovation. For all generations including those of the future, the Group will create and provide peace of mind and the values (such as comfort, resilience, smart, and health) that derives from it through products and services that enhance sustainability. To achieve this, the SEKISUI CHEMICAL Group defined four business domains of residential (housing), advanced lifeline (social infrastructure), innovative mobility (electronics/mobility), and life science (health and medical).
Through business growth, reform and creation, centered on ESG management, the SEKISUI CHEMICAL Group will expand contribution to solving social issues, and aim for two trillion yen in sales and 10% or higher in operating income ratio in fiscal 2030.
2. Direction (target) and Growth Image
The SEKISUI CHEMICAL Group will increase sales by approximately 1.5 to 3 times and transform into an attractive corporate group with diverse growth engines and a strong presence by expanding contributions through business to the environment and society in each domain.
1) Direction of growth in each domain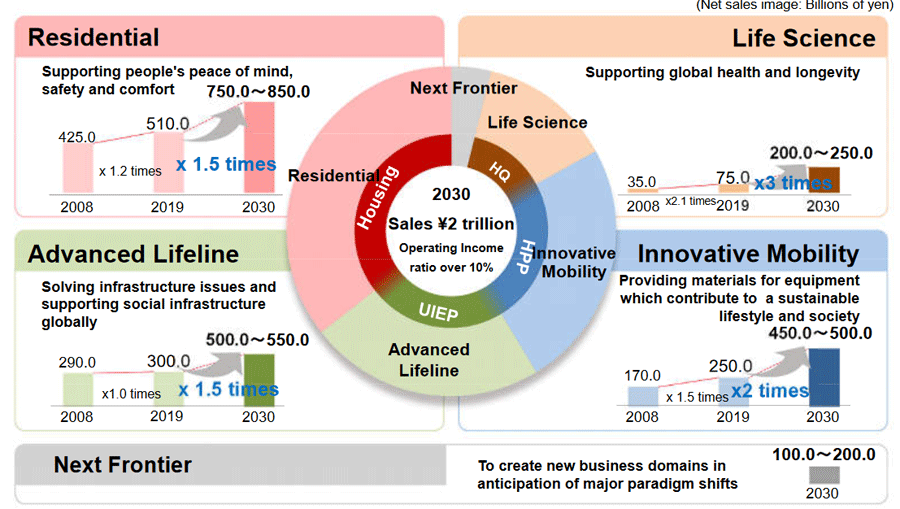 2) Acceleration of overseas expansion
The SEKISUI CHEMICAL Group will accelerate overseas expansion in each domain and aim to expand sales to one trillion yen in Japan and one trillion yen overseas in fiscal 2030 (sales in fiscal 2019: 854.6 billion yen in Japan, 274.7 billion yen overseas).
3) Entering new fields
In the four domains, the SEKISUI CHEMICAL Group will undertake innovations extending from core technologies based on its prominent technological capabilities. It will create new domains, support life, and pursue the creation of "peace of mind that continues into the future" by continuing to generate innovation.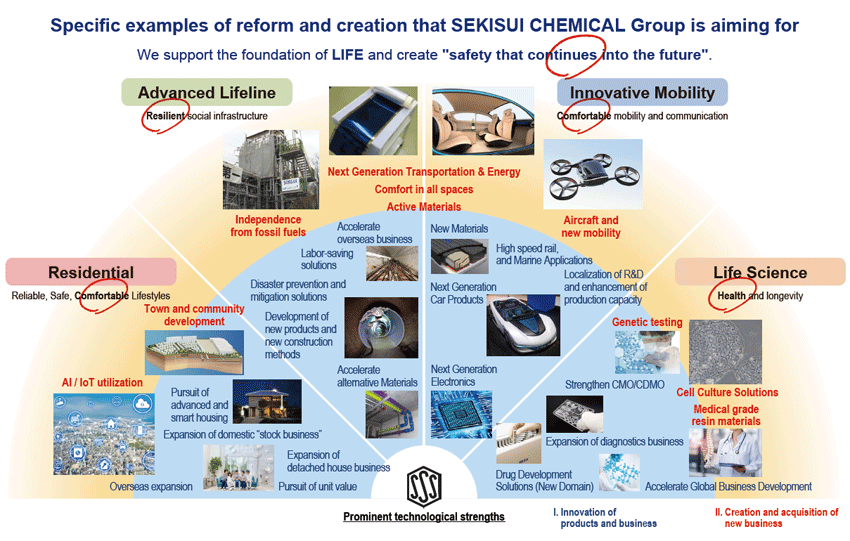 3. Approach to Expansion of Sustainable Contribution
To realize a sustainable society, we are required to maintain sustainable management. Under these circumstances, we will continue profitable growth by contributing to solving social issues by enhancing our "ability to contribute to solving social issues" and "ability to create profits" which we have been working on, and aim to expand our sustainable contribution by establishing a new "management ability to sustain business".
Based on these three strengths, we will advance innovation and creation centered on ESG management to achieve sustainable growth for SEKISUI CHEMICAL Group and increase the sustainability of society.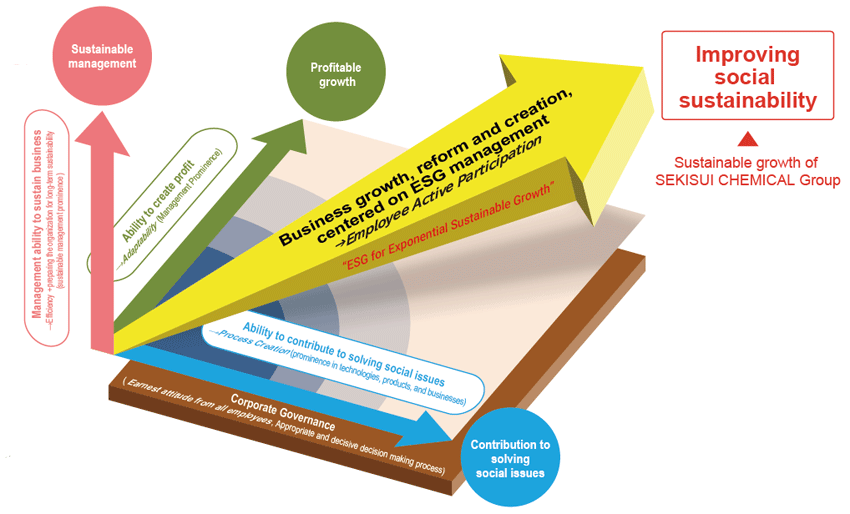 4. Proactive Investment
The SEKISUI CHEMICAL Group will expand proactive investment to double its business. Under the new medium-term management plan "Drive 2022", which leads to "Accelerate preparations for the next stage of growth" in the long-term vision, we have set an investment limit of 500 billion yen, an increase of 300 billion yen from the previous medium-term. A cumulative total of over two trillion yen in investment for growth and R&D expenses is expected to be undertaken between fiscal 2020 and fiscal 2030 while paying attention to being financially sound and improving the probability of getting returns.
About SEKISUI CHEMICAL Group
Headquartered in Japan, SEKISUI CHEMICAL CO., LTD. (TSE: 4204) and its subsidiaries make up the SEKISUI CHEMICAL Group. 27,000 employees in over 200 companies throughout 21 countries aim to contribute to improving the lives of the people of the world and the earth's environment. Thanks to a history of innovation, dedication and a pioneering spirit, SEKISUI CHEMICAL now holds leading positions in its three diverse business divisions as well as top global market share in interlayer film, foam products, conductive particles and more.
Since its foundation in 1947, the SEKISUI CHEMICAL Group has dedicated itself to social and environmental contribution and is now an internationally recognized leader in sustainability and environmental initiatives, having recently been selected as one of the Global 100 most sustainable companies. SEKISUI CHEMICAL Group will continue to maintain a strong corporate presence for 100 years and beyond.
Press Contact
SEKISUI CHEMICAL CO., LTD.
Public Relations Department
E-mail: kouhou@sekisui.com
Disclaimer
This press release may contain forward-looking statements. Such forward-looking statements are based on current expectations and beliefs and are subject to a number of factors and uncertainties that could cause actual results to differ materially from those expressed or implied by such statements due to changes in global economic, business, competitive market and regulatory factors.