| | |
| --- | --- |
| ・ | Creating a town from a mix of houses for sale, commercial establishments and an apartment complex at SEKISUI CHEMICAL's former plant site (Asaka City, Saitama Prefecture) |
| ・ | Concentrating the collective corporate strength of SEKISUI CHEMICAL Group to contribute solutions to local and societal issues and to realize our group vision |
| ・ | The concept of a "Safe & Sound: Secure and Safe, Eco-Friendly, and Sustainable Town" |
| ・ | SEKISUI CHEMICAL Group business scale is estimated at approximately 13 billion yen based on consolidated net sales |
SEKISUI CHEMICAL CO., LTD. (President and Representative Director: Teiji Koge; hereinafter, SEKISUI CHEMICAL) has recently initiated the "SEKISUI Safe & Sound Project" (hereinafter "this development") at SEKISUI CHEMICAL's former Tokyo plant site (location: Negishidai, Asaka City, Saitama Prefecture, approximate area: 73,400m2). This initiative consists of town making incorporating commercial establishments, apartment complex and 130 houses for sale from our housing brand, "SEKISUI HEIM."
Construction of the individual housing area began in March of this year, housing lot sales will commence in spring of 2019, and we are planning to complete all of the construction as well as the inauguration of this development in 2020.
The scale of this project, based on consolidated net is estimated at approximately 13 billion yen.
| | |
| --- | --- |
| | Note: The image on the left is a CG-processed aerial photo (taken April 2018). Building locations, heights, distances and scaling differ from actual conditions. |
| "SEKISUI Safe & Sound Project" Model Image | |
1. Background and Intent
SEKISUI CHEMICAL opened the Tokyo Plant as the company's first production base in the Kanto region in 1953, and for 62 years until its close in 2015, this plant manufactured products for housing and water and sewage systems, such as PVC pipes and joints, water chambers and rain gutters, and made contributions to developments in construction and engineering as well as to job creation in the region.
Regarding the use of the former plant site after its closing, as a result of consultations, including those with public administration, and careful consideration, SEKISUI CHEMICAL decided to gather and merge SEKISUI CHEMICAL Group products, technology and know-how in order to undertake "Secure and Safe", "Eco-Friendly", and "Sustainable" urban development. Along with this new form of contribution to the region, this development aims to contribute as much as possible to solving societal issues such as a decreasing population and a reduced number of children, as well as an aging society and environmental problems in order to realize our Group vision to "contribute to improving the lives of the people of the world and the Earth's environment."
2. Overview of This Development
1) Concept
Based on the above concepts、we are making a Secure and Safe, Eco-Friendly and Sustainable town that only SEKISUI CHEMICAL Group can offer. Applying our collective group power, we will offer both tangibles and intangibles that allow all residents from children to seniors to live safely and comfortably, and we aim for the construction of a sustainable town that will maintain its value over time.
2) Town Name
The town's name is not yet decided, but we are considering names that reflect our concept and include the term "Asaka."
3) Location
| | | |
| --- | --- | --- |
| ① | Address | Negishidai 3-chome, Asaka, Saitama Prefecture |
| | | 1.8 km from the Tobu Tojo Line's "Asaka Station" |
| | | (Approx. 22 min. walk, 10 min. by bus) |
| ② | Area | Approx. 73,400m2 (Approx. 22,000 tsubo) |
4) Overall Image
Five areas are being constructed: the individual housing zone, the commercial establishments zone, the apartment complex zone, the meet-up zone including parks and small-scale commercial establishments, and the healthcare zone.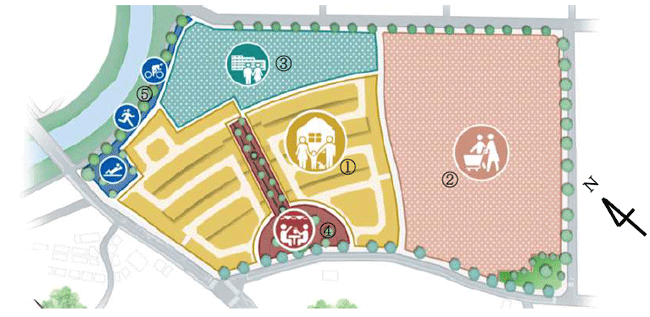 | | |
| --- | --- |
| ① | The Individual Housing Zone (Area name: Asaka Makers) |
| | SEKISUI CHEMICAL's "SEKISUI HEIM" brand is planning approximately 130 houses, with sales commencing in spring of 2019. Also, SEKISUI CHEMICAL Group's TOKYO SEKISUI HEIM CO., LTD., plans to carry out construction and sales. |
| | |
| ② | The Commercial Establishments Zone (Area name: Kindness CAINZ) |
| | CAINZ Corporation (company headquarters:Honjo City, Saitama Prefecture, President:Hiromasa Tsuchiya) is planning to open a commercial establishment (3 floors, total floor area: approx. 26,000 m2, merchandising area approx. 13,000 m2) including a hardware store, a supermarket, tenants (product sales, service, and food and beverage), and parking spaces. |
| | |
| ③ | Apartment Complex Zone (Area name: undecided) |
| | Construction, dealer and time of sale are not yet decided, but we plan to construct an apartment complex (condominium) on the northern side of the designated area and to sell these units. |
| | |
| ④ | Meet-up Area Zone (Area name: NEIGHBORS Circle) |
| | We are planning to construct a semi-circle shaped park facing the road on the southeastern side, and to operate a clubhouse and small-scale commercial establishments in the area. We are expecting this area to play a role in encouraging community building by residents from the same area as well as residents of neighboring areas. |
| | |
| ⑤ | Healthcare Area Zone (Area name: FITNESS Square) |
| | FITNESS Square, which will play a role in promoting good health to residents from the same area as well as from neighboring areas, will be established on the north side along the Kurome River. |
5) Schedule
| | |
| --- | --- |
| March 2018 | Construction of individual housing area began |
| Spring 2019 | Planned commencement of housing lot sales |
| 2020 | Planned end of all construction and town inauguration |
3. SEKISUI CHEMICAL Group Products and Services to Realize "Safe & Sound"
By using the following products and services from SEKISUI CHEMICAL Group in this development, we aim to realize our concept of a "Safe & Sound: Secure and Safe, Eco-Friendly and Sustainable Town.
1) Active adoption of products such as SEKISUI CHEMICAL Group's "Environment-contributing Products"
SEKISUI CHEMICAL Group is planning to introduce over 30 items from the SEKISUI HEIM brand such as housing units, and various construction and building materials.
In light of UN-set SDGs*, SEKISUI CHEMICAL Group has implemented a system to independently certify items that make a set contribution to maintaining and improving the natural environment and societal environment as "Environment-contributing Products", and we are focusing on the development and broadening of sales of Environment-contributing Products.
*17 "Sustainable Development Goals" that the world aims to achieve by 2030.
Examples of SEKISUI CHEMICAL Group Products Under Consideration for Introduction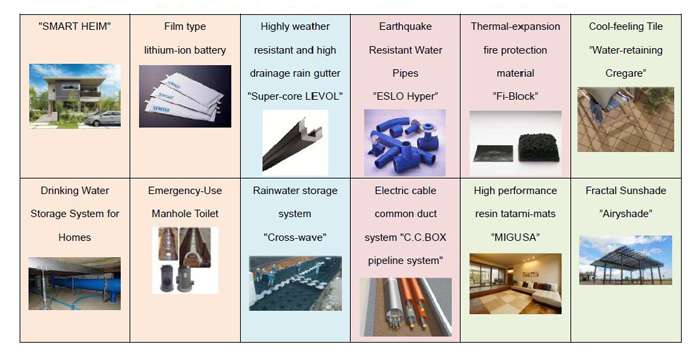 | | |
| --- | --- |
| ・ | "Safe & Sound" even when lifelines are stopped |
| | |
| --- | --- |
| | Introducing products such as solar energy generating systems, rechargeable batteries, "SMART HEIM" units equipped with HEMS (Home Energy Management System), "drinking water storage systems for houses" that save several days' supply of water, and "Manhole Toilets for Emergency Use" directly-connected to sewer pipes, reduces the inconvenience at times when electricity and water systems supplies are interrupted. |
| | |
| | |
| --- | --- |
| ・ | "Safe & Sound" Even in Torrential Rain |
| | |
| --- | --- |
| | Products such as rain gutters that can smoothly drain rain water and "Cross-wave" tanks that can hold water in an underground space when rain water draining capacity is exceeded lessen damage from torrential rain. |
| | |
| | |
| --- | --- |
| ・ | "Safe & Sound" Even in Earthquakes and Disasters |
| | |
| --- | --- |
| | Products such as highly earthquake resistant polyethylene piping "ESLO Hyper" which remained undamaged even by major earthquakes in the past, the Electric Cable Common Duct System "C.C.BOX Pipeline System" which prevents earthquake damage and eliminates the worry of road closures due to collapse from earthquake damage, and thermal-expansion fire protection material "Fi-Block" which prevents the spread of fires between compartment perforations and openings reduce damage from earthquakes and fires. |
| | |
| | |
| --- | --- |
| ・ | "Safe & Sound" with Health and Comfort |
| | |
| --- | --- |
| | Products such as resin tatami "MIGUSA" which prevents dust mites and mold, "Water-retaining Cregare" deck material that applies a water sprinkling effect, and resin fractal sun shade "Airyshade" that is made in the image of a tree leaf structure, contribute to a healthy and comfortable life. |
2) A new venture "Smart Town Management Business" which makes use of IoT


( continuing to
"Safe & Sound")

Furthermore, in this project we plan to offer smart town management services which make use of loT to residents of the area in cooperation with Secual, inc. (Company Headquarters: Shibuya, Tokyo, CEO: Kazuhiro Aoyagi), a company that develops, manufactures and sells smart security products. By doing this, we aim to maintain and improve the town's property value.
With this service, we also plan to aim for improving the property sales business of SEKISUI CHEMICAL Group companies in other regions.
4. Impact on Earnings/Performance
The scale of this project is estimated to be approximately 13 billion yen in consolidated net sales, forecast to be recorded after FY2019.
Disclaimer
This press release may contain forward-looking statements. Such forward-looking statements are based on current expectations and beliefs and are subject to a number of factors and uncertainties that could cause actual results to differ materially from those expressed or implied by such statements due to changes in global economic, business, competitive market and regulatory factors.