SEKISUI CHEMICAL CO., LTD.'s (President: Naofumi Negishi) High Performance Plastics Company (President: Keita Kato) has acquired the first-ever MLIT approval(1) for its newly developed non-flammable urethane material.
1. Overview
Non-flammable polyurethane developed by FP business department(2) , is a flame-retarding compound technology. A blaze spreads quickly in a structure that utilizes normal rigid urethane foam, but non-flammable urethane form prevents the bonding of O2 and flammable gas through a special carbonized layer that is created when heated, instantly suppressing the spread of fire (see diagram below).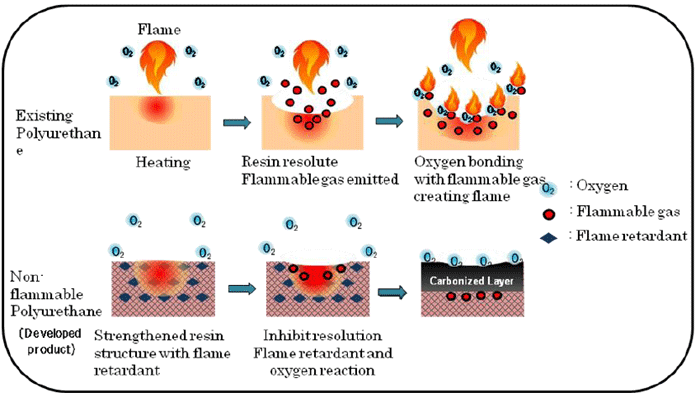 The result of internal evaluation also cleared the5V-A standard, the most stringent of UL94(3) flame-retardant standards, and also meet USA flammability standards. The procedure for their future acquisition have been scheduled.

Existing urethane foam is used in the construction field, but cause a fire danger even when exposed to small flame.

Non-flammable polyurethane is not only a set-foam product, but also can be processed using spraying and caulking. Sekisui Chemical expects to offer a wide-range of application where building thermal insulation and safety are both required.

In addition, the production of diverse shapes is possible using injection molds, and due to its being light weight, additional applications can be expected. Flame retarding, heat resistance, and seals used in vehicle and aircraft production, fuel cells, and electrical products are same areas where this new technology can be utilized.

In the future, development will move forward to product applications, and the first products using this material are scheduled to launch the market during this year.
2. Basic Characteristics of Non-Flammable Polyurethane
| | |
| --- | --- |
| | •MLIT Non-Flammable Material Approval NM-3729 |
| | •Density: 65kg/m3 max. |
| | •Compressive strength: 30N/cm2 min. |
| | •Heat conductivity: 0.031W/m•k max. |
| | •Water absorption: 1.1g/100cm2 max. |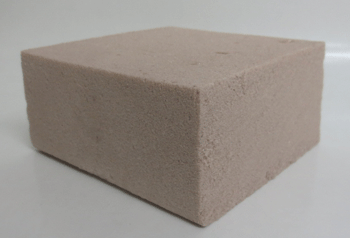 Photo of developed product
*Movie of our flame resistance experiments.
   Click either of the movie formats below. (Japanese subtitles )
References
*1: MLIT(Minister of Land, Infrastructure, Transport and Tourism) Approved Non-Flammability Tests

Both the heat generation and noxious gas emissions tests must be passed. The heat generation test requires a total heat generation level of 8MJ/m2 even when heated at 50kW for 20 mins. continuously. Further, conditions call for a max. heat generation speed not exceeding 10seconds at 200kW/m2 with no harmful holes or cracks.

*2: FP (Fire Protection) Business Summary

Production of fire-resistant products featuring the thermal expansion fire-resistant matrial "Fi-Block".
Main applications for Fi-Block are fire-resistant partition, fire stopping of plastic pipe and cable penetrations, improved fire-proofing for sashes and doors, and joints in fire-resistant walls.

*3: UL94 5V-A Rating summary

Burning stops within 60 seconds after five applications of five seconds each of a flame (larger than that used in Vertical Burn testing) to a test bar. Test specimens MAY NOT have a burn-through (no hole).
This is the highest (most flame retardant) UL94 rating.
Disclaimer
This press release may contain forward-looking statements. Such forward-looking statements are based on current expectations and beliefs and are subject to a number of factors and uncertainties that could cause actual results to differ materially from those expressed or implied by such statements due to changes in global economic, business, competitive market and regulatory factors.