- Conversion Efficiency of 8.0% on Organic Film. Application in Roll-to-Roll production in sight -
- Towards realizing solar cells usable anytime, anywhere -

The R&D Center (Director: Satoshi Uenoyama) of Sekisui Chemical Co., Ltd. (President: Naofumi Negishi, hereinafter called "Sekisui Chemical"), working together with Chief Researcher Shingo Hirose, Prime Senior Researcher Jun Akedo and others of the Advanced Coating Technology Platform Research Team, Advanced Manufacturing Research Institute (Research Institute Director: Masanobu Awano), of the National Institute of Advanced Industrial Science and Technology (President: Ryoji Chubachi, hereinafter called "AIST"), have made the world's first successful trial of film dye-sensitized solar cells (DSSC) in a room temperature process using the aerosol deposition method (a high-speed ambient temperature coating process for ceramic materials; hereinafter called the "AD method"), without utilizing the previously required high-temperature firing (according to research by our company, as of December 5, 2013).
The solar cells trialled here make expert use of AIST's AD method technology and Sekisui Chemical's own minute particle control technology / porous membrane manufacturing control technology / film surface control technology to realize high adhesion for photoelectric conversion layers and film along with excellent electron transport performance, thus gaining the world's highest conversion efficiency of 8.0% for DSSCs on organic film.
By using the minute particle adhesion mechanism through high-speed collisions in place of heat energy, the standard high temperature fired ceramic forming process becomes unnecessary, successfully creating film at room temperature. As deposition can be made on materials with low heat resistance such as general purpose film or adhesive tape, DSSCs can be manufactured using various films as a substrate, and a wide variety of applications can be expected.
The manufacturing load is also lightened as there is no need to use high-temperature processes.
It also makes possible Roll-to-Roll (R2R) processing to improve productivity, with the expectation of greatly reduced process costs.
This will enable the production of slim, light, large-area, flexible DSSCs at low cost.
Sekisui Chemical will continue to examine the establishment of mass production technology and incorporation into its own products while searching out and forming partnerships with a wide range of businesses for various applications, aiming at entry into the solar cell market in 2015.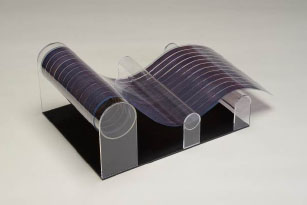 Photo 1. The trialled film DSSC
1.Background to This Development
Sekisui Chemical Group will continue to develop as its group vision the frontiers of "Creation of Housing / Social Infrastructure" and "Chemical Solutions," utilizing its prominent technology and quality, thereby contributing to people's lives around the world and the global environment. In particular, the company sells large numbers of products based on our environmental philosophy of aiming to be a Global Environmental Top Runner that contributes to the realization of a sustainable society by enabling the continuous growth and co-existence of ecology and the economy. So far we worked to spread renewable energy, having sold more than 120,000 of our representative product, the solar powered houses (Sekisui Heim), but are also striving to develop products to broaden the path to a new future.
We have long been manufacturers of plastic tape and film, and hold abundant knowledge of various types of high-performance film technology, process technology, and adhesion / sealing technology. Using this knowledge, we have striven to realize groundbreaking film solar cells to expand still further the spread of solar power generation.
2.The Research Process
Among the active efforts worldwide to find lower cost solar cells, DSSCs have gained the position of being an organic solar cell expected to be next generation low cost cells. However, they have yet to be widely made into commercial products.
DSSCs can perform on surfaces such as walls or shadowed areas where solar cells have up till now been unusable, and by using Roll-to-Roll processing mass production with Sekisui Chemical's knowledge of film processes, we have realized low cost, slim, light, large-area flexible DSSCs with a variety of applications, enabling their widespread popularization in society. However, the ceramic coating of DSSCs requires firing at 500℃, giving rise to the major issues in generating film of drastically lowered performance at lower temperatures.
AIST has discovered Room Temperature Impact Consolidation Phenomena where ceramic minute particles consolidate at room temperature, and based on this, has established AD method base technology for high-speed coating at room temperature, successfully realizing ceramic thick film deposition with high density permeability (
May 20, 2004 AIST Press Release(AIST Web Site) ).
This technology caught the attention of Sekisui Chemical, and in FY2010 we began joint research on ceramic film (titanium dioxide porous membrane) deposition for DSSCs, fusing our mutual knowledge and technology in the development of low cost next generation DSSCs.
3.Key Features of the Successfully Trialled Room Temperature Process Film DSSCs
DSSCs are a type of organic solar cell that absorbs pigments in oxide semiconductor layers (e.g. titanium dioxide) to use as photoelectric conversion layers. Normally paste containing titanium dioxide is applied to the substrate and fired at high temperatures of 500℃ to be used as the semiconductor layer of DSSCs, but as this temperature exceeds the heat resistance of commercially sold organic film, it was a challenge to realize film solar cells.
In contrast, the AD method uses the high collision energy of raw material particles to impact onto the substrate, precipitating cohesion of the particles through this physical energy to form a film (Fig. 1); this not only does not require a heating process, it also forms a film of great strength.
Sekisui Chemical and AIST, using this AD method, have optimized surface / film structures to successfully deposit titanium dioxide porous membrane for use as the semiconductor layer of DSSCs, affirming the power generation performance of DSSCs. The generating efficiency gained is 9.2% on glass substrate and 8.0% on film substrate (Sekisui Chemical measurements on 4mm square AM1.5 100mW/cm2), gaining the world's highest level of generating efficiency for DSSC using film substrate.
In addition, we have also succeeded in continuous deposition using R2R processing for this deposition technology, making possible mass production of large-area / elongated film DSSCs to realize major cost reductions.
4.Future Business Development
In the future Sekisui Chemical and AIST will accelerate their joint research to improve still further the generating efficiency through control of thin film microscopic structures, aiming to realize better productivity and lowered costs.
In combination with this, Sekisui Chemical will seek out business partners inside and outside the corporation to develop various applications for DSSC commercial products, exploring uses such as internal / external building materials like windows or walls, and wall installation taking advantage of its ease of placement (Fig. 2), aiming to enter the market in 2015.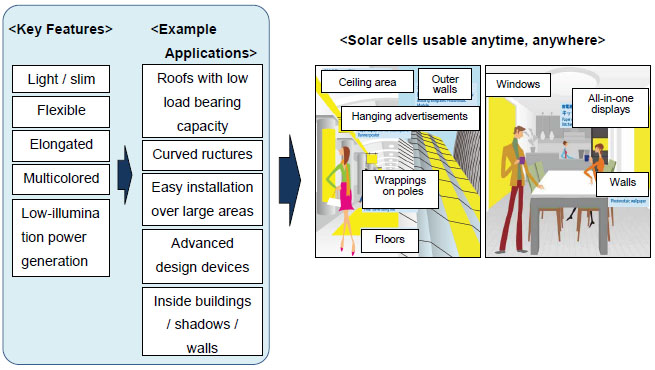 Fig. 2 Illustration showing various applications of film DSSC
5. Display at Eco-Products 2013
This product will be displayed at Eco-Products 2013, held at Tokyo Big Sight from December 12 to 14, 2013.
*This development was achieved with aid from the Japan Science and Technology Agency (JST) A-STEP program, as part of the activities of the AIST's Advanced Coating Technology Platform Research Team.
***
Reference:

Disclaimer
This press release may contain forward-looking statements. Such forward-looking statements are based on current expectations and beliefs and are subject to a number of factors and uncertainties that could cause actual results to differ materially from those expressed or implied by such statements due to changes in global economic, business, competitive market and regulatory factors.