Urban Infrastructure & Environmental Products Company

Supporting Resilient Social Infrastructure
With our diverse range of advanced materials, we solve global infrastructure issues and support society's infrastructure.
Pipe Systems
We supply a wide range of piping materials, including water supply/drainage and air conditioning pipes for residences and buildings, high performance pipes for plants, and other pipes for water supply/sewerage in the public sector, for agricultural water, and for electricity and gas supply systems.
We also provide resin raw materials for heat-resistant pipes and rainwater storage systems and other products.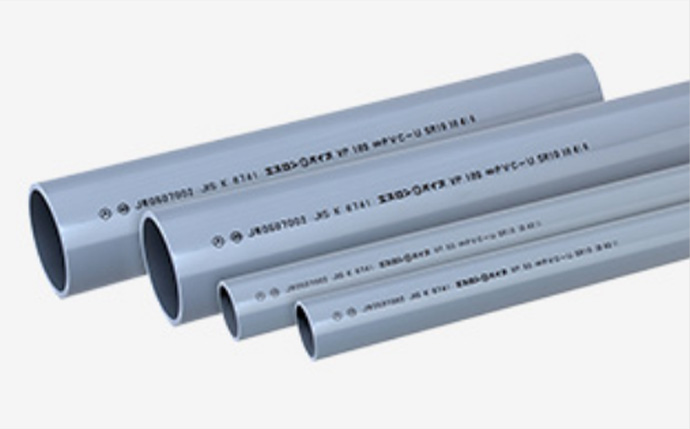 Polyvinyl chloride pipes (ESLON Pipe)
These are Japan's first hard polyvinyl chloride pipes. The inner surfaces are smooth, and they are highly resistant to corrosion, light, and easy to work with. For over half a century, we have been supporting water supply and drainage infrastructure essential for life with our rich lineup of products with high performance meeting the needs of the times.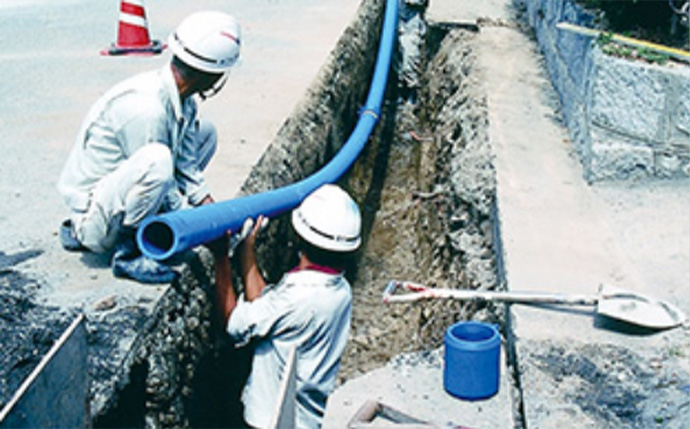 Polyethylene pipes (ESLO Hyper)
Workability is significantly improved as it is lighter and more flexible than steel pipes, and uses our unique electrofusion welding. It contributes greatly to the development of the water supply business as it can be used with peace of mind over long periods due to its excellence in corrosion resistance and hygiene.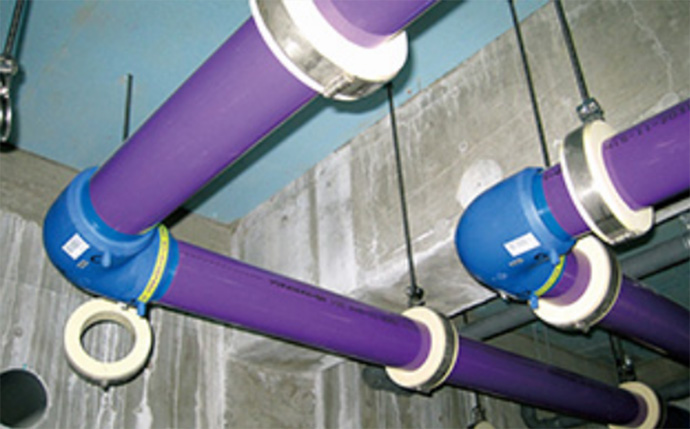 Air-conditioning pipes (Kucho Hyper CH)
This is the most suitable polyethylene pipe for hot and cold water. There is no need to worry about corrosion or leaks as it is highly durable and corrosion-resistant. In addition, it is light and can be worked with speedily. When combine with SUPER ESLOMETAX FC for hot and cold water branch pipes, ESLON Hyper AW for cooling water pipes and other products, an all-plastic integrated line construct can be achieved.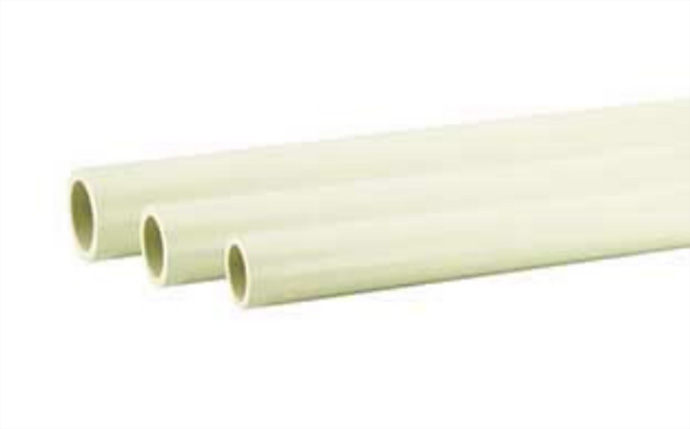 AC Drains and Piping
ESLON AC Drain Pipe, vinyl chloride pipes for drains with a layer to prevent condensation, has an all-in-one foam heat prevention layer in both the pipes and joints to prevent overall pipe condensation while making lagging unnecessary. This economic piping material requires no lagging materials or processes. It can also be speedily installed as AC drain piping for office buildings, hotels, hospitals and the like.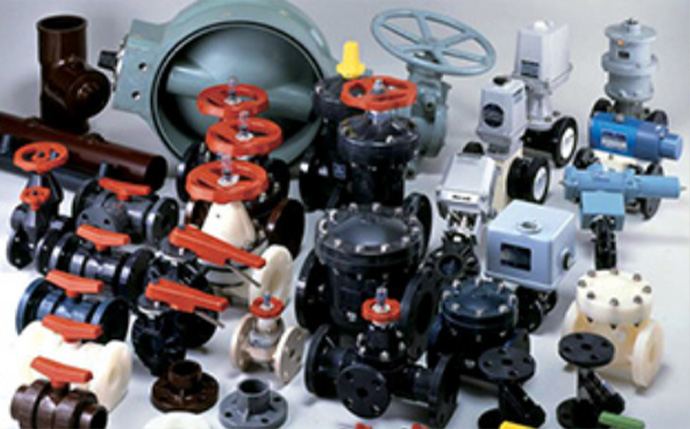 High performance valves and piping materials for industrial plants
These are excellent in corrosion resistance and chemical resistance. They can be used for many situations, including as piping materials for industrial plants, pipes emphasizing hygiene such as for food and medical use, and ultrapure water pipelines in semiconductor plants, to achieve safe and clean production lines. Our rich lineup of products to support proper flow are used to create reliable pipelines in various industries.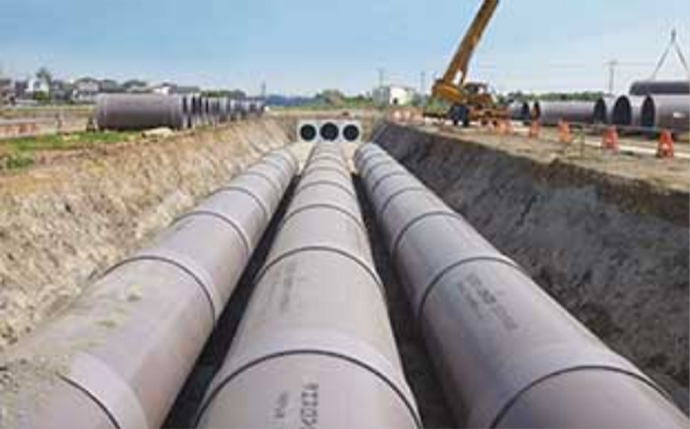 Reinforced plastic composite pipe (ESLON RCP)
ESLON RCP is a reinforced plastic composite pipe designed taking into consideration maintenance management once in use. It is a durable and flexible pipe that has good water-tightness and excellent strength, and can reduce construction times. There are versions for uses such as sewerage and agriculture.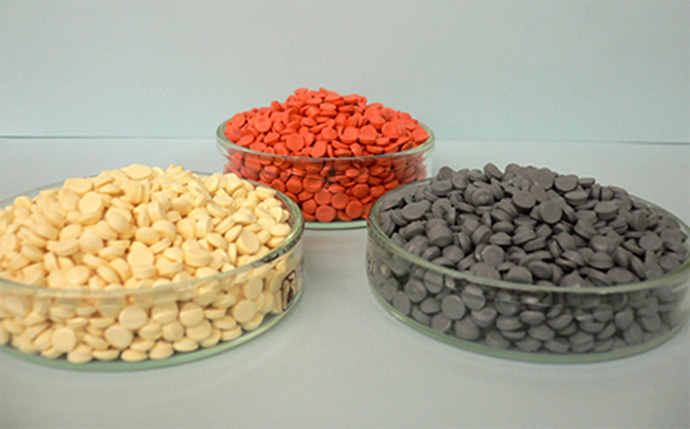 Chlorinated PVC resin compound (Durastream)
SEKISUI's C-PVC is optimally mixed with additives (such as stabilizers and impact absorbers) to produce this compound which can be used to manufacture highly heat-resistant pipes and fittings.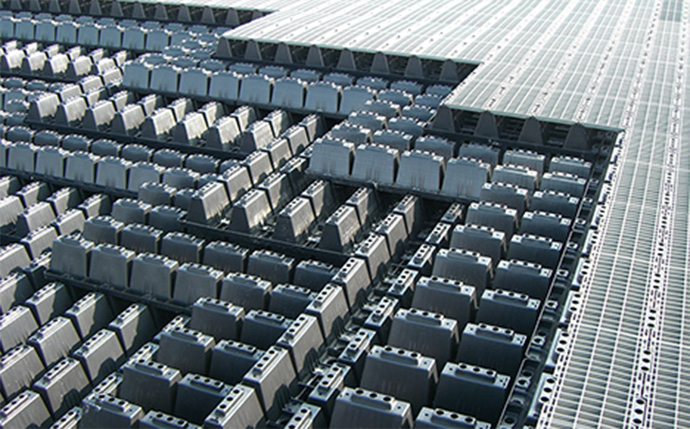 Material for underground rainwater storage systems (CROSS WAVE)
It is buried underground to store rainwater. With its revolutionary efficiency in storing water, having a void ratio of 93%, it contributes to controlling the flow of rainwater and its effective use.
Buildings and Infrastructure Composite Materials
We provide components for building interiors such as prefabricated baths, nursing-care/self-reliance equipment, plastic tatami mats, and plastic decorative sheets for walls and furnishings, as well as exterior products such as rain gutters.
We also provide materials and products that contribute to building safety/security, and to solving issues, such as fire-resistant, non-flammable, and insulating materials, as well as materials for transportation infrastructure, including aircraft and railway, such as synthetic lumber used as railway ties and soundproofing materials.
Building materials
We offer building materials such as rain gutters, heat insulation materials, and materials for building exteriors.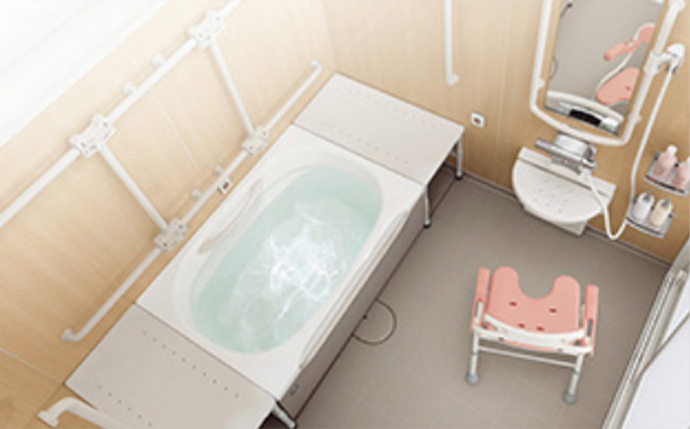 Prefabricated bath for nursing care, and housing equipment and machinery
Based on the keyword "changeable" in the bath market for nursing care facilities and hospitals, we provide prefabricated baths for nursing care to users requiring nursing care of various degrees, from support for self-reliance to severe cases. We also offer other housing equipment and machinery, such as EcoCute.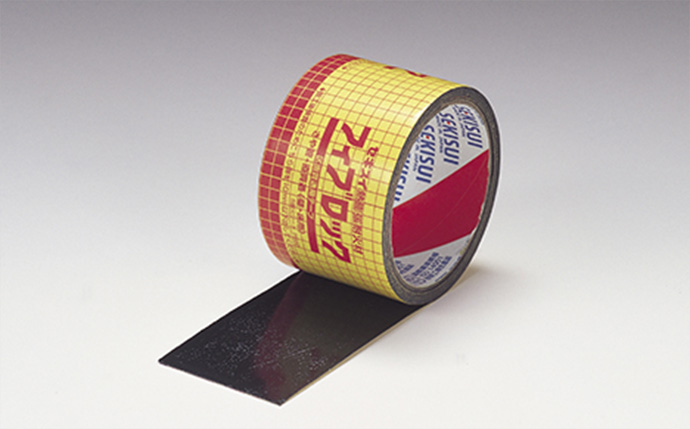 Fire-resistant material (Fi-Block)
This is an organic fire-resistant material which expands to form a heat insulation layer during fires. Unlike traditional board or felt-type inorganic fire-resistant materials, it comes in flexible sheets and tapes which can be easily bent or cut. Freedom of design is therefore significantly higher.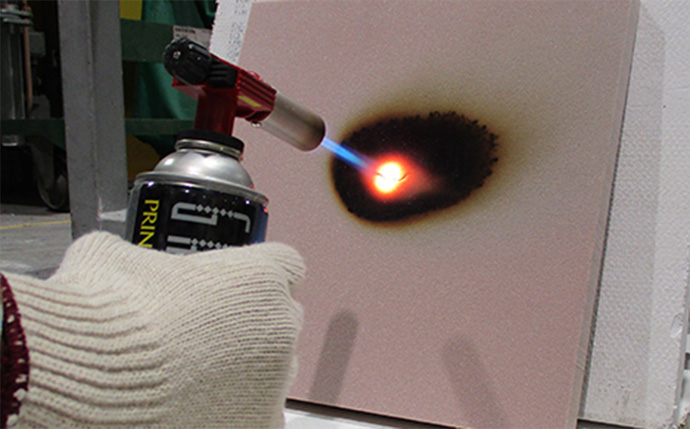 Non-flammable polyurethane foam (PUXFLAME)
This is a hard, non-flammable urethane foam made from certain resins and flame retardants. It is the first non-flammable resin approved by Japan's Minister of Land, Infrastructure, Transport and Tourism.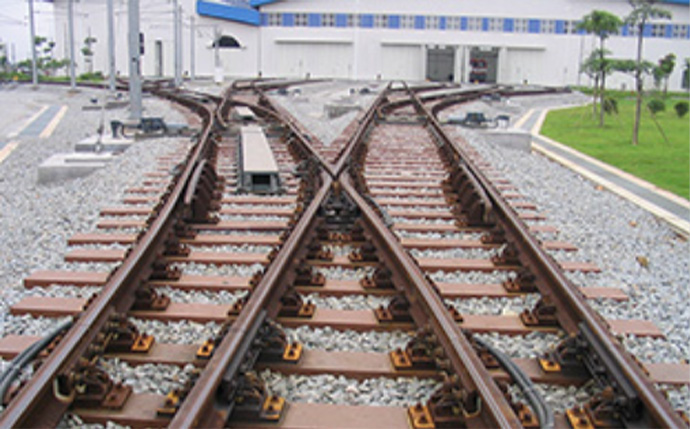 Fiber-reinforced foamed urethane (FFU)
Synthetic lumber is made from rigid-foamed urethane reinforced with long glass fibers, and has the advantages of natural wood and plastics. It is lightweight, strong, durable, and easy to process. Its use has expanded to include railway sleepers, water treatment facilities, and anchor walls for landslide control. It is also increasingly being used overseas.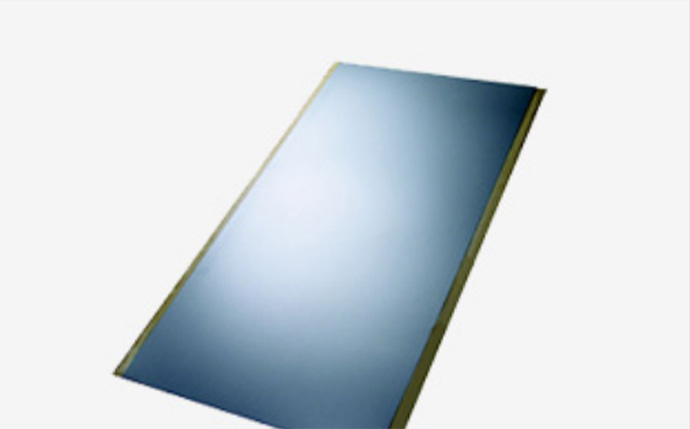 Vibration absorbing and soundproofing material (Calmmoon sheet)
This is a mountable constrained vibration suppression sheet which is lightweight and thin, yet with high vibration absorption properties. It is used in many fields as a measure against vibrations and noise, such as railway noises.
Materials
Design of Fire Protection Material

By aligning thermally expandable graphite when molding, it expands in the direction of thickness. This gives the maximum heat insulation.
Chlorinated PVC (C-PVC)

C-PVC is PVC with chlorine added. It is produced using SEKISUI CHEMICAL's own PVC polymer and chlorination technology. C-PVC of excellent quality is used in our compounds.
Related sites
Urban Infrastructure & Environmental Products Company Portal Site
Resin material for Heat-resistant pipes
Guttering kits
Extend the lifetime of your shed/ summer house with a guttering kit.

Buy complete rain gutter kits online! In the colors brown, anthracite, black, white and grey. SEKISUI ESLON BV has built a strong reputation as a manufacturer of plastic guttering and accessories. Due the high gutter quality, they provide up to 10 years guarantee! In the online shops you can find also related products like zinc guttering, rain chains and rain barrels!
Infrastructure Renovation
We provide repair, rehabilitation, and renovation methods for aging infrastructure, which is a growing issue in society.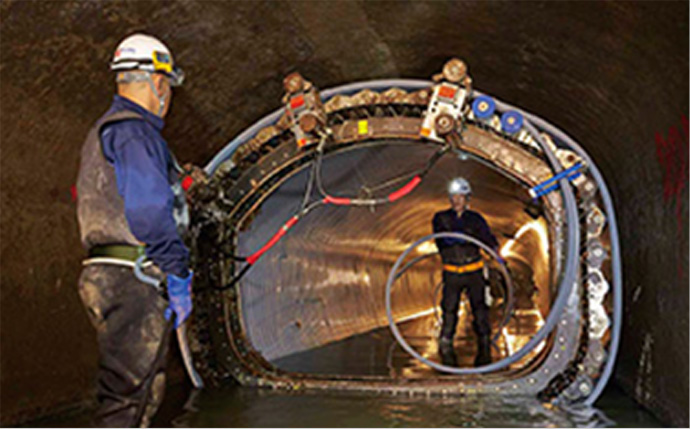 Pipeline renewal systems (SPR method)
Sewerage pipes are rehabilitated by lining the inner surface with hard polyvinyl chloride materials in a spiral shape, achieving longer lifespans. There is no need to dig up roads, construction periods are significantly shortened, and emission of industrial waste, such as soil and sand, is greatly reduced.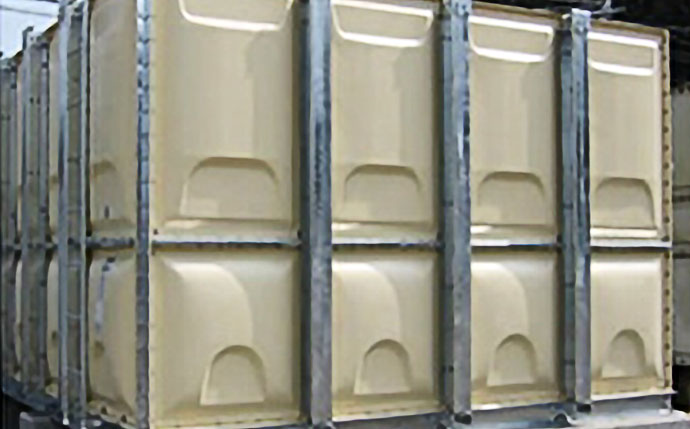 Tank System Business
SEKISUI AQUA SYSTEMS provides tank system products and services that combine advanced technological capabilities not only for storing and stably supplying valuable clean water closely linked to daily life, but also for treating wastewater and other functions.
Related sites
Urban Infrastructure & Environmental Products Company Portal Site
Indusutrial Plant Facility Diagnosis, design ,construction and Maintenance