Considerable amounts of waste and litter are emitted while building houses. We have established a system to recycle 100% of this waste and litter, the so-called zero emission system, for all Sekisui Heim factories in Japan.
Optimally utilizing our unit technology that is harnessed to produce large portions of the house (80%) in factories and following complete implementation of the 3Rs* such as fractional recovery, simple packing, turning cardboard boxes into containers and the shared use of members, we have finally achieved zero emissions as a building site first in the industry.
Thus the Sekisui Heim emits no waste before it is manufactured, not only in the factory but also on-site, and we are able to naturally build environment friendly houses. This also means that we avoid any wastage of revenue from customers living in Heim and Toyo Homes and future customers as compensation for the construction of Sekisui houses.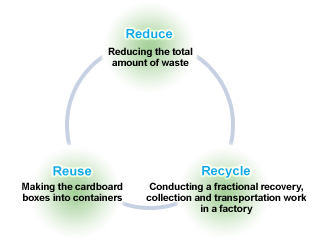 *

The 3Rs stand for reduce (reducing emissions of waste), reuse and recycle, a concept for the circulation of resources. We are increasingly implementing the 3Rs strictly as follows:
Reduce; simplifying packages and reducing the total amount of waste such as curing material,
Reuse; using cardboard boxes for transportation as containers and the shared use of members, and
Recycle; making the fractional recovery, collection and transportation of waste factory work.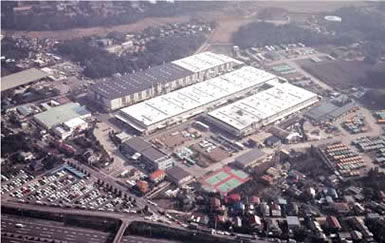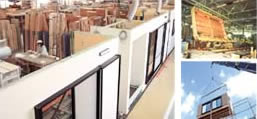 Our material recycling has reached a level of 63%
Thermal recycling, a method utilizing heat from the combustion of waste to generate electric power or operate boilers is most commonly known. This method, however, tends to be accompanied with combustion and increases environmental loads.
The material recycling system processes and reuses waste for other products as a raw material without combustion, which makes it a recycling system in the truest sense of the term. Our company-wide average achievement ratio for material recycling has reached 63%.
An example of material recycling in the Kansai Sekisui Industry Company



Source: Kawase Industrial Company, www.eco-kawase.co.jp