We have introduced a 60-year long support system for Heim, which provides regular maintenance to help customers live in Heim comfortably for a long time.
The 20-year long warranty system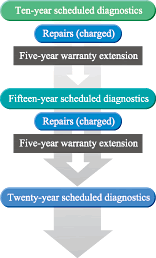 Heim's high quality and durability enable the provision of the supporting system, while the warranty period for Heim's building frames and watertightness extends up to 20 years beyond the initial warranty period for new buildings (10 years). The warranty conditions involve carrying out scheduled inspections at 10- and 15-year and repairing any defect(s) found, at charge.
The 60-year long scheduled diagnosis system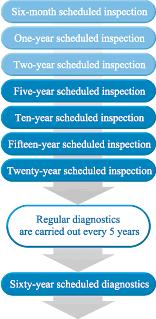 This is our unique system to closely inspect and diagnose Heim regularly every 5 years for a 60 year period following the three scheduled inspections made from the time of delivery. The implementation of such early and prompt maintenance helps secure the performance of the house and a comfortable life for its occupants.
We propose repainting and repairing stains and defects, as well as the replacement of equipment that has reached its end of its useful life.
Proposal of functional renovation
Residential facilities and equipment are improved on a daily basis. We provide customers with the latest information concerning facilities and equipment for housing to make their lives convenient and comfortable.
Proposals for addition and improvement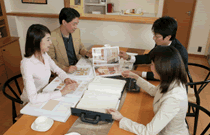 Addition and improvement may be needed as lifestyles change. We welcome consultation with customers concerning house extensions or reconstruction. We will propose an optimal plan, taking advantage of the unit technology.
Ensuring the provision of information on the life and household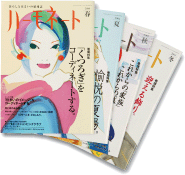 We regularly send out "Harmonate", an information magazine concerning the latest living and household matters, to our Heim resident customers. We also send information on events and mail-order sales as well as references to renovation and methods of care and cleaning exclusively to our Heim customers.