Durability is a key point to prevent the deterioration of structures and members of buildings over time and to maintain the safety, comfort and health of your family.
Maintenance of external wall tiles is needed once every 30 to 40 years, simply in terms of masonry joint repair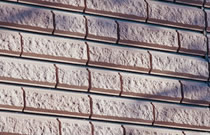 Ceramic tiles are a superior choice of material for furnishing external walls, to give them a quality and expansive appearance as well as protection against UV rays and acid rain. We use ceramic tiles for Heim's external walls to enhance the durability and waterproofing properties. For these purposes, ceramic tiles are adhered to waterproofed SFC boards with waterproofed elastic epoxy adhesive, thus eliminating pointed joints. Tiles are fixed in place in the factory to maintain constant performance quality. Since the tiles used for Heim have a fine surface irregularity in order to maintain their high hydrophilic properties, they remain clean for a long period, and unlike painted external walls and siding board external walls, this may considerably reduce the amount of maintenance work, such as waterproofing and repainting, which may be required.
What is the hydrophilic property?
That means a phenomenon whereby a thin water membrane forms over the surface of the material. Once the water spreads all over the surface, this prevents stains caused by rain from sticking to the surface.
Hydrophilic cycle to prevent stains from sticking to Heim's external walls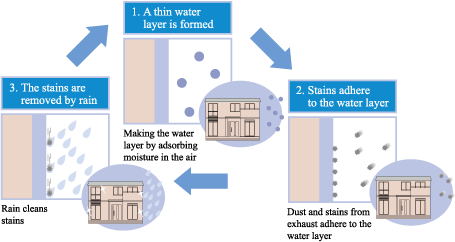 A relief external wall with UVA coating allows intervals twice as long before repainting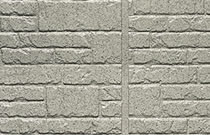 UV rays adversely affect the painted membrane of the external wall and decrease the waterproofing property as well as spoiling its beauty. Ordinary painting external walls require repainting approximately every decade, while the UVA coating used for Heim's external walls employs a method to coat the colored base layer (enamel base layer) with a thick clear finishing coat containing ultraviolet absorber. The coating allows few UV rays to penetrate to the enamel base, extending the repainting interval to approximately once every 20 years*, namely twice as long as that of ordinary paining, to maintain the aesthetic and waterproofing properties of the external walls.
*

Our test figure, which may vary depending on the environment.
Comparison between UVA coating and ordinary painting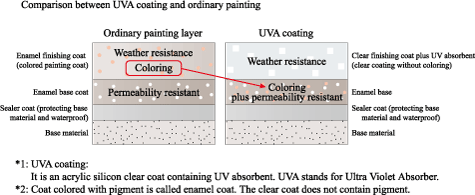 A Dula stonewall, with ingredients similar to stone and requiring no repainting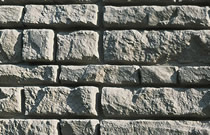 Dula stonewall is made of kaolin, a natural material used for medicines and cosmetics. The kaolin is initially burnt to extract impurities, and mixed with hardener, filler and foaming agent after being crushed in order to be foamed and hardened via a chemical reaction. Dula stonewall is impervious and requires no coating, since it consists of fine particles and has very small independent bobbles. For resistance to UV rays and acid rain, it may be the most suitable material for an external wall given Japanese weather conditions, which change drastically from winter to summer. It also has high hydrophilic property, which can prevent grease, such as oily dust and auto-exhaust, from sticking. This property, together with its durability performance, reduces the maintenance costs involved.
External wall structure to prevent harmful dew condensation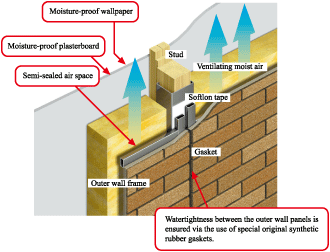 Dew condensation occurring inside the walls accelerates the deterioration of insulators and decreases the insulation efficiency of the building. However, Heim's inner walls prevent the intrusion of moisture from rooms, since they are finished with moisture-proof plasterboards. In case intrusion should happen, a semi-sealed air space of the boards is designed to eject the moisture and keep the inside of walls dry.
Unit technology to protect the steel frame plus a ZAM gilded steel plate keep the building stable for 140 years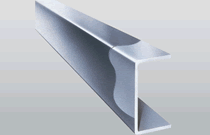 The anti-corrosion treatment used has a significant influence on the durability of the steel frame. All Heim's posts and beams are gilded with ZAM, which helps extend the durability of steel, meaning its anti-corrosion durability is twice as long* as that of ordinary fusion zinc aluminum gilding, with an expected useful life as long as 140 years. In addition, as Heim's posts and beams are manufactured and assembled in factory under conditions of minimum exposure to outdoor air, the actual useful time may be even longer.
*

Our test figure, which may vary depending on the environment.
New generation anti-corrosion treatment, the characteristics of ZAM steel plate
In case a steel frame is damaged, zinc, aluminum and magnesium in the gilded layer are melted, where they protect the steel (this is called sacrifice anti-corrosion). At the welded part, magnesium in the gilded layer also melts onto the repaired metal surface and forms an effective protection membrane, which provides sacrificial anti-corrosion to cutting surfaces and processing sites.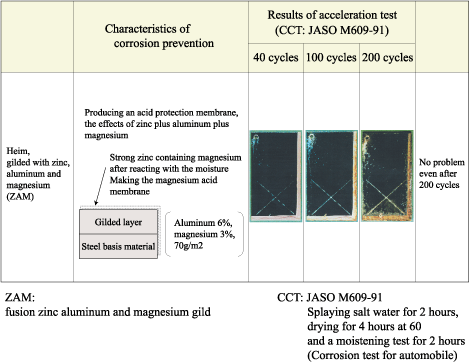 The ZAM steel plate ensures the most stringent durability requirements and deterioration control grade 3 are met under the Quality Secure Law.
We use ZAM steel plates, which meet the criteria of deterioration control grade 3 with 75 years durability, for all steel frames constructing Heim, meaning the 75-year durability of ZAM steel plate frame structure is verified under the Quality Secure Law. Among ordinary gilded and painted steel plates, only ZAM steel plate, which is 2.3mm thick, can meet the criteria of deterioration control grade 3 with 75 years durability

*

Deterioration control grade 3: grade of measures to extend the period to require major renovation, such as replacement of the material used for structural skeletons

*

Useful life: number of years until a maintenance-applied structure reaches the limit of deterioration.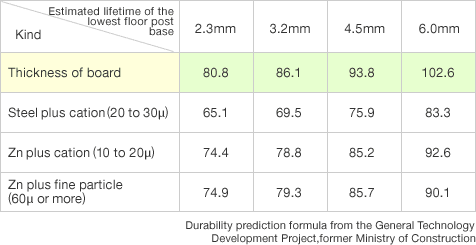 Hyper dulatic roof, which semi-permanently requires no re-roofing
The hyper dulatic roof used for the flat roof type Heim has extended durability and high weather resistance. We use a stainless steel roofing material that is also used for domed buildings and large constructions. This material has a corrosion resistance about 4 times higher than the ordinary stainless steel used for exterior members. The extent of the corrosion of the material has proved to be less than 0.2mm per century, even in areas damaged by seawater, such as Okinawa.
Only sealing of lean-to roofs is required for roof maintenance
Ordinary tiled roofs requires repainting every 10 years and re-roofing or replacement of the roof tiles every 30 years to maintain the beauty and waterproofing of the building. However, the hyper dulatic roof, the Heim's stainless steel roof, requires no maintenance work around the roof except sealing for lean-to roofs every 20 years*.
*

Our test figure, which may vary depending on the environment.
Ceramic roof tiles with high durability and bruck roofing material
We also have high durability roofing material for sloped roof. Our tile batters are made of plastics to meet the durability specifications. The bruck roofing material is resistant to shock and the base material can be used for more than 40 years though it requires repainting every 20 to 30 years.